Advantech releases SOM-5883 with 11th Gen. Intel® Core™ Processors — Delivers Outstanding Performance and Next Gen. I/O Expansion
8/23/2021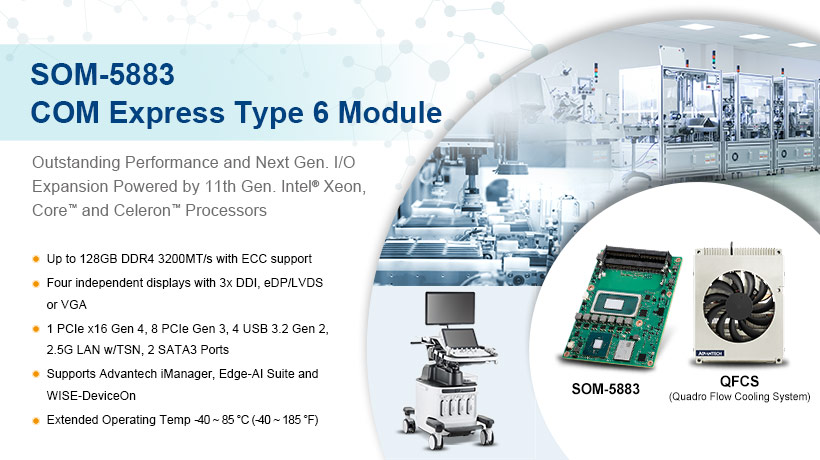 August 2021, Taipei, Taiwan - Advantech, a leading embedded and AIoT solutions provider is happy to release the new SOM-5883 for high-performance edge computing applications. This new model COM Express Type6 Basic Module integrated with 11th Gen. Intel® Core™ processors (formally called Tiger Lake-H) offers an octa-core computing performance under TDP 45Watt, excellent Intel Iris Xe graphics, and Advantech ready-to-use Edge AI Suite software toolkit. This new SOM-5883 is an ideal solution for medical imaging and AI applications.
To resolve the heavy workload of data or image processing, SOM-5883 is designed to support up to 128GB DDR4 3200 RAM, high capacity, and high-frequency memory technology that perfect matching ground-breaking computing and graphics performance. In addition, there are numerous super speed I/O interfaces included, such as PCIe Gen4 (16GT/s) and USB3.2 Gen2 (10Gbps), and 2.5Gbase-T for better system expansion. With optional NVMe SSD, TPM2.0 on-board design, -40 to 85°C operating temperature, and 8.5~20V power input feature. SOM-5883 is a reliable and suitable solution for edge computing requirements.
Breakthrough Performance: Octa-Core 11th Gen. Intel Processors and QFCS Tech
SOM-5883 equipped with 11th Gen. Intel Processors is the first COM Express Type6 module that can support up to 8 Core processors and 128GB DDR4 memory, enabling 1.7X computing performance growth and 1.5X 3D graphics upgrade. Advantech also provides the Edge AI Suite software kit that containing Intel Open VINO and more than hundreds of AI models to help customers quickly deploy and utilize AI technology. And it could be developed with four independent displays up to 4K, picked from three DisplayPort 1.4/HDMI 2.1, one optional eDP or LVDS, and one VGA interface. Also can be configured up to two 8K HDR outputs.
Moreover, it has nice power efficiency that offers excellent computing performance but keeps the same CPU TDP 45 Watt like former generations making it a perfect update on existing systems. Together with Advantech's advanced QFCS (Quadra flow cooling system) thermal technology, SOM-5883 can release 100% CPU extreme performance, while staying thin, light, quiet, and prevent PCB bending.
Next Gen. I/O Interface: x16 PCIe Gen4, 2.5GbE with TSN, and USB4
SOM-5883 is the first COM Express Type6 module to offer x16 PCIe Gen4, making its bandwidth double to 16GT/s that allows 31.5GB/s throughput. With this feature, graphics-driven applications such as the ultrasound device can deliver much more accurate diagnosis outcomes. By the combination of the native graphics engine and external expansion, SOM-5883 is also great for system configuration. At the same time, SOM-5883 also enables super-speed data transmission with wider bandwidth of 2.5G LAN and an NVMe SSD onboard to transfer a massive volume of data among AIoT applications.
The 2.5G LAN equipped with TSN (Time-Sensitive Networking) is the best choice for automation or edge applications in need of low latency. This technology fulfills the demand for real-time traffic, allowing the critical data to get priority in the communication process. It also supplies USB4 which can be configured as DisplayPort, Thunderbolt, USB 3.2, and USB 2.0 in a slim USB-Type-C connector. Advantech will offer a USB4 reference design document and development board named SOM-MZ10 to help our partners to accelerate implementing the new I/O technology.
Reliable Design and Easy Management for Edge Computing
Besides its outstanding performance, the new SOM-5883 has a reliable design to adapt to diverse applications. It features ECC memory for error correct function, TPM2.0 chip-on-board to prevent cyber-threats, 8.5-20V wide range power input, and -40 to 85°C wide operating temperature. The NVMe SSD soldered down makes it more robust and anti-vibration when operating in a harsh environment, especially for outdoor edge computing applications. Not only supplying trustable hardware, but Advantech also assists partners with professional software design-in service, such as BIOS storage protection, secure boot, BIOS power-management, Linux BSP, and WISE-DeviceOn for remote hardware monitoring and OTA (over-the-air) software update to prevent system malfunction.
COM Express R3.0 Basic Type 6 Module
11th Gen. Intel® Xeon, and Core™ i7/i5/i3/Celeron™ Processors
Up to 128GB DDR4 3200MT/s with ECC support
Four independent displays with 3x DDI, eDP/LVDS or VGA. 1 PCIe x16 Gen 4, 8 PCIe Gen 3, 4 USB 3.2 Gen 2, 2.5G LAN w/TSN, 2 SATA3 Ports
Supports Advantech iManager, Edge-AI Suite and WISE-DeviceOn
Operating Temp: Standard: 0 ~ 60 °C (32 ~ 140 °F), Extended: -40 ~ 85 °C (-40 ~ 185 °F)