Advantech Unveils WISE-2834 Intelligent RFID Gateway, Facilitating Smart Access Management
1/20/2020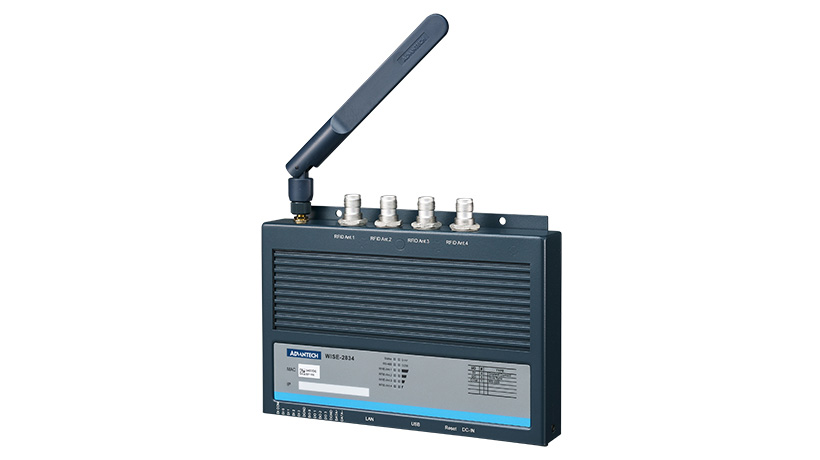 Taipei, Taiwan – January 2020 — Advantech, a global leader in IoT solutions and embedded computing, is pleased to announce the release of its latest RFID IoT Gateway device: WISE-2834. With integrated IoT data acquisition features, the embedded graphic programming functionality of Node-RED allows users to quickly and easily establish projects through the use of drag and drop tools. WISE-2834 is an excellent option for optimizing operation cost effectiveness and improving overall efficiency across an array of different applications, such as production lines, logistics management, supply chains, hospitals, and parking lot applications. With its multiple connectivity function, data can be securely transferred to the data server or private cloud by Ethernet and Wi-Fi simultaneously.
A Four-Port UHF Antenna for Platform Ready RFID Tagging
WISE-2834 makes RFID item tracking easier by offering a platform-ready four-port UHF antenna conducive to large-scale data aggregation and device management. The antenna system facilitates production line efficiency while reducing shipping errors, improves product tracking across logistics supply chains, and help users to stay updated on inventory management and employee attendance across large scale operations such as wholesale stores, hospitals, and urban infrastructure.
Simplified Programming with Node-RED
Graphics programming functionality for RFID is greatly simplified via the use of the Node-RED programming tool. Users can quickly and easily build up RFID functions—like data reading/writing, filtering, and transfer—by using "drag and drop" nodes. No complicated programming processes are required to get started and node information is available to the public online. Based on JavaScript, coding for the nodes can be modified according to the needs of different applications.
Modular Design for Data Uplink
Graphics programming functionality for RFID is greatly simplified via the use of the Node-RED programming tool. Users can quickly and easily build up RFID functions—like data reading/writing, filtering, and transfer—by using "drag and drop" nodes. No complicated programming processes are required to get started and node information is available to the public online. Based on JavaScript, coding for the nodes can be modified according to the needs of different applications.