Advantech ITA-2231/2111 EN50121-4 Compliant Computer Platforms for Railway Infrastructures
7/16/2017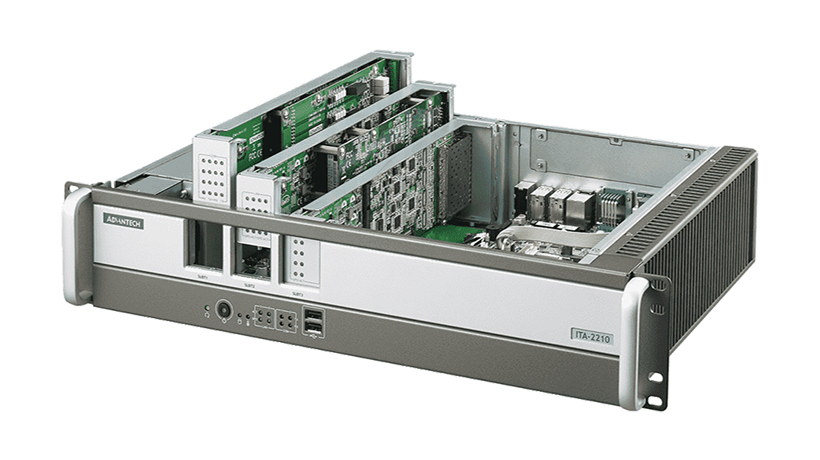 July 3rd, 2017, Taipei – Advantech, a leading global provider of embedded systems and solutions that drive IoT, announces the release of a new comprehensive series of computer platforms for railway signaling and Integrated Supervisory Control Systems (ISCS). Introducing the ITA-2000 series, comprised of ITA-2231 and ITA-2111, both are EN50121-4 compliant computer platforms for railway signaling and ISCS solutions. ITA-2231 has a rugged 2U fanless design and features an IntelR 6th Generation Core? i processor with 16GB DDR4 memory on board. It supports an easy-swap single/dual AC/DC redundant power unit and has three free slots available for four ITA-EM I/O expansion module choices of COM, CAN, LAN or fiber connectivity. ITA-2111 is a 1U fanless system also designed for ISCS and railway signaling solutions, featuring an IntelR Atom? E3845 processor with 4GB DDR4 of on board memory, 6 x USB 2.0 and 1 x USB 3.0 slots. Both ITA-2231 and ITA-2111 are compliant with EN 50121-4 and level 4 EMS and are certified for -25~60°C wide temperature operation, making them suitable for all kinds of wayside applications and railway infrastructures.
Flexibility Designed in for Railway Operations and Safety
ISCS systems facilitate integrated, centralized and local control as well as administration of all electrical and mechanical subsystems such as Building Automation Systems (BAS), Fire Alarm Systems (FAS), Passenger Information Systems (PIS), Public Address (PA), and others systems. Railway signaling systems includes interlocking, signals, points, blocks, train control and other equipment used to manage train operations and improve safety. ITA-2000 series work as front end processors integrating all subsystems through USB, Ethernet, Serial and CAN bus interfaces. They are EN50121-4 compliant products for internal and external railway installations that can withstand electromagnetic interference, shock, vibration, temperature fluctuations, humidity, and power supply variations for communications in rolling stock and rail networks. ITA-2000 series are scalable platforms available in 1U, 2U chassis sizes that can be seamlessly integrated within existing railway infrastructures to construct computer-based ISCS and railway signaling systems. Manual locking screws provide tool-free assembly and easy maintenance.
For more information about Advantech's computer platforms for railways, contact your local sales office or visit the website.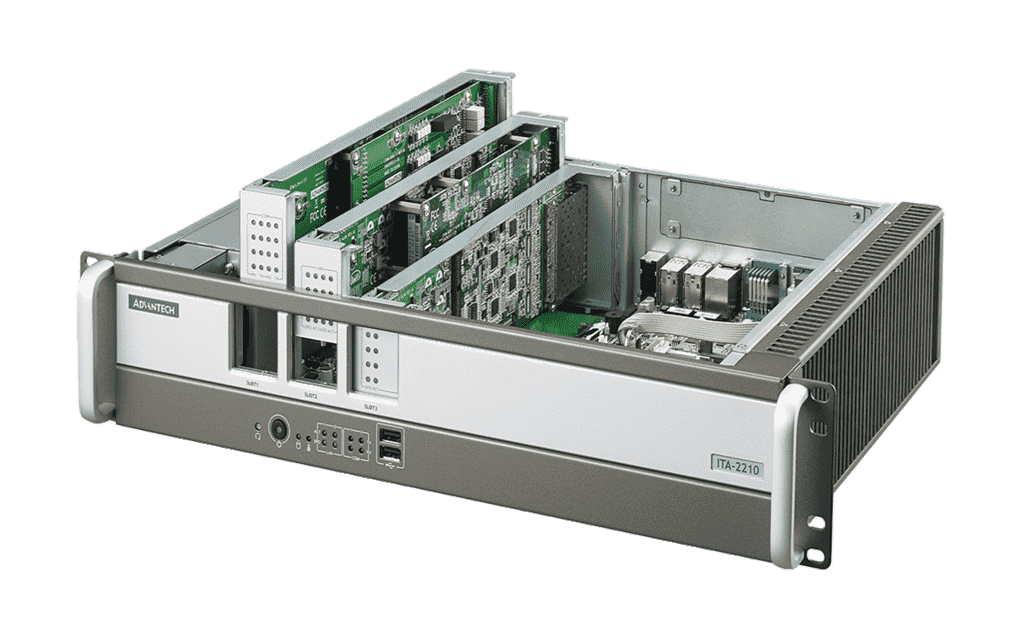 2U rackmount fanless system with 3 x ITA-EM module slots

Diverse ITA-EM Modules to choose from: Ethernet, Fiber, Serial, CAN

Intel® Core™ i7-6822EQ; quad core

Enlarged memory support up to 16GB

Enlarged storage support up to 4 x 2.5"HDD/SSD

Supports RAID 0/1/5

Supports easy-swap single/dual AC/DC power module

Supports -25°-60°C wide operating temperatures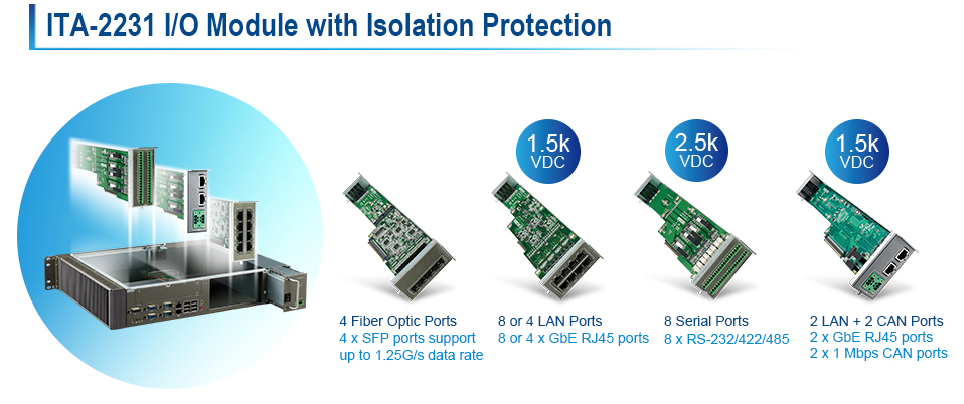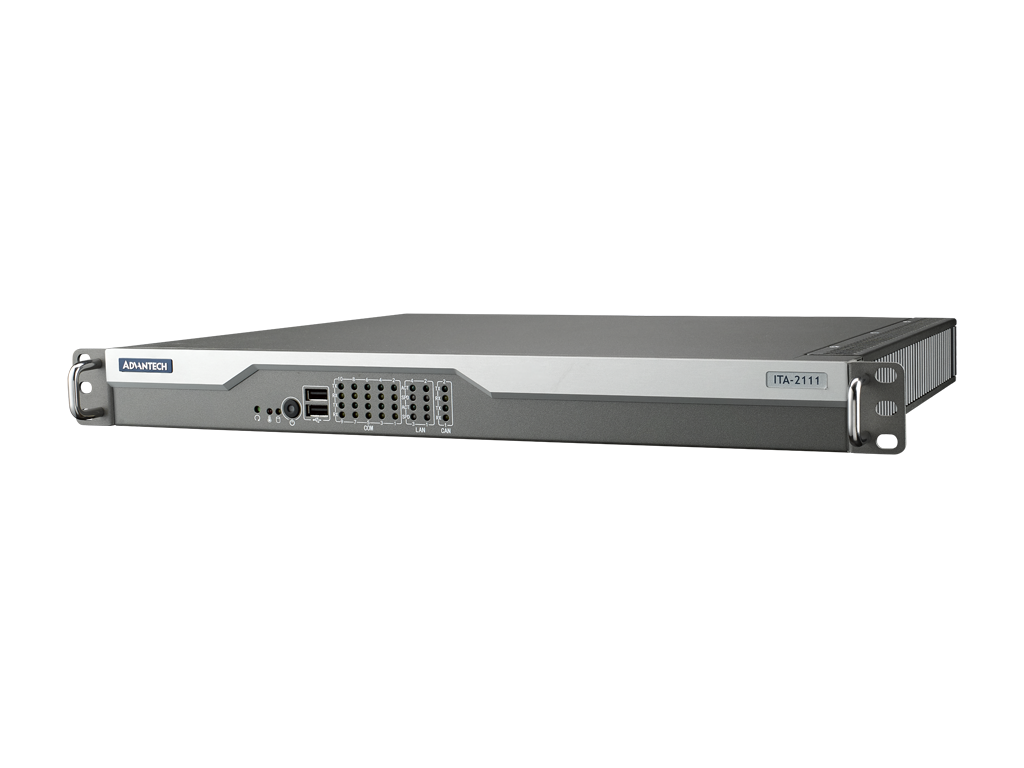 1U all-in-one rackmount fanless system

Built-in Intel Atom E3845 processor

Onboard 4G DDR3 memory design

Supports up to 4 x GbE, 6 x USB 2.0, 1 x USB3.0, 2 CAN, 10 COM

Supports AC 100~240V power module

Fanless design supports -25°-60°C operating temperatures (with SSD)