Ganso Food Implements Advantech's POS System to Improve In-store Service Efficiency and Inventory Management
5/16/2022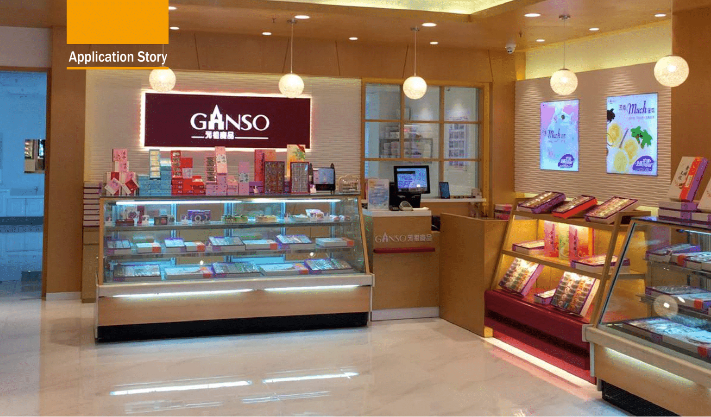 Interview with Wang, Director of Ganso Food
Enabling customers to purchase merchandiseanytime and anywhere is one of the most importantgoals for companies in the retail sector. However, withthe increasing number of physical stores and onlinechannels, data related to merchandise, sales, andmembers can become scattered, causing managementproblems. Ganso Food, a renowned retailer in the foodindustry that operates in China has experienced theseproblems.
Ganso Food was established in Taiwan, and enteredthe Chinese market in 1993, gradually expandingits business there. At present, it operates about 650physical stores in over 100 cities in China. Ganso Foodhas also embraced e-commerce, operating on about ninedifferent online channels. With so many sales channelsand service points, the company had an urgent need forstronger IT capabilities to manage people, merchandiseand stores.
Therefore, Advantech and Ganso Food came togetherto develop the strategy for smart development. Theyredesigned its IT structure in 2015, and implementedthe SAP ERP system to integrate all online and offlinedata, consolidating all merchandise and member data ona single platform. In 2017, Ganso Food further updatedits POS software and hardware by adopting Advantech'sUPOS-211 POS system and various peripherals. The UBX-310 host computer was implemented to combineall in-store data, integrate data with its headquarters'ERP system as well as improve the efficiency of in-storeservices.
ERP and POS are key for successful processoptimization
According to Wang, Director of Ganso Food, onlineorders are delivered from its stores directly to customers.In the past, staff had to evaluate which store wasmost suitable to process an order. Now, thanks to theintegration of online and offline data, the ERP systemwill automatically send the order to the store that isclosest to the customer's location. Staff at the store cancheck the order on the POS system, complete the processof packaging and dispatching the goods, and then updateinventory data on the POS system, which is sent back tothe ERP system. This greatly improves the accuracy andtimeliness of inventory data.
Of course, the optimization of operational processescannot be done through the ERP system alone; theupgrading of POS systems at store locations is alsoof critical importance. As Ganso Food had managedphysical stores for many years, the functions of its POSsoftware were lacking, and hardware performance wasinsufficient as well. As a result, the POS equipment couldonly be used as a cash register, and was unable to deliveradditional features.
Therefore, Advantech and Ganso Food worked incollaboration to update the POS software and hardwareequipment and improve in-store operation efficiency in2017. The company decided to adopt Advantech's UPOS-211 POS system due to outstanding stability, completecertification, a wide variety of peripherals and excellentperformance compared to its cost. In addition, thesystem's compact and lightweight design allowed forefficient space utilization at service counters.
Wang pointed out that the performance boost in POShardware not only brought improvements for in-storeoperational efficiency, but also increased added value. Applications that were not able to run on the old POSsystem (such as remote management) are now operatingsmoothly on Advantech's UPOS-211
Advantech provides excellent services to strengthencollaboration with partners
One of the aspects that impressed Ganso Food themost in this process was Advantech's service quality.According to Wang, Advantech does not just sellmachinery and equipment to customers; it anticipatescustomer requirements and needs. For example, GansoFood's IT structure is managed centrally at headquarters,and did not have IT personnel in stores to assist insetting up the POS system. Advantech therefore pre-loaded required software on the POS system, which madeit plug-and-play, allowing Ganzo Food's IT personnel toremotely set up parameters and calibrate the system,eliminating the need to be physically present to completethese tasks. This greatly reduced the burden on the ITteam and also lowered costs.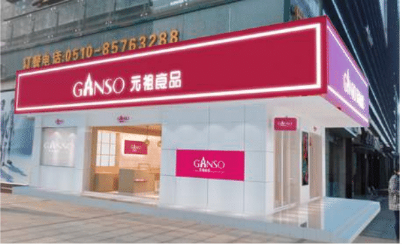 Advantech's comprehensive products and high-quality services persuaded Ganso Food to continue itscollaboration with Advantech. Having implemented thePOS equipment, Ganso Food also chose Advantech'ssensors to collect and monitor in-store water andelectricity usage data to avoid waste. In one particularcase, a Ganso Food store noticed a water leak with thisIoT sensing technology, allowing it to step in at an earlystage to repair the leak and deal with a problem that mayhave gone undetected if Advantech's sensors had notbeen present.
In the future, Ganso Food and Advantech want toexplore the possibility of collaborating in the followingfields: implementing digital signage solutions for real-time monitoring of factory productivity data and improvemanagement efficiency, or cold chain managementsolutions to monitor in-store freezer temperatures andmanage distribution. Indeed, with help from Advantech'scomprehensive software and hardware solutions, GansoFood is building an efficient management model from thefactory to store.