Advantech Launches High Performance Compact Fanless IPC with Intel® 8th Generation Core™ i Socket Type Platform
5/31/2019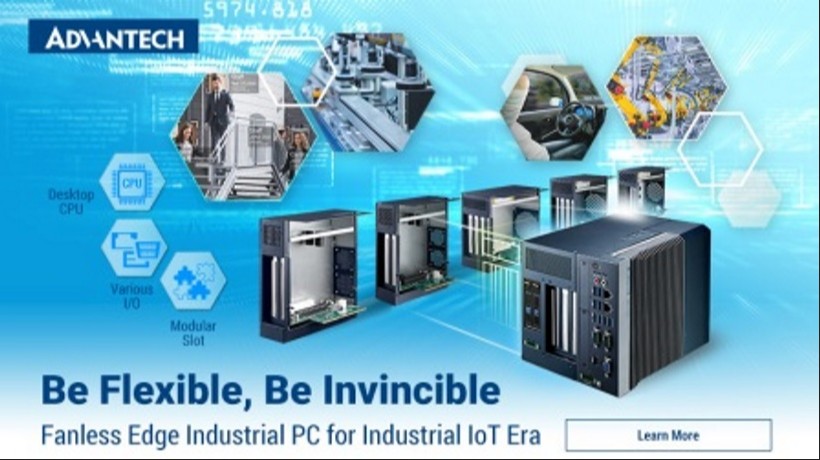 Taipei, Taiwan, May 2019- Advantech (2395.TW), a leading global provider of intelligent systems and platform solutions across multiple vertical markets, is pleased to announce the launch of MIC-770, a high performance, compact, fanless IPC with the latest Intel® Core i™ socket-type CPU. MIC-770 provides highly flexible expansion capability and excellent computing through the Intel® 8th generation Core™ i socket type processor, dual Channel DDR4 memory, optional I/O modules and unique Advantech i-module products. Together, these will satisfy applications in the factory and machine automation fields, which need expansion capability and cost-effectiveness. The compact size and ruggedized design of MIC-770 withstand the demands of harsh industrial environments, to ensure stability and durability.
Reliable High Performance Platform with Fanless Design
MIC-770 is a fanless system equipped with the latest Intel® 8th generation Core™ i socket-type processor. This unique combination of socket-type CPU and fanless design not only provides high performance computing ability, but also avoids the problem of dust accumulation, greatly increasing product reliability and reducing equipment maintenance cost. Another advantage of fanless design is that it is silent, which means that the MIC-770 can be in noise-sensitive applications that still require high performance. MIC-770 supports Microsoft Windows 10, and Advantech's SUSIAccess remote management software utility for convenient management and system protection.
High Performance-to-Cost Solution with Strong I/O Flexibility
MIC-770 supports 2x GbE LAN, 2x USB3.1 ports,6x USB 3.0, 6x serial ports, dual displays, and various optional modules. Located in the front panel for convenient cabling, the system's flexible I/O interfaces can support various displays, expansion I/O, and intelligent alarm functions to enable diverse machine automation applications. Moreover, with the inclusion of a mini PCIe I/F onboard, Advantech's PCM/MOS iDoor industrial fieldbus, smart I/O, and communication modules can be integrated for enhanced functionality. In addition, 7 kinds of unique Advantech i-module products give MIC-770 even more powerful expansion ability via the PCIe/PCI slots, including 2x 2.5" hot-swappable HDD/SSD bays, to support customer add-on cards and massive storage requirements. The customer can assembly those modules, accessories, and their own add-on solutions quickly and safely because of the innovative mechanical design of MIC-770. This flexible-capacity solution decreases assembly time on the customer's production line, and saves maintenance cost in the field, enabling customers to use a single IPC platform for multiple and varied applications. Furthermore, the shortened lead times of Advantech's configure-to-order service (CTOS) helps customers reduce their time-to-market, yet with a cost-effective solution.
Ruggedized Industrial Design Aimed at the IIoT Market
MIC-770 is a compact, fanless, industrial system that supports wide range of power inputs, and operating temperatures of -10~50 °C. The ruggedized chassis design and cast aluminum heatsink offer vibration and shock protection, as well as a passive thermal solution that ensures silent operation. Designed for the industrial automation market and to withstand 24/7 operation in harsh environments, all electronic components are rugged and satisfy certification standards for environmental protection, EMI/ESD tolerance, and high-voltage surge requirements (2KV). This high-performance platform with rich I/O and multiple displays provides an attractive solution for a variety of IIoT applications.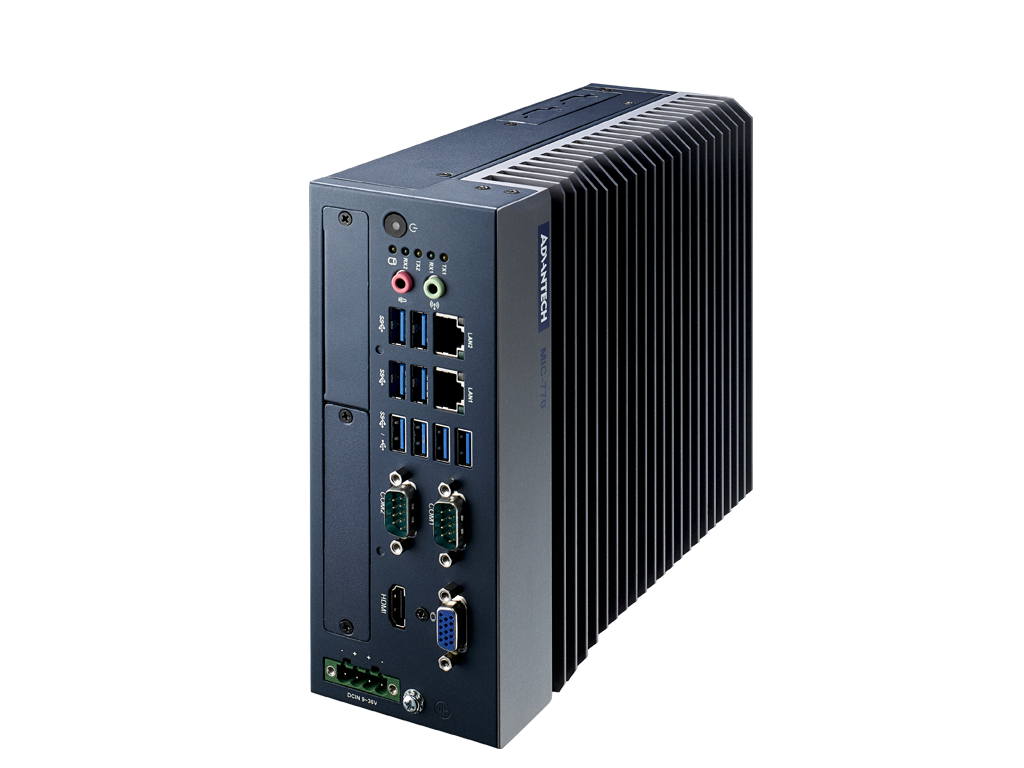 Intel® 8th Gen Core™ i CPU socket-type (LGA1151) with Intel® Q370/H310 chipset

Wide operating temperature (-10 ~ 50 °C)

VGA and HDMI output
2 x GigaLAN, 2 x USB 3.1 and 6 x USB 3.0

2 x RS-232/422/485 and 4 x RS232 serial ports (Optional)

1 x 2.5" HDD/SSD, and 1 x mSATA

9 ~ 36 VDC input power range

Supports 2 x LAN, isolation COMs, and 32-bit GPIO modules

Supports Advantech i-Modules

Supports Advantech SUSIAccess and embedded software APIs

Advantech's high performance compact fanless IPC,MIC-770, is available for order now. For more information regarding MIC-770 or other Advantech products and services, contact your local sales support team or visit our website at www.advantech.com.
Established in 1983, Advantech is a leading provider of trusted, innovative products, services, and solutions. Advantech offers comprehensive system integration, hardware, software, customer-centric design services, embedded systems, automation products, and global logistics support. We cooperate closely with our partners to provide complete solutions for a wide range of applications in diverse industries. Our mission is to enable an intelligent planet by developing automated and embedded computing products and solutions that facilitate smarter working and living. The number of applications and innovations made possible by using Advantech products is unlimited. (Corporate website: www.advantech.com)