Accelerate Your AI Deployment with Advantech SKY-5240 - HPC & AI Converged Clustered
11/14/2019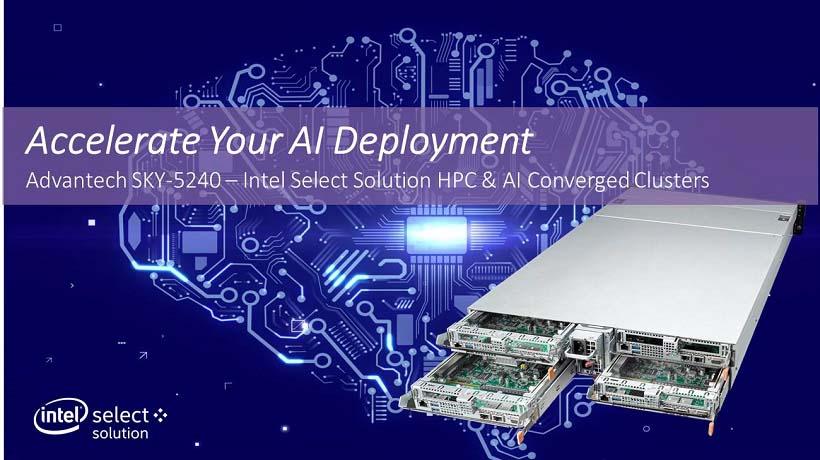 Advantech, the leading provider for industrial intelligent system, has developed a core competency in reliable and high performance server grade-IPC for over 30 years. Now Advantech has delivered the SKY-5240 server, a verified Intel® Select Solution for HPC & AI Converged Clusters, which provides the compute-intensive resources needed to run artificial-intelligence (AI) workloads on existing high-performance computing (HPC) .This solution helps ensure enterprises get the performance, agility, and security they require in AI deployment.
The Advantech SKY-5240 2U 4-node server is a highly configurable and high performance server designed to balance server-class processing with flexible I/O and offload density in a 20" depth chassis. The system is a cost effective, robust platform optimized for high reliability in networking, edge and industrial computing. By working with Intel, Advantech delivers a solution through a hyper-converged cluster approach with virtualization and containers as the underlining technology to converge HPC and AI into one homogenous harmonized software and hardware framework using Intel Select Solutions for HPC & AI Converged Clusters on Magpie.
The SKY-5240 Intel Select Solutions for HPC & AI Converged Clusters combines 2nd Generation Intel® Xeon® Scalable processors, Intel® Solid State Drives (SSDs), a high-performance parallel file system for storage, and Intel® Omni-Path Architecture (Intel® OPA), it delivers following supports for multiple types of workloads in the same infrastructure.
Reducing the total cost of ownership (TCO) potentially. AI can build on existing HPC infrastructures without additional specialized hardware to run AI workloads
Speed up time to insights with improvements in AI inferencing
Enabling data transfer between multiple environments, reducing the time to results for data analytics and AI training runs.
Hybrid workflows supported in the same infrastructure, a capability that allows the solutions to make use of resources and improve efficiency across HPC, AI, and data analytics workloads in a single environment

The solution runs Intel® Optimization for Tensor Flow models on an HPC system. TensorFlow is a deep learning framework based on Python and designed for ease of use and extensibility on modern deep neural networks (DNNs). In addition, Apache Spark support in the solutions helps with machine learning and data analytics. The solutions also provide a cohesive HPC and AI software stack with integrated open source tools for batch scheduling, which can reduce system complexity and licensing costs and can support hybrid workloads in the same HPC infrastructure.
The SKY-5240 Intel Select Solutions for HPC & AI Converged Clusters supports advanced capabilities to run machine learning, deep-learning training models, and data analytics on the same HPC cluster. Performance can be demonstrated and total cost of ownership can be reduced. Significant incremental investment in Advantech and Intel's portfolio has enabled the vision to have a converged workload approach reducing the need to consider countless hardware and setup.
The SKY-5240 Intel Select Solutions for HPC & AI Converged Clusters made his debut on One Intel Station during SC19 in Denver, Colorado, USA (November 18-20).
More about Intel One Station: http://www.intel.com/ois
For more information of Advantech SKY-5240 verified Intel Select Solutions, please go to the following website or contact