Amita Technologies and Advantech Build a Smart Energy Storage System
2/1/2021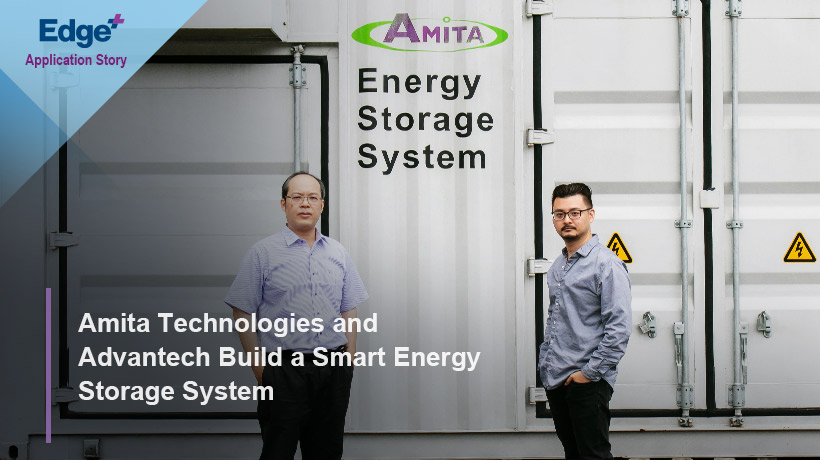 Amita Technologies and Advantech combined their respective strengths in battery hardware manufacturing and IoT open cloud software development to create a smart energy storage system. This jointly built system delivers green energy management and conservation to the global manufacturing industry.
The Taiwanese battery manufacturer Amita Technologies Inc. has a factory in Taoyuan with an innovative energy storage system. This system uses a set of smart energy storage applications aimed at helping administrators effectively calculate factory power consumption. Using these calculations, managers can develop power usage strategies aimed at energy conservation. This power storage system — that utilizes Advantech's smart IoT solution — will be promoted globally through Amita Technologies and Advantech's extensive marketing resources. This power management system promotes environmental protection and sustainability within the global manufacturing industry.
Reduces the implementation barriers of smart energy storage systems for factories
Since its establishment in 2000, Amita Technologies Inc. has remained committed to the research and development of lithium battery technology, and has 18 years of experience in battery cell design. Amita Technologies has also developed battery modules and energy storage systems to augment competitive strength in battery manufacturing. They have successfully expanded power storage systems in a myriad of application fields and countries.
Product Manager for Amita Technologies Inc., Hou-qi Chen, stated that in order to meet further smart power management requirements in factories, Amita Technologies sought cloud platform and software development partners. Advantech's open IoT cloud platform and innovative industrial application software capabilities made it a natural choice. They cooperated with Advantech to integrate their Edge Intelligence Server (EIS), equipped with WISE-PaaS DeviceOn/iEdge I.App, into Amita Technologies' Energy Storage System thus enabling intelligent energy management in factories.
Hou-qi Chen added, "In the process of energy storage system implementation, Amita Technologies found that different factories have different IT environments. This makes it difficult to deploy similar energy storage systems. In this regard, Advantech EIS, which supports Modbus, OPC, and MQTT communication protocols, helped overcome the differences." Similarly, DeviceOn/iEdge supports private cloud and public cloud architectures such as AWS and Microsoft Azure. EIS enables rapid integration via its open architecture, and greatly reduces the implementation barriers of smart energy storage systems for factories.
Managing smart energy storage systems with visualized UI
After reviewing the application of smart energy storage systems in different factories, Amita Technologies' System Integration Engineer, Wei-zhe Ding, explained that traditional energy storage management systems provide information regarding voltage, current, and power during charging and discharging. Despite this, it is difficult for administrators to decipher complex figures and comprehend factory power consumption. Advantech's DeviceOn/iEdge helps address these issues. Using this system, administrators can remotely monitor and analyze power consumption in real time, thereby improving its management.
Using the ODBC plug-in in DeviceOn/iEdge, storage system consumption data is displayed in graphs. Additionally, data and configuration parameters are obtained using DeviceOn/iEdge's GET/SET API. At present, factory power managers can fully understand their power usage during peak/off-peak hours. Likewise, they can now tailor their energy storage system to the utilities' service agreement. This includes charging during off hours to avoid exceeding electricity limitations set in the agreement. This helps reduce consumption and saves money. For example, after implementing the smart energy storage system, Amita's Taoyuan factory reduced electricity costs by 15~20% when compared to the same period in the previous year. Once the government passes relevant laws and regulations, these clients will be able to sell extra electricity from their systems to Taiwan Power Company and create new green energy opportunities.
Expanding the global market through collaboration with Advantech
Taiwan's comparatively low electricity prices have not incentivized the adoption of smart energy storage systems in manufacturing industry. To address the issue, Amita Technologies will start the global distribution of its smart energy storage systems going forward. Wei-zhe Ding said, "Combining Advantech's global distribution network and local DFSI partners with Amita Technologies' cultivation of smart energy storage systems will ease the adoption of smart energy storage systems in more overseas application fields."
Wei-zhe Ding, when looking towards the future, emphasized that energy storage systems range from large-scale systems for factories to small/medium-sized systems for commercial and home use. Amita Technologies will continue to work closely with Advantech on other product lines to create more innovative strategies.