Advantech EPD-660/662 Streamlines Smart Hospital Information Flow
2022/2/16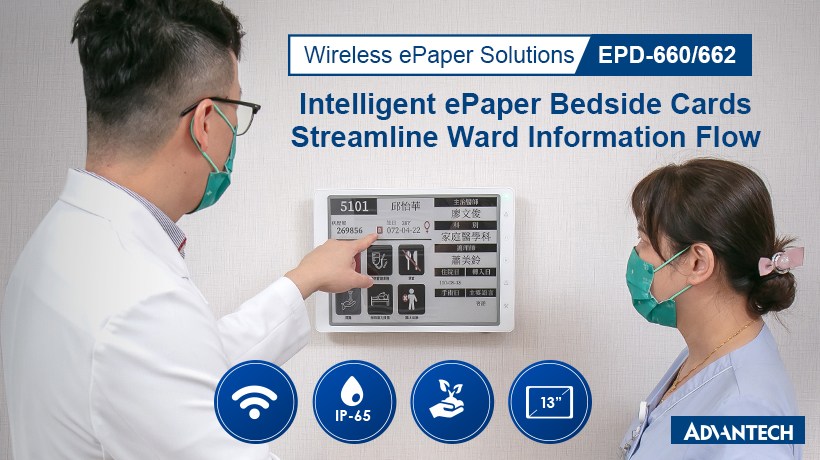 17 Feb, 2022, Taipei, Taiwan - Advantech, a leading global provider of industrial wireless solutions, is proud to announce the latest member of its Wireless ePaper Solution Suites — the EPD-660/662. A major goal of promoting smart solutions in healthcare is reducing staff workloads. With the use of EPD-660/662, routine procedures and vital tasks can be completed more efficiently.
Enabling an Intelligent and Sustainable Planet
Managing climate change remains a major future challenge and necessitates forest conservation. To this end, using ePaper devices reduces carbon emissions by reducing the need to harvest trees for paper production.
Bedside Information System Caters to Medical Workers and Patients
Previously, patient medical records and paperwork needed to be manually updated or replaced entirely following a change in status or diagnosis. This process increased the likelihood of data errors and necessitated extra care to avoid misinterpretation or miscommunication. Replacing paper-based administration processes with the implementation of smart bedside cards, helps mitigate these problems.
"The process of digitization emphasizes present details and general workflow observations. By adopting this approach when implementing smart systems, primary healthcare providers have been able to reduce daily workloads," explained Ms. Xiang-Fen Lai, Deputy Director of the Nursing Department at Yeezen Hospital.
These bedside cards help with numerous tasks — including traditional form input for digital record-taking and the issuing of name tags for identity confirmation. Likewise, they help notify medical staff of specific patient needs. This improves communication between doctors and patients, as well as doctors and nursing staff. Ms. Lai reported that both the doctors and patients were very satisfied with the solution after it became operational.
Advantech's Solutions and Application Benefits
EPD-660 and EPD-662 Smart Hospital/Smart Building Solution suites can be managed and present on both device and battery status using ePaper Management Software: DeviceOn/ePaper. Indeed, DeviceOn/ePaper enables remote control and the leveraging of Image Generator. Since all information shown on devices are graphics, Image Generator offers a template editor that supports the free drag and drop of images. Users can set up data based on template modules for automation image push. This makes the graphic-changing process easier and more effective. Another key Image Generator feature is the Service Management. This provides image auto-delivery and firmware over the air. In fact, EPD-660 and EPD-662 can change content and FW remotely automatically. Likewise, system integrator can control EPD-660 and EPD-662 through RESTful API on DeviceOn/ePaper. A technical document can now be found on the DevcieOn/ePaper website.
EPD-660, EPD-662 supports the 2.4GHz RF wireless protocol integrated with 13.3" ePaper in an ARM Cortex-M4 processor. With optimized power consumption and device management, your applications will benefit from long battery lifetimes in 2.4GHz Wi-Fi solution. EPD-660, EPD-662 provides multiple buttons and an indicator for application control, which are highly integrated into the RESTful API on DeviceOn/ePaper and offer to system integrator.
EPD-660, EPD-662 Key Features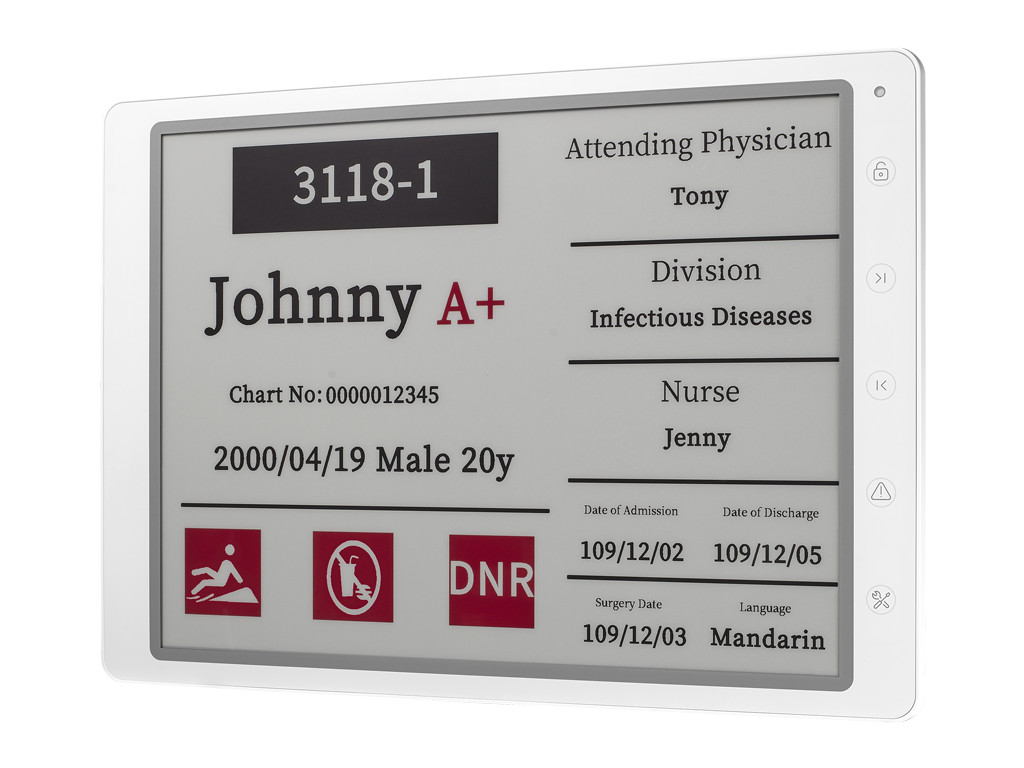 Easy, construction-free installation for power and internet cables

Easy deployment via connection to field Wi-Fi app


Sustained power for up to 6 months (updated 3 x per day)

Lack of backlight improves patient experiences
For more information regarding EPD-660 and EPD-662 or other Advantech products and services, please contact your local sales support team or visit our website at www.advantech.com.