Advantech Launches Ultra-Slim DSD-7055 Display Solution for Signage Applications
2020/8/24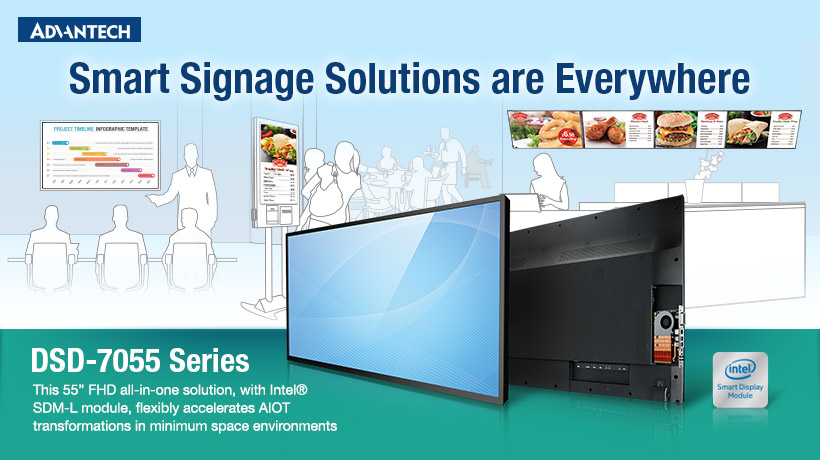 Aug. 2020, Taipei – Advantech, a leading global embedded solutions provider, is pleased to announce DSD-7055, an Intel® Smart Display Module (SDM) signage display solution. Equipped with Intel® SDM-L interface, the ultra-slim (53 mm/2.08 in) DSD-7055 eases integration and maintenance in retail, self-service, and conference room applications. Advantech's industrial-grade monitor features a 55" Full HD display that supports wide viewing angles, high contrast ratios, and a brightness of 500 nits delivering impressive visual performance. Additionally, Advantech's solution accepts varied signal interfaces — including VGA, HDMI, DisplayPort, and SDM to fulfill requirements in diverse industrial applications.
Reliable Slim and Light Industrial-Grade Design
Advantech's DSD-7055 features a slim (53 mm / 2.08 in) and light (18 kg /39 lb) form-factor to ease installation, maintenance, and upgrade. This industrial-grade panel and components deliver highly reliable 24/7 operation in both portrait and landscape modes. Additionally, DSD-7055 boasts a 50,000 hr backlight lifetime enabling sustained performance in a myriad of applications.
SDM Design All-in-One Solution Enables Social Distancing
This solution is equipped SDM-L interface allowing Intel® SDM-L compliant signage systems — including Advantech DS-200 — to be easily integrated into monitors. This SDM-L interface simplifies DSD-7055 maintenance and upgrade, and saves space in conference rooms, classroom smartboards, signage solutions, and other end applications. As part of an integrated system, Advantech's smart signage solution helps fight the ongoing pandemic by safely displaying information and encouraging social distancing.
Intel® SDM-L interface simplifies integration, maintenance, and upgrade
Thin form-factor design for limited space applications (53 mm / 2.08 in 18 kg /39 lb)
500 nits high-brightness display with wide viewing angles of 178/178 degrees
50,000 hour long-lifespan backlight
Advantech's DSD-7055 signage solution will be available from August 31st, 2020. For more information regarding DSD-7055 or other Advantech products and services, please contact your local sales support team or visit our website at www.advantech.com.