Executive Team
Jamie Lin
Chief Operations Officer, Advantech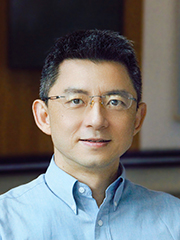 Joined Advantech in 2005
EMBA from University of New South Wales
Worked for GE Capital and Schlumberger
Jamie Lin is the Chief Operations Officer of Advantech. His responsibilities include managing manufacturing centers in Taipei, Taiwan and Kunshan, China; Advantech Global Services (AGS) worldwide; corporate procurement; quality assurance services and supply chain operations.
Jamie graduated from University of Sydney in Australia with double degrees in automation control and computer science, and an EMBA from University of New South Wales. Prior to Advantech, he had work experiences with GE Capital and Schlumberger Sema.
Jamie joined Advantech in 2005, becoming the Xindian PCBA plant manager in 2008. He was relocated to lead Advantech Kunsan Manufacturing Center (AKMC) in Jiangsu, China in 2013.
He has made a great contribution in leading teams to achieve significant improvement to production quality, cost competitiveness, product delivery and employee satisfaction. Productivity increased over 65% during his first six years at AKMC. Jamie has also led Industry 4.0 initiatives at Advantech since 2016 and actively participated in the initial iFactory product development for Phase II/III.
Based on outstanding performance, Jamie was promoted to the position of COO by the board of directors in July 2020.
He is currently undertaking the challenges of digital transformation with emphases on "Agile Manufacturing Services" and "Collaborative SCM", advancing Advantech's global operations to achieve greater competitiveness in the IoT era.