Executive Team
Jamie Lin
Vice President, Manufacturing Operations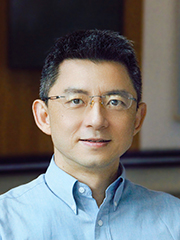 Joined Advantech in 2005
EMBA from University of New South Wales
Worked for GE Capital and Schlumberger
As Associate Vice President of Advantech's Manufacturing , Jamie's main responsibility is to manage the company's manufacturing centers in Taipei, Taiwan, and Kunshan, China.
Having graduated from the University of Sydney, Austalia, with double degrees in Mechatronics Engineering and Computer Science, Jamie also received an EMBA from the University of New South Wales. Previous work experience includes positions with GE Capital and Schlumberger in Sydney, Australia.
Jamie joined Advantech in 2005 and held management positions at Xindian and Advansus plants in the years that followed. In 2013, he relocated to Kunshan, China, to serve as Director at the Advantech Kunshan Manufacturing Center (AKMC).
With a clear focus on agile manufacturing services, Jamie and his team have built up operations at AKMC to be reliable and flexible in meeting the challenges of high-mix, low-volume manufacturing in the IoT industry. Under his leadership, AKMC has been transformed into an efficient manufacturing center that has set a high industry benchmark. In 2017, Jamie was promoted to Associate Vice President of Manufacturing Operations to lead both centers at Taipei and Kunshan.
Leading the implementation of the Industry 4.0 initiative, Jamie and his team have created practical production innovations by integrating Advantech's own IoT products with customized solutions, thereby transforming traditional processes into a more intelligent and digitized form of manufacturing. These innovations have been packaged into Advantech's IoT solution-ready platform offerings, which continue to help customers and partners advance toward a more intelligent approach to manufacturing.
These outstanding results from Jamie's team have enabled Advantech to maintain an important edge on cost, quality, speed, and flexibility in the increasingly competitive market.