Executive Team
Miller Chang
President of Embedded-IoT Group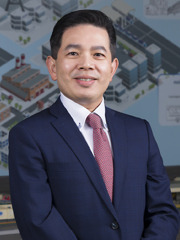 EMBA, National Taiwan University of Science and Technology
Worked at Phoenix for 11 Years
Joined Advantech in 2007
Miller Chang is the President of Embedded IoT. Embedded IoT offers a wide range of hardware products with superior "Embedded Design-In Services". Our offering ranges from boards and systems solutions, peripheral modules and software services, to intelligent displays and digital signage, and vertical focused gaming platforms. Emb'Core's vision is to develop innovative, intelligent and leading embedded solutions to help our customers build intelligent and smart applications that power intelligent cities.
Born in 1970, Miller graduated from National Taiwan University of Science and Technology with an EMBA degree. Before Advantech, Miller worked for Phoenix BIOS and was in charge of the World Silicon Porting Business for 11 years. Miller joined Advantech in 2007, where he was in charge of the Embedded Firmware and OS development business, and built the integrated central embedded software team for Advantech.
Miller points out that Cloud computing is becoming mainstream in each industry. Most applications not only must have a certain amount of networking features, but they also need to include features that take advantage of cloud-based services. By gradual interconnection of disparate systems, and through the implementation of cloud-based services and networked devices, the vision of an intelligent city has become a reality. In order to enable the intelligent planet, embedded systems must possess certain capabilities such as more sensitive perception, comprehensive Internet connectivity, and powerful intelligent management. This will change the application of embedded computers from general purpose to application-ready and service-ready platforms.