Raising the Robot IQ with Smart 3D Vision
5/25/2022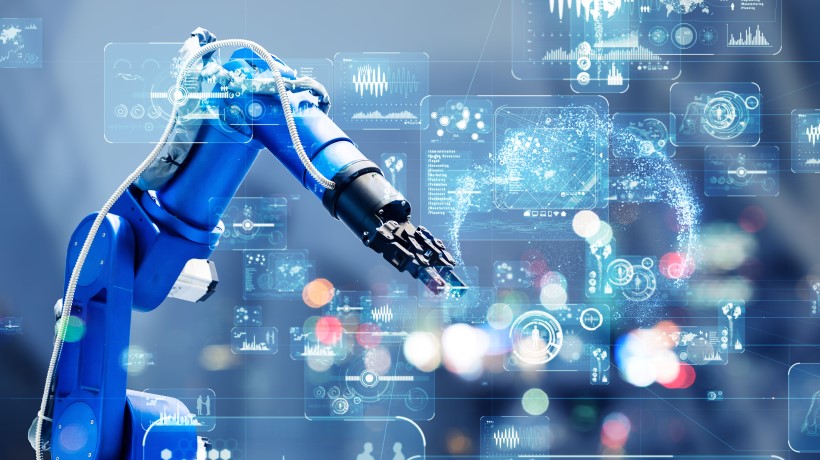 While vision technology has been primarily advanced by improvements in 2D image sensing, it has become a critical component and a major driving force of industrial automation. Vision technology has enabled the use of robotics in a vast range of applications that dramatically enable higher and more effective operations. In the field of 3D vision technology, robots guided by vision can locate individual components, determine the correct application, and complete the assembly scenario. Over the course of the many stages of development, vision technology has been embraced by many companies who have seen the indirect value to their customers and a direct value to their production processes.
In the post-pandemic era, an unstoppable force swept through the globe. Growing by leaps and bounds, it left a blazing trail across e-commerce platforms. That force is, of course, online shopping. The incredible growth of post-pandemic e-commerce is estimated to continue expanding to 15% in 2022, reaching $1,045 billion (eMarketer). For sale is any kind of service and product that can be purchased and shipped directly to a consumer's home.
Although the positive sales forecasts give e-commerce enterprises reasons to celebrate, they also spell out very clearly the need for better and more efficient logistics systems at the warehouse level.
A typical process can be comprised of a camera and a computer with the associated software. In a typical example of a vision-guided robotic (VGR) system, the vision system (camera and software) is set up to determine the position of a component while it is on a conveyor. The vision system identifies the location of the components and sends the coordinates to the robot. In turn, the robot positions the attached gripper over the target component to select it.
While the system may seem simple enough there are existing difficulties in integrating the vision system to match the type of camera with the intended expectations of the system—difficulties, more often than not, stemming from lack of knowledge by an integrator or solution builder. In contrast to a VGR system, traditional automation is defined as serial production, large single product sizes, and limited flexibility. Introducing a new element into a traditional production line is a time-consuming and costly process, and often a large investment.
VGR system can operate with very little mechanical setup, often eliminating the need to set pick-up positions for components. Parts with varying shapes and sizes can be picked up and placed as required. The versatility and flexibility to implement the vision system is a key factor that results in more effective operational processes. Additional benefits also include:
High machinery efficiency, reliability, and flexibility

Reduction in manual work

Quality control application
High residual value

For enterprises, quality control has been dependent on a visual inspection model. The traditional machine vision systems have a high failure rate when presented with defect types in samples with high variation between similar parts. Augmenting the inspection process with the power of smart technology helps to deliver high-precision detection results. Compare to machine vision systems using computer vision technology confined to rule-based algorithms, smart 3D robotic visual defect inspection can detect defects based on training data.
In this case, the client was a logistics and supply chain management enterprise. They planned to implement a 3D robotic vision system in their warehouse logistics to classify inventory by size and detect defective packages. They required a 3D vision system with the capability to support the use of 3D cameras for piece and bin-picking applications. The customer's warehouses housed multiple conveyors running 24/7. In the middle of the conveyers, the controlling systems are spaced ten meters away from the robotic arms and 10 GigE industrial 3D camera installation. For the inspection system, large volumes of 3D images at high resolutions had to be processed and analyzed in seconds. The traditional vision technology faced limitations: the existing data transmission method for the 3D camera employed a camera link (PoCL) cable with a five-meter distance limit. It was not capable of processing high transmission volumes and congruent robotic arm operations. To leverage smart technology for robotic visual inspection in real-time, the client required a solution with substantial computing power at the edge and large storage capacity to store the volume of images, as well as the necessary bandwidth required for the data transmission.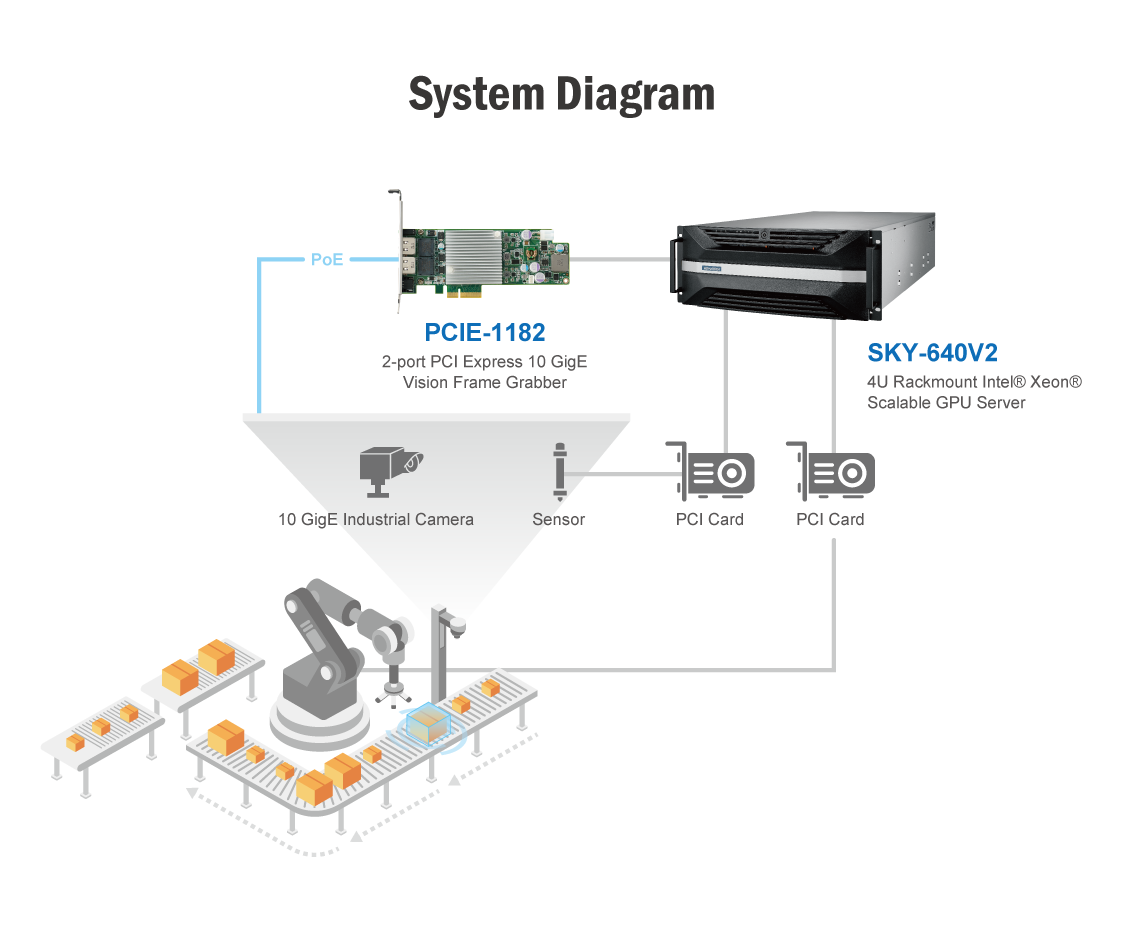 The comprehensive 3D robotic vision solution from Advantech was composed of a frame grabber (PCIE-1182), a GPU card (NVIDIA A100 GPU), a system server (SKY-640V2), and a motion controller to control the engine operating modes. While the 3D camera and sensor are positioned above the package conveyor, high resolution images and point cloud data (5M pixel, 16 fps, RGBD) equivalent to 300MB/s is acquired and transmitted to industrial server SKY-640V2 through PCIE-1182, then analyzed in real-time with GPU running 19.5 TOPs under FP64 Tensor cores. To drive the visual computing workflow, the image analysis is accelerated through the high-end GPU and high bandwidth, low latency system memory by Micron to deliver exceptional true real-time collaboration. The highly flexible solution combines the Power over Ethernet (PoE) technology on the Advantech PCIE-1182 to eliminate compatibility and special wiring problems. By using PoE technology, the frame grabber can connect directly to the 3D camera ensuring a direct connection over regular Cat 6 cable even at distances over five meters.
The SKY-640V2 is a 4U rackmount server is embedded with a 3rd Generation Intel® Xeon® Scalable processor supporting 4 x PCIe x16 double-deck cards and 3 x PCIe x8 single-deck cards. The SKY-640V2 uses Micron's16x DDR4 3200 MHz ECC RDIMM/LRDIMM, which can support up to 2TB memory.
The large number of expansion slots enable support for applications demanding flexibility, i.e. the simultaneous use of frame grabber and motion control cards.
The comprehensive 3D robotic vision solution simply met the customer's requirements. The frame grabber, motion control card, GPU card and server system met all compatibility needs. The latest 10 GigE 3D camera technology accurately captured images by PCIE-1182 frame grabber that were sent to the SKY-640V2 for real-time inferencing for identification of defective products. Complicated robotic motion control, high-performance computing, and smart inferencing were done on SKY-640V2 locally with its Intel Xeon Scalable processor, Micron's DDR4 RDIMM/LRDIMM modules, and multiple PCIe expansion slots for high-performance graphic analysis. The impact of the SKY-640V2 is channeled through the high computing power of the server and onto the robotic arm for improved operational efficiency. As an added critical metric for automation deployment, the use of smart technology has led to the initiation of maintenance measures through predictive analytics. Just as analytics help to differentiate between the geometric positioning of a package, the same technology has helped to maintain the equipment by the precise measurement of degradation. With Advantech's 3D robotic vision solution, updating the logistics inspection system has been an example of successful logistics operation efficiency.
Industrial Quotient (IQ) Partner - Micron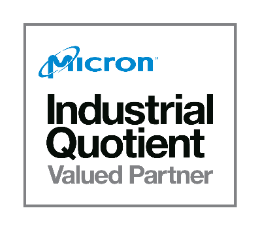 Micron is an industry leader in innovative memory and storage solutions transforming how the world uses information to enrich life for all. With a relentless focus on our customers, technology leadership, and manufacturing and operational excellence, Micron delivers a rich portfolio of high-performance DRAM, NAND and NOR memory and storage products through our Micron® and Crucial® brands. Every day, the innovations that our people create fuel the data economy, enabling advances in artificial intelligence and 5G applications that unleash opportunities — from the data center to the intelligent edge and across the client and mobile user experience. To learn more about Micron Technology, Inc. (Nasdaq: MU), visit www.micron.com.