Advantech's High Price-Performance Ratio Solution Provides Real-Time Process Parameter Monitoring For Panel Plant Steppers
3/29/2021
Steppers are key equipment that transfer mask patterns onto the glass substrate during the photolithography process in panel manufacturing, and the accuracy of the process parameters has a direct impact on the final product quality.
However, steppers are prone to parameter variation after extended running time. Without a real-time feedback system to respond to the process parameters, manufacturers who produce panels nonstop 24 hours a day will have their hands full with issues like reworking defects or putting production on hold for troubleshooting.
Furthermore, although steppers can be set up with measuring instruments to check signals and parameters, these oscilloscopes can only provide waveform data as images, which is unsuitable for users in parameter analysis and process optimization. If widely installed in fabrication plants, the expensive measuring instruments will also greatly increase manufacturing costs.
Advantech's solution, complete with software and hardware, offers real-time process parameter monitoring for steppers. With an accurate data capture card, a stable industrial computer, and no-coding-required monitoring software, panel manufacturers can install real-time monitoring systems with high price-performance ratio and find parameter variations as soon as possible to improve product yield rate and production efficiency.
To maintain a share in the competitive market, a well-known panel giant ranking top five in the world has always strived to improve product yield rate while keeping production costs under control. Recently, the company was thinking of optimizing the photolithography process management to enhance their product competitiveness.
The panel manufacturer's stepper parameter monitoring had always had time difference issues. The main reason was that the signal-measuring instrument provided by the stepper supplier is costly, so the plant merely installed a single measuring device for its dozens of steppers. The staff only adjusts and monitors parameters when changing the production line for different products.
As no one monitors during production, any parameter variation occurring in that time will often be overlooked until finished or semi-finished product inspection. The result is invariably a lot of defects that require reprocessing or scrapping, increasing the manufacturing cost. The reputation of the company may even be severely impacted if delivery is delayed.
Considering the high price of measuring instruments, the panel manufacturer decided to purchase software and hardware to build a real-time monitoring system by itself to reduce costs. The system captures key parameters that affect the process through the stepper sensors, and discover parameter variation issues sooner by constant monitoring.
To simplify the procurement and evaluation processes, and to ensure compatibility between software and hardware, the company favors a supplier that provides both. The required software/hardware must meet the below criteria:
Simple data visualization software to support system designers' developing workload and accelerate implementation.

Displays the captured data as waveform images, with all channel data in the same figure.

Offers upper and lower threshold alarm setup and sending functions to inform any parameter anomalies immediately.

Upload data to the database daily for analysis by higher IT systems to improve the manufacturing process.

Multi-channel data capture card for collecting the 40 signals from each stepper.

1,000S/s collection rate to ensure data accuracy.

Compact industrial computer to fit in limited on-site installation space
Advantech provided three products (the DAQNavi/MCM machine condition monitoring software, PCI-1747U high-channel-count analog input PCI card, and MIC-7500 fanless industrial computer) to meet the project's process parameter real-time monitoring requirements.
The solution works by installing the MIC-7500, containing DAQNavi/MCM and PCI-1747U, beside the production line steppers, where sensor signals are quickly and continuously collected. Data is stored temporarily in the computer and can be uploaded daily to the database as needed, where the panel plant's process management system can use it for analysis. Collected data will be computed and key parameters effecting the process displayed as waveforms. Managers can then compare the data with preset alarm limits and learn whether the parameters have shifted, notifying the production line for timely adjustment.
The core product of the whole solution is the DAQNavi/MCM, which allows the user to collect and analyze sensor signals without coding, and which displays the data as a dynamic waveform, same as an oscilloscope. Users can also choose how the visualized data is presented as per their own requirements. In this project, for instance, all channel data are in the same image for ease of monitoring. In addition, the cursor measurement tool can label measurements at the mouse cursor's position, assisting the manager in observing signal changes.
The DAQNavi/MCM's feature extraction function offers various data pre-processing algorithms that transforms large quantities of data into useful information. For example, this project requires maximum values, mean values, and minimum values to set up alarm limits, but engineers can easily complete this through software configuration. The software also sends out notifications actively to inform managers of abnormal occurrences.
Besides visualization data, the DAQNavi/MCM offers data storage, search, comparison, and playback display functions that aid in process optimization analysis. The interpretation function lets user's program simple logical expressions for further decision making with the extracted eigenvalues.
As to hardware, the 64 channels provided by PCI-1747U-AE are more than adequate for the 40 signals to collect in this project. Sampling rates up to 250 kS/s also recreate more precise waveforms and reduces distortion. The MIC-7500 has high-performance processors that provide ample computing performance. Its compact design takes up little room, making it easy to install in areas with limited space. Advantech i-Modules and iDoor technologies are supported for flexible I/O interface expansion. In this project, the MIC-75M11 module was selected for additional PCI slots to install data capture cards.
DAQNavi/MCM: Machine Condition Monitoring Software
PCI-1747U: 250 kS/s, 16-bit, 64-ch Analog Input Universal PCI Card
MIC-7500: Intel 6th Generation Core i Processor Compact Fanless System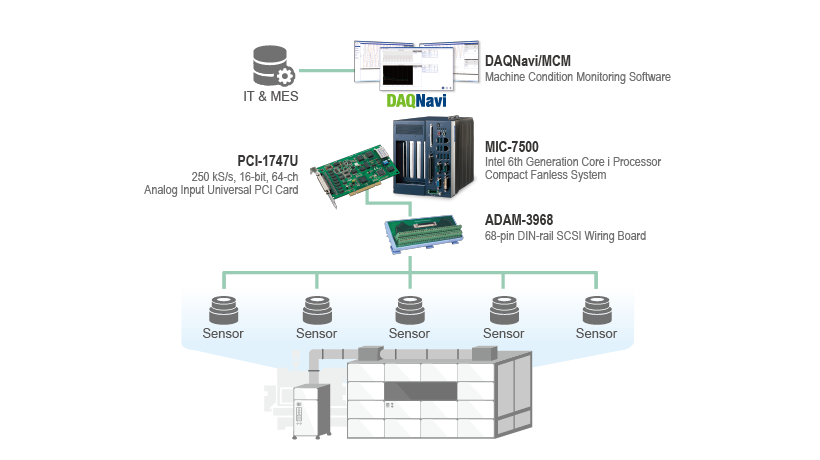 Panel manufacturers must take care in selecting solutions when introducing real-time monitoring systems for process management improvement. If the software and hardware products were purchased from different suppliers, additional implementation time would be needed for compatibility tests. In addition, even after implementation, clarifying accountability between the suppliers would be difficult if system problems arise in the future.
Advantech's real-time monitoring solution for panel plant steppers is a comprehensive solution with high price-performance ratio that provides all necessary software and hardware from basic signal collection to data computing and uploading. Not only does it capture signals accurately, the project can be set up in a short time with just a few steps with the convenient DAQNavi/MCM, and is easily applied to other equipment for bulk implementation.
After completing the proof of concept (PoC), the project client introduced Advantech's solution to all photolithography zones, and even duplicated the application in its three panel plants throughout Taiwan. With real-time photolithography process parameter monitoring and management, panel manufacturing yield rate and efficiency have increased significantly.