Advantech AIMB-587 Facilitates Precise Diagnosis with PACS
3/10/2021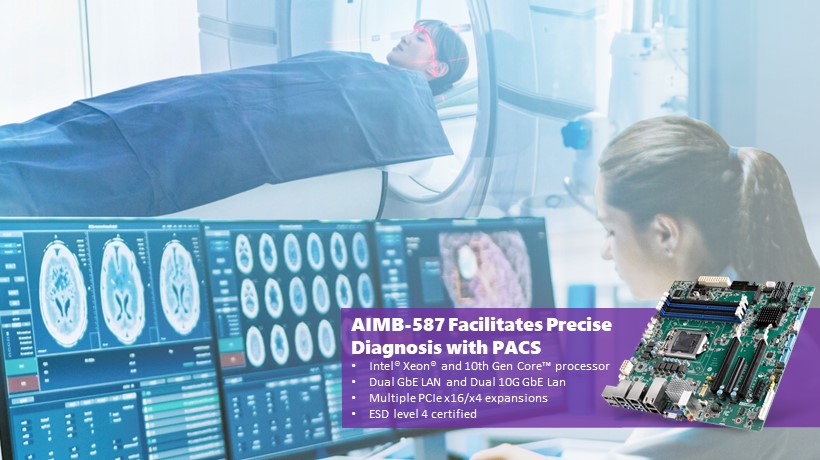 Doctors make numerous decisions that impact the well-being of patients. In order to achieve better outcomes with increased efficiency and to improve patient care, medical applications are rapidly going through the process of digitalization. This transformation contains three major phases:
Image processing:

analyzes high-definition data using the full capacity of the system.

AI-powered decisions:

guides doctors for better decision making using patient data.

Streamlined operations:

increases efficiency and safety.
A picture archiving and communication system (PACS) is a medical imaging technology, which provides economical storage and convenient access to images from multiple source machine types like X-ray plain film and magnetic resonance imaging. PACS provides a convenient platform for data management in hospital environments and is a great example of a digitalized medical appliance. Benefitting from advances in artificial intelligence (AI) programming, PACS is empowered with an advanced AI module and has shown impressive accuracy and sensitivity in diagnosis. Medical professionals are able to detect abnormality and disease more easily and efficiently in comparison with traditional manual assessments. The global specialty PACS market size is projected to reach USD 3.5 billion in 2024 from USD 2.6 billion in 2019, at a CAGR of 6.0%.
In imaging related applications, performance and data transmission reliability are crucial for service providers. On the one hand, appliances need to offer great computing power for multi-tasking. Data continuously comes from numerous equipment like CT and MRI machines so in order to achieve better imaging diagnosis results, AI modules should be compatible with motherboards and with AI solutions found in market. So identifying suitable AI solutions for PACS applications can be challenging for service providers.
With the massive amount of high-resolution images PACS systems need to process, high data transmissions are necessary and suitable network bandwidth are essential requirements for PACS. Video and images need to be delivered with low latency from the operation room to the cloud. During data transmission, medical confidentiality needs to be considered so patient images are embedded with security measures in both hardware and software.
Power-hungry Platform with High Speed Transmission
Advantech's AIMB-587, Micro-ATX form factor industrial grade motherboard was launched for performance applications like PACS. AIMB-587 uses Intel 10th Gen Xeon W series processors and its performance represents a 14% improvement in multi-threaded computing, compared with previous processor generations. With a PCIe x16 expansion slot, an add-on AI card provides the ideal solution for sophisticated medical diagnosis applications. The motherboard features Quad LAN port connectivity, dual port GbE LANs and another dual 10 GbE LAN port. 10GbE LAN connectivity achieves 10 Gbit/s bandwidth, which is required for high-resolution images and video transmission. The four LAN ports provide users with great options to construct different applications for various scenarios.
Data-Secured Solutions for reliability and privacy
Data confidentiality is a very important requirement in medical applications. AIMB-587 supports TPM 2.0 that can encrypt data and perform control and platform authentication. This means PACS is well protected from malicious attacks and data pilfering by hackers. In addition, AIMB-587 supports up to eight SATA ports, with software RAID 0, 1, 5, and 10 features. In addition, with certified Microsoft Azure, Advantech provides cloud back-up services for customers to store all their valuable information.
Medical-grade design-in services for time-to-market
Advantech also provided a design-in service to help customers develop their solution. For medical applications, EMC and safety compliance are contributing factors in developing system products. Advantech has many years of experience in medical system design and the need to comply with IEC60601-1, 2, 3; ESD level 4; and EN62368 medical certifications. With our help, we can speed up time-to-market schedules.
Advantech AIMB-587 is a high-end server grade Core-i industrial motherboard with superb performance is an excellent choice for innovative PACS solutions. It enhances the medical digitalization process with AI compatibility, and performs faster data transmission with better reliability.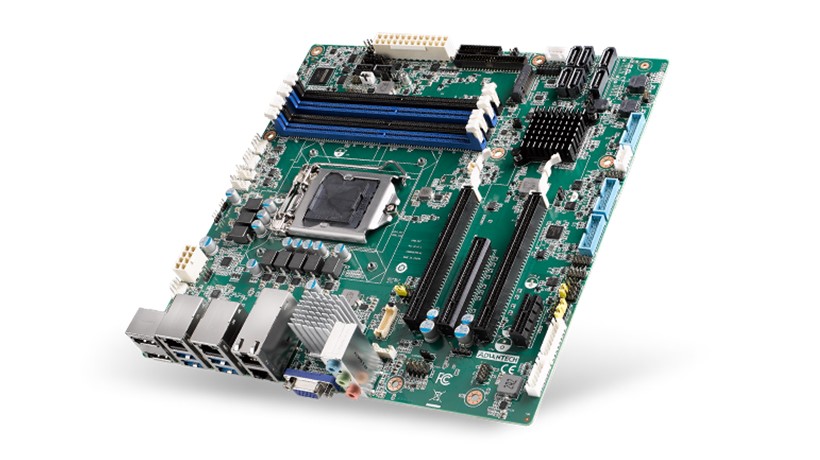 AIMB-587
Intel® Core™ 10th Gen Xeon W / Core i9/i7/i5/i3 processors
PCIe x16 (Gen 3), 1 x PCIe x4, 1 x PCIe x1, 1 x M.2 M key, 4 x USB 3.2 (Gen2), 6 x USB 3.2 (Gen1) and up to 8 x SATA III

Quad LAN, 2 x GbE LAN, 2 x 10GbE LAN (optional)
Triple displays – 2 x DP/VGA /eDP

Supports TPM 2.0 (optional)
Supports WISE-DeviceOn and Edge AI Suite