AI Monitoring Safeguards Hygiene and Quality in Food Processing Plants
12/16/2022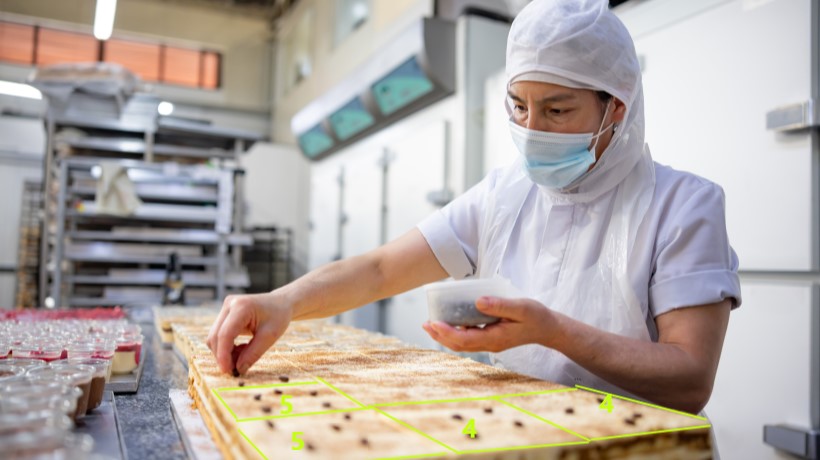 To prevent food contamination during processing, Taiwan's Ministry of Health and Welfare has stipulated a six-step process for proper handwashing for food industry workers. Workers are required to scrub their hands for at least 20 seconds to comply with the requirements. However, for managers of food processing plants, such strict regulations are cumbersome. For now, they still need to appoint personnel to perform regular monitoring and timing with stopwatches.
Food processing companies can greatly benefit from a system that can monitor handwashing and enforce strict handwashing requirements while ensuring that factories remain productive and efficient. A suitable AI system can accomplish this and instantly send out notifications to managers when problems occur. In this way, bacteria counts would be unlikely to exceed standard values and factories can continue being highly productive. An "in-process QC" approach assisted by AI can reduce the possibility of having to discard whole batches of products which would be very wasteful and leads to an increase in production costs.
The ideal platform could also be used to monitor other areas within a food processing plant, such as processing areas, mixing areas, packaging areas, etc., to make sure that operators comply with standard operating procedures (SOP). The tools employed should also be simple to implement and not require large amounts of programming and training.
ServTech has proposed an AI solution that can save time and effort while allowing for effective monitoring. Nelson Yen, General Manager of the company, said that "In food processing plants, they usually perform random checks on workers and conduct product assessments to see whether products are contaminated or not. However, it takes at least two days to deliver samples to laboratories for product assays. If the lab results indicate that the bacteria count exceeds the standard, all the products made starting from two days earlier will have to be destroyed. Such waste caused by the time gap can be the biggest pain point for food companies."
ServTech's MusesAI Platform
Powered by Advantech's MIC-710AIX (with the NVIDIA® Jetson™ Xavier NX module)
ServTech enables its customers to utilize the MusesAI Platform from the cloud to easily accomplish complete AI modeling. According to Nelson Yen, "In order to make the system work smoothly, we tested many industrial computers and gaming PCs from various vendors. Since Advantech's products demonstrate effectiveness in terms of performance, stability, and smoothness, we finally chose the Advantech MIC-710AIX to be configured as our on-site AI Inference Mainframe."
Fortunately, the AI monitoring system is built using ServTech's MusesAI Platform along with Advantech's MIC-710AIX, which can provide instant and accurate solutions so that food processing plants can take pre-emptive measures to avoid any problems while also improving management efficiency to save both time and money. Furthermore, ServTech's AI solutions have not only been successful in the food industry but have also been highly acclaimed in other fields such as the semiconductor and electronics industries. For customers who have specialized knowledge of their domains and want to implement that knowledge in their AI models, they can create models themselves simply by learning some basic editing skills.
Advantech's MIC-710AIX is an AI inference system with a built-in NVIDIA® Jetson™ Xavier NX module, providing powerful performance. In addition to its highly efficient computing abilities, the MIC-710AIX also offers HDMI and Ethernet ports. It can receive front-end image data for interpretation and records AI monitoring data which can be processed for reports or quality control audits in the future. It can even seamlessly connect with existing systems in food processing plants for data integration and management.
Lastly, the MIC-710AIX is compact, doesn't require much installation space, and has a fanless design that eliminates bothersome noise. For food processing plants that have more than one handwashing area or that have a need for systems to be installed in other areas, the MIC-710AIX offers the option of connecting two IPcam units, thereby allowing the system to perform multi-area AI monitoring with just one mainframe computer.