Automobile Factory Wastewater Discharge Monitoring
8/12/2022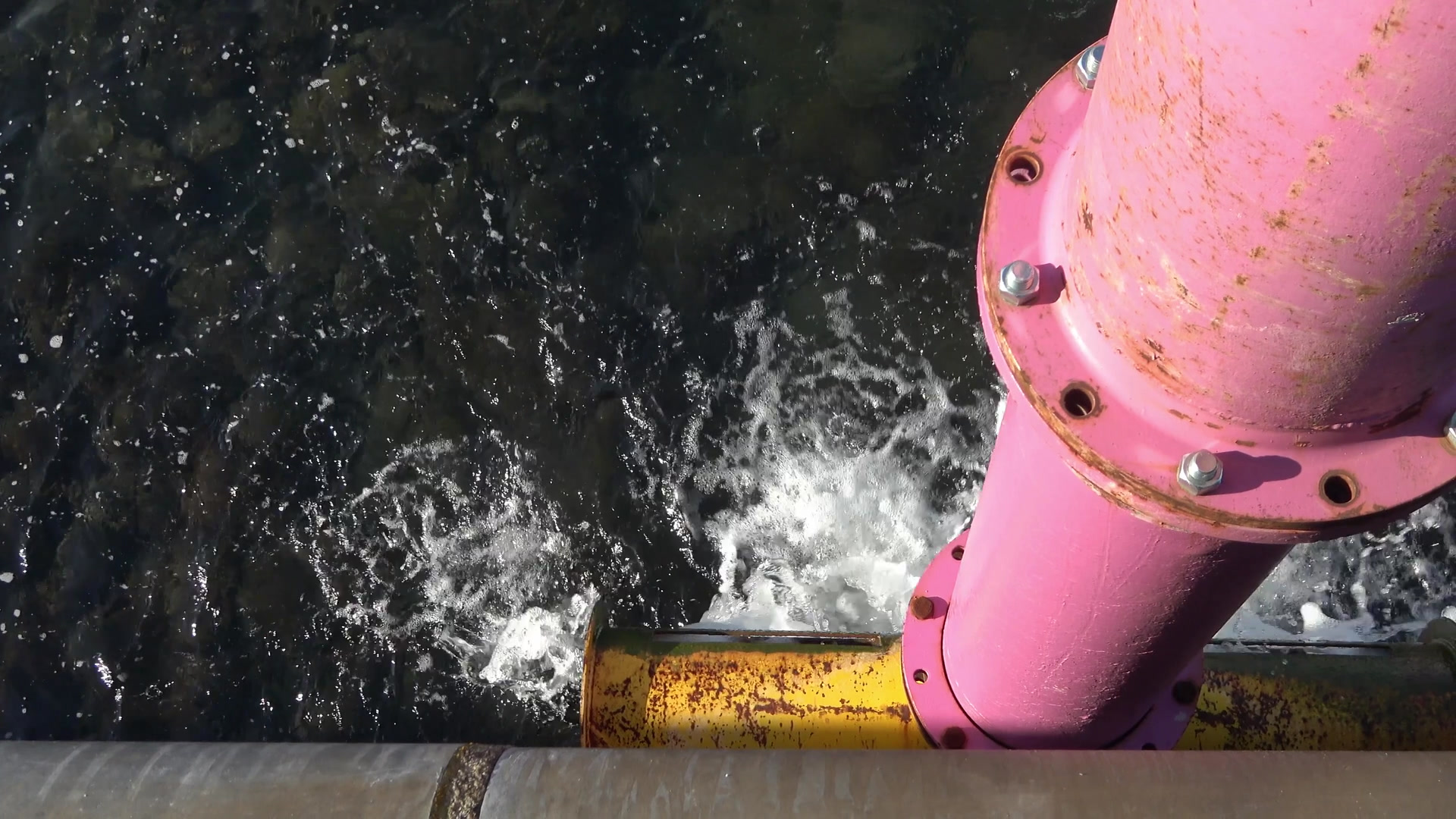 An automobile assembly plant in China, which occupies a large space and includes multiple workshops for processes such as painting and final assembly, was faced with two problems:
The factory is located in a low-lying area, rendering it vulnerable to excess water accumulation or even flooding during periods of heavy rain, which can severely hinder or interrupt production.
National environmental protection regulations are becoming more rigorous, necessitating strict control of discharged wastewater.
Both of these issues must be addressed through close monitoring of discharged water levels. However, the assembly plant's systems were relatively old, which meant that wastewater and sewage discharge monitoring had previously been performed manually at regular intervals—an inefficient method that could not cope with a sudden influx of water, such as during heavy rain. Moreover, the plant's existing equipment for monitoring water levels had to be opened and closed manually, with each workshop's system being separate. Given the plant's large floor area, simply traveling between workshops could represent a significant expenditure of time.
The automobile assembly plant required an automated, remote monitoring system for discharged wastewater; and the discharge systems for each workshop had to be linked so that they could be overseen together. The long distance between each workshop and the control room raises challenges on reliability, latency, and security of transmitting data. In addition, the environment of the automobile assembly plant can be dusty and have wide changes in temperature. Moreover, many different types of electronic equipment are deployed in the plant, causing potential electromagnetic interference to data transmitting if using copper wires. As a result, it is essential to choose the network solution that can avoid such connection risks and deliver stable data transmission performance.
IMC-350I-SFP-A: Mini Media Converter, 100Mbps, LFPT, SFP
EKI-2528: 8FE Unmanaged Ethernet Switch
EKI-9226G-20FMI: Industrial Rackmount L2 Managed Switch
The assembly plant's operators installed new equipment to create a new system for monitoring wastewater discharge. Sensors for water quality and water levels, flow meters, and programmable logic controllers (PLCs) at each workshop were linked together with Advantech EKI-2528 Ethernet switches. Each EKI-2528 was then connected to an Advantech IMC-350I-SFP-A media converter, which transformed the Ethernet signal output from the switch to an optical signal that could be sent over fiber-optic cables, extending the transmission distance to the control center kilometers far from the workshops. Finally, these optical signals were received by an Advantech EKI-9226G-20FMI Ethernet switch in the main control room at the plant. This design enabled the system at the main control room to receive relevant wastewater data from each workshop in real time. Furthermore, the PLCs in each workshop could be controlled remotely, which meant that wastewater discharge could be initiated remotely at every workshop during periods of heavy rain, thereby eliminating the need to manually monitor and open wastewater facilities at each workshop, and completely avoiding the issue of water accumulation. The advantages of this system are fourfold:
The adoption of fiber optic connections by using the IMC-350I-SFP-A media converter brings multiple benefits to the customers. First, fiber optic cables are thinner and lighter, as well as resist pull or push pressure than copper cables. Hence, fiber cables cannot be easily damaged and broken, offering the flexibility of bending easily and resisting corrosion from most chemical elements. Second, fiber optic networks leave out many of the latency problems that users experience on wired networks, reassuring a large amount of sensing data from each workshop to be delivered in real-time to the main control room. Lastly, data security is one of the important factors to consider during networking deployment. Fiber cables are more difficult to tap without startling any personnel, enhancing the data security.
The sensing equipment and PLCs are automated and work in real time, which means it is no longer necessary for personnel to manually check wastewater levels and operate discharge equipment. This improves response times, increases the plant's flexibility and agility in the face of potential hazards, and reduces costs.
The system enables remote monitoring of water levels and water quality, thus providing control room personnel with a real-time view of the water situation at every workshop without having to waste time moving to and between each location.
The modular design of the sensors, PLC, and EKI-2528 Ethernet switch setup means that the system is easily expandable if the automobile assembly plant sets up more workshops.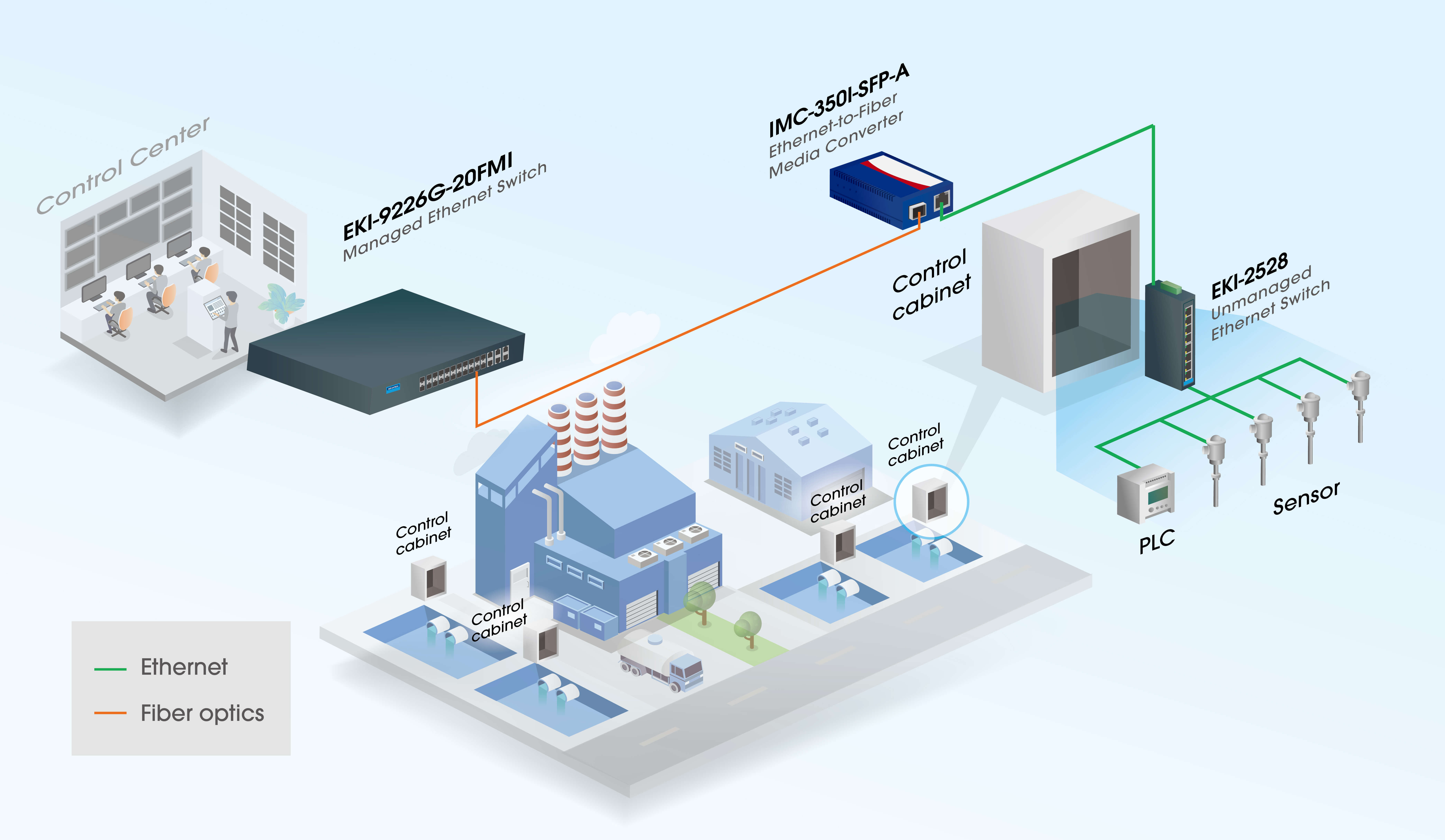 This automobile assembly plant's wastewater discharge system has been overhauled with Advantech products, transforming it from time-consuming manual procedures to a real-time, automated, and network-based system. Sensors automatically pick up data, which are transmitted via Ethernet and optical connections to a centralized system, which allows for unified management of the wastewater discharge systems in every individual workshop throughout the plant. This system has significantly improved management efficiency, and has effectively prevented disruptions to production due to excess water accumulation. It also gives the plant the ability to more closely monitor water quality to ensure that environmental regulations are adhered to.
Advantech was able to provide a complete communication solution that was customized for the customer's requirements using a combination of Ethernet and optical connections and equipment:
The Advantech IMC-350I-SFP-A industrial media converter is capable of transmission for distances up to 80 kilometers, along with its wide operating temperature range -25 to 85°C; thereby satisfying the customer's long-distance transmission and withstanding the tough environment requirements.
The Advantech EKI-2528 industrial Ethernet unmanaged switch is ideal for this application thanks to its compact design, rail mounting for installation in cabinets, and redundant power input design to avoid equipment failure from power interruption.
The Advantech EKI-9226G-20FMI industrial Ethernet managed switch features a multi-optical port design, allowing it to simultaneously access the multiple fiber-optic signals from each workshop.