Changing the Charging Landscape: 3D Vision-Guided Robots with Advantech's Edge Industrial Computers
2/5/2021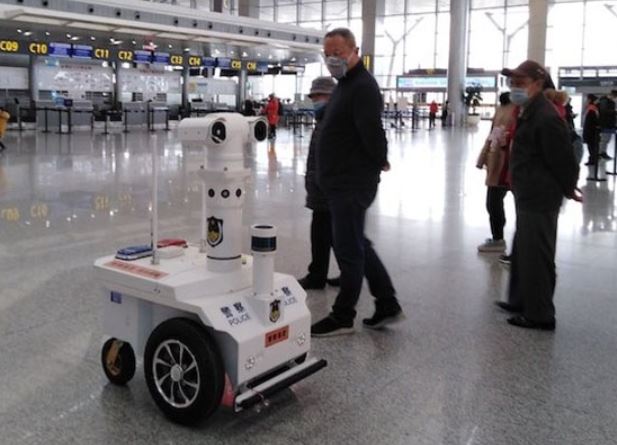 A solution for vehicle fast charging: a 3D vision-guided robot.
New energy vehicles (NEVs) have received great attention in recent years. They are now alongside standard automobiles as a choice for consumers buying a car. However, many people may still be pondering whether to own one, and the biggest reason why may be charging and the inconveniences associated with it.
Some of the challenges owners can face with charging include running out of power on the road, not enough time to charge at home, and difficulty finding charging stations on the road. Additionally, for those who don't have a residential parking space, installing a charging kiosk isn't possible at home. And for those with distant residential parking spaces, connecting long electric wires to your house creates a safety risk. To solve this challenge, Advantech's partner, Alsontech, who is dedicated to robotic solutions, decided to adapt Advantech's edge industrial computer, with high-stability, high-performance and compact size, to create a solution for vehicle fast charging: a 3D vision-guided robot.

Turning "cars looking for kiosks" into "kiosks reaching out to cars"
The 3D vision-guided robot provides users with an economical and flexible charging option, turning "cars looking for kiosks" into "kiosks reaching out to cars". Any parking space can now be turned into a charging kiosk. After a car drive into an unmanned charging station, there is no need for driver to get out of the vehicle. The robot stand by the charging station, its "eyes" can help accurately locate the charging port and guide the charging plug to fast-charge automatically. The robot can even automatically close the charging cover when finished. The whole process lasts only a few minutes, so the next car can be immediately charged after the previous car finishes.
The 3D vision-guided robot is composed of machine vision systems, automated guided vehicle (AGV) systems, drive motors, batteries, industrial PC, 3D-positioning sensors (binocular cameras), laser radars, switches, 4G/5G network modules, speakers and other components. Since the robot primarily uses USB 3.0 to connect cameras for complete guidance and image capturing, it is important to have a lockable, small-size, high-performance, highly reliable edge solution for it.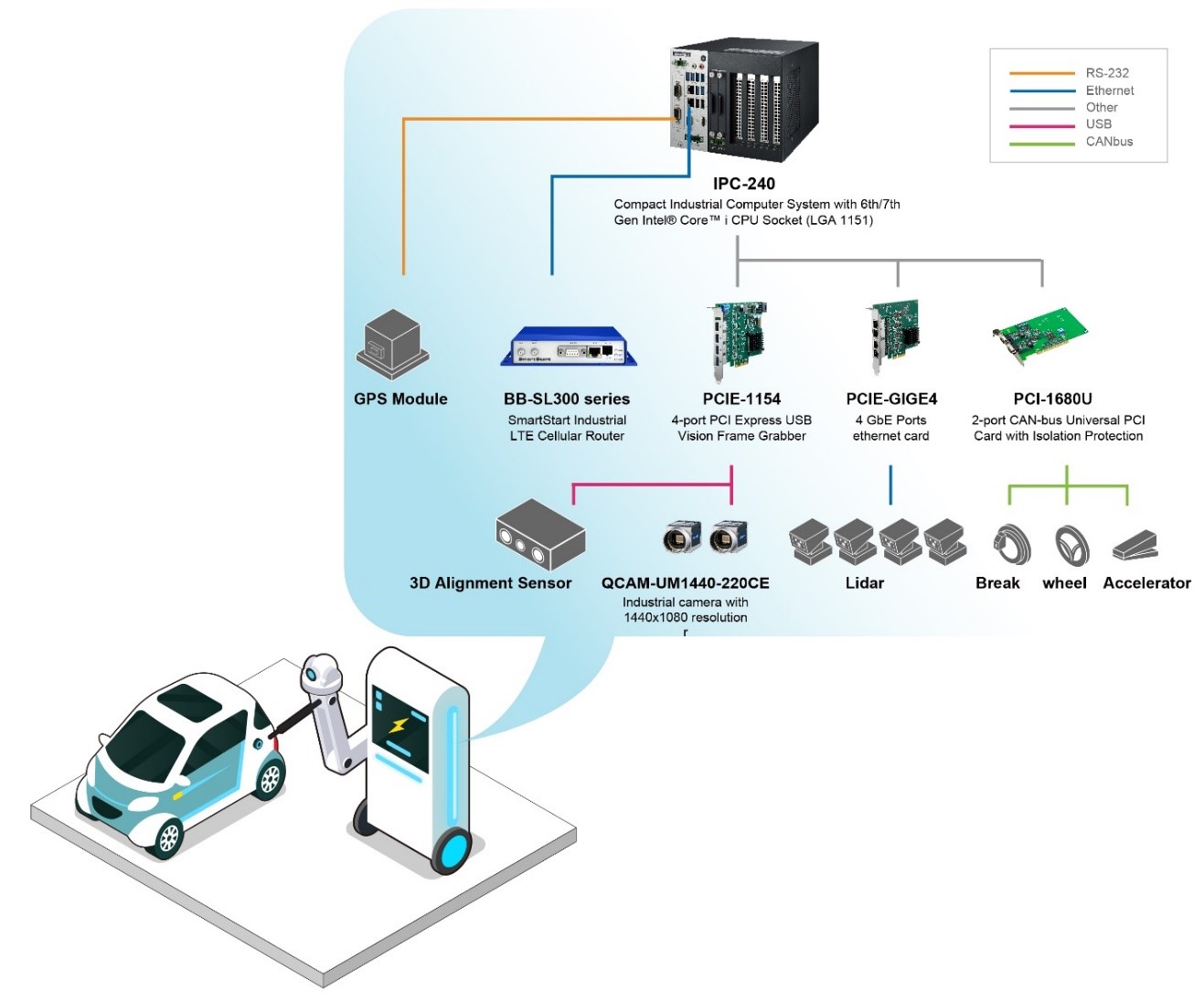 A combination of vision inspection and control systems
The 3D vision-guided robot needs to perform tasks like autonomous identification (face recognition, behavior analysis), network communication, and visual positioning. When driving, the network module is used to obtain precise location and maps, and the industrial cameras around it are used to obtain environmental data. The laser radar measures distance and detects obstacles, as well as looks for charging ports when it approaches electric vehicles. It also uses binocular cameras to accurately locate and control the robot to charge.
The robot uses Advantech's IPC-240 Compact Industrial Computer System as a key controller. The system has one panel with multiple I/O and PCIe/PCI card expansion slots and is highly-adjustable to customer applications, integrating image acquisition (USB), communication (LAN), and bus control. Its compact size and stable industrial control design makes it easily installed on the robot.
As for vision applications, the robot uses PCIE-1154 (a 4-port USB frame grabber card) equipped with isolated USB 3.0 ports for camera interface with independent bandwidth to ensure stable data transmission without frame drops, as well as a lockable design to ensure a reliable cable connection. Additionally, a PCE-GIGE4 expansion card with an Intel® Ethernet controller i210 adapter is connected to the laser radar, enabling fast data transmission. A PCI-1680U control card helps control the movement of the robot, including braking, changing directions and speeding up. For industrial communication, an external Advantech BB-SL300 series router is connected, which supports LTE full Netcom.
Industrial features to robot's success
Advantech's complete product portfolio makes it easy for customers to obtain highly integrated solutions. The IPC-240 compact system with Intel® 7th Gen Core™ i CPU maintains the flexibility of multiple PCIe/PCI card expansion, which achieves the best performance with ultra-compact size. The industrial input voltage design, coupled with the Smart fan system, can ensure stable operation of core i CPU even in harsh environments so that performance does not slow down, providing high stability. The Advantech IPC-240 uses Micron 16GB DDR4 SODIMM memory clocked at 3200 MHz, as well as the Micron 5300PRO which is a 3DTLC based 2.5" SATA3 SSD enabling the performance, quality, reliability and longevity needed by robotics applications.
With Advantech's worldwide support stations, Advantech provides repair and consulting services in a timely manner, thus increase the stability of overall solutions to gain the trust of customers.

Industrial Quotient (IQ) Partner - Micron

Micron is industry leader in innovative memory and storage solutions. Through our global brands — Micron® and Crucial® — our broad portfolio of high-performance memory and storage technologies,including DRAM, NAND, 3D XPoint™ memory and NOR, is transforming how the world uses information to enrich life. Backed by more than 40 years of technology leadership, our memory and storage solutions enable disruptive trends, including artificial intelligence, 5G,machine learning and autonomous vehicles, in key market segments like mobile, data center,client, consumer, industrial, graphics, automotive, and networking. Our common stock is traded on the Nasdaq under the MU symbol.