Explore Potential Applications for Self-Driving Vehicles
7/5/2021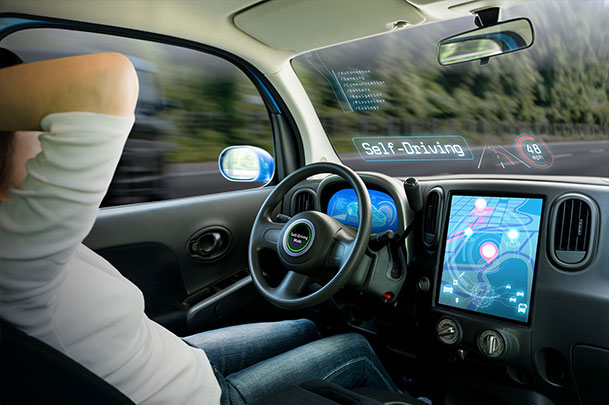 Location: Taiwan
In recent years, autonomous driving technology has advanced rapidly. However, because Taiwan's automobile industry is driven by market demand, the development of autonomous passenger vehicles is limited. Consequently, the Taiwanese government is emphasizing self-driving buses in its efforts to promote autonomous driving technology.
Turing Drive is a Taiwan-based startup company that focuses on the research and development of autonomous driving technology. In addition to participating in several government-sponsored projects to develop self-driving buses, Turing Drive has collaborated with Advantech and adopted its MIC-715 fanless edge AI system to expand the potential applications of autonomous driving technology.
CEO of Turing Drive, David Shen , highlighted that the application of self-driving buses presents great potential. Besides public transportation buses, shuttles operated in private/restricted areas are ideal for autonomous driving technology. The risk associated with operating autonomous vehicles in private areas is lower than that for public roads, and the systems are easier to control. Moreover, in emergencies, the responsible parties can be more easily identified. Thus, self-driving vehicles are ideal for serving as shuttle buses in private areas. In fact, for the last two years, Turing Drive has been actively testing its self-driving shuttle buses in various private/restricted areas, including large industrial parks, airports, schools, ports, parking lots, and sports complexes.
Considering ports for example, because of the level of security at the control zone, port employees typically park their personal vehicles outside of the control zone and either take a shuttle bus or walk to their office in the control zone. Currently, the common solution for port companies is to hire buses and drivers to transport employees in and out of the control zone. However, this solution is expensive and the shuttle frequency is generally limited. Accordingly, port companies have started considering self-driving vehicles for transporting employees, as well as documents and packages, to various locations.
For port companies, autonomous shuttle buses not only save costs, but also increase timetable flexibility. With traditional buses, transport is limited by the availability of drivers and their work schedules. Whereas autonomous shuttles are capable of 24/7 uninterrupted operation, even on non-fixed routes. The flexibility of self-driving shuttles allows employees to schedule rides on-demand via their smartphone.
Consider parking lots as another example. Some large parking structures require drivers to walk a considerable distance to exit the lot after parking their vehicle. They also need to remember to location of the parking spot in order to return to their cars.
Autonomous shuttles can be used to bring drivers directly to their parking spot, saving time and improving the overall usage efficiency.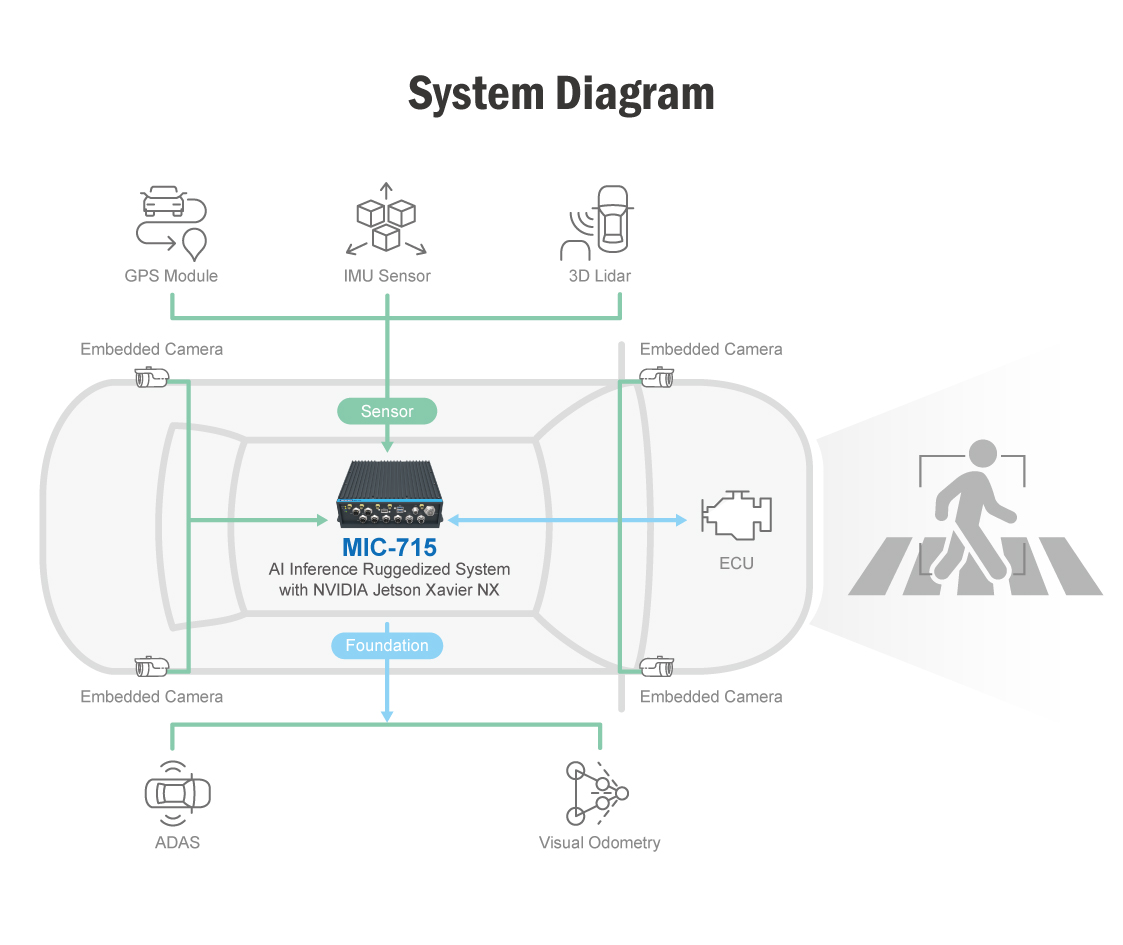 For autonomous buses, system stability is essential for deployment on public roads, regardless of the application scenario. Accordingly, Turing Drive decided to partner with Advantech because of its years of experience developing reliable and stable computing hardware. For conducting computation and deployment tasks, as well as AI module management, Turing Drive adopted Advantech's MIC-715 fanless embedded edge AI system. The MIC-715 system was also used for video capturing, image pre-processing, and data transmission applications.
According to David Shen, "Turing Drive was initially planning to develop our own AI server." In an effort to limit costs, Turing Drive decided to integrate the various hardware themselves. However, because Turing Drive is primarily a software company with minimal hardware experience, their attempts to integrate the hardware were unsuccessful and extremely time-consuming. The result of their efforts was a distributed solution of interconnected servers and routers. The main disadvantage of this solution was the potential for interruptions in connectivity between devices, which would disrupt the entire system.
To overcome the challenges of hardware development, Turing Drive decided to outsource the development of a hardware platform. After consulting with numerous hardware providers, Turing Drive selected Advantech because of their extensive knowledge and experience, as well as their ability to contribute to the design process.
For instance, Turing Drive originally proposed the use of a 32-pin cable for connecting multiple internet cables together. However, Advantech recommended separating high-speed and low-speed cables in order to minimize interference. Additionally, Advantech suggested having an independent power management design for bootup and shutdown operations, where the status of every module is checked before moving onto the next process. This design is ideal for vehicle devices and helps to ensure reliable operation.
Thus, Advantech collaborated with Turing Drive to develop its MIC-715 fanless embedded edge AI system. The system is IP67 rated for protection from water and dust ingress, while the cameras and sensors are integrated using waterproof M12 connectors. Moreover, the system supports the CAN bus vehicle communication protocol to ensure flexibility for a wide range of usage scenarios and requirements. For example, the cameras are currently connected via an Ethernet port. But MIC-715 retains a standard GMSL port that is compatible with vehicle cameras to allow for a seamless transition in the future.
David Shen emphasized that MIC-715 resolved the challenges previously encountered, and thus provides the ideal platform for autonomous vehicles. After the deployment of the MIC-715 solution, the number of unexplained interruptions or stopping incidents with autonomous vehicles declined substantially. Moreover, Advantech's technical experts are able to investigate any hardware issues, which allows Turing Drive to focus entirely on optimizing the autonomous driving software.

David Shen reported that during the collaboration, Advantech exhibited a high level of professionalism and adopted a customer-centric approach. In addition to providing quality hardware, Advantech promoted Turing Drive to its other partners and customers, providing additional opportunities for growth and market share expansion. Additionally, because of Turing Drive's limited resources as a startup company, Advantech helped to reduce the custom manufacturing costs by finding overseas clients with similar needs. Thus, Turing Drive did not need to cover the full design and engineering costs, greatly minimizing the company's funding pressures.
Overall, the autonomous driving solution based on Advantech's MIC-715 embedded edge AI system can reduce communication costs, enhance hardware integration, and improve system stability. Because of these benefits, Turing Drive plans to deploy Advantech's MIC-715 embedded edge AI system in all of its self-driving vehicles and is keen to collaborate on other design projects in the future.

TURING Drive develops the autonomous driving system for low-speed vehicles, including hardware, software, and operational and control center and APIs.Formed in 2018, the Taiwan-based startup has tested the system on a shuttle, a bus, and two types of golf carts, traveling over 30,000 km and taking 70,000 passengers under various sets of operational design domain (ODD), from amusement park, train depot, to off-peak bus lanes.