Advantech helps customer quickly build energy management system
1/11/2018
Under the pressure of energy shortages and rising public awareness on environmental issues, enterprises are paying increasingly more attention to their energy management practices. Electricity conservation is no longer a measure to be considered only when the power supply is low; rather, it is an important means for an enterprise to reduce its operating costs while enhancing its green image. To achieve this, the primary task for enterprises is to implement an energy management system (EMS). To improve their energy efficiency, however, they must first identify their internal energy consumption trends and then gradually introduce the functions they require.
Advantech's EMS solution is an energy management platform that has been developed following years of practical experience in the field. In addition to being ready-to-use and capable of fulfilling the basic needs of users, it has been designed to eliminate compatibility issues between software and hardware. In addition, its open architecture means that it supports both traditional meters in older factories as well as the latest smart meters. This total solution enables enterprises to quickly implement an EMS without the trouble of having to develop their own software. It also allows them to monitor their energy usage through a unified management platform that can be easily expanded in the future.
Established in 1984, GIGATEK INC. is a professional provider of electronics contract manufacturing (ECM) services. With factories in Taiwan, China, and the United States, the company serves customers throughout North America, Europe, Australia, and Asia. Its headquarters in Taichung has two buildings; one that is a combination of offices and a factory (Building A), and another that primarily acts as a warehouse (Building B). The company had become aware that the electricity cost of these two buildings was rising continually. Efforts to determine the main contributors to power consumption were futile, largely because the monthly invoice showed only the total amount payable with no detailed information on electricity usage. Thus, despite the company's desire to reduce electricity costs, it had no way of actually knowing which facility or factory area was consuming the most power. Furthermore, many foreign manufacturers require their suppliers to comply with certain local environmental regulations, meaning that for GIGATEK to maintain competitiveness in the international market, it had to implement an EMS to improve energy efficiency, reduce operating costs, and enter the green supply chain.
The company thought it best not to have in-house engineers invest time into program development, hardware/software integration, and system testing, because these would be lengthy processes and the company was seeking positive energy-saving results as soon as possible. Choosing a commercial off-the-shelf solution was thus considered the ideal approach. The solution had to be able to monitor high-energy equipment and provide relevant reports and information so that the company could further optimize its equipment operations and energy management strategies. GIGATEK also decided to install electric meters in different office departments in order to determine precisely how much electricity was being consumed by each unit, which improved upon the previous practice of sharing electricity expenses according to the floor area ratio.
The two buildings required many electricity meters because of their multifunctional roles in factory, warehouse, office, and commercial operations. Thus, the company required a multi-site unified management platform. The planned meter configuration for Building B was more effective than the one for Building A, which did not have meters fully covering the entire area. The new solution had to overcome this shortcoming while still being able to incorporate traditional meters into the system. In addition, a multi-display digital signage solution was required to automatically display energy-monitoring information on a large LCD screen in the first-floor lobby, thus projecting an energy-saving and environmentally friendly corporate image.
Advantech's EMS solution is a solution-ready platform (SRP) with preconfigured software/hardware for energy management. This SRP includes WebAccess 8.2 browser-based remote monitoring software, an HPC-7242 server-based hardware platform, and ECU-1152 industrial communication gateways. In addition to the excellent performance provided by this EMS, it is also simple to install and does not require users to configure the operating system or hardware. WISE-M502 smart meters and the DS-570 digital signage player were respectively adopted to monitor the electricity consumption in different departments and establish a multi-display system.
This solution was immediately ready for use after installation. In addition to having multiple WISE-M502 meters installed on each floor, each factory office had its own ECU-1152 for transmitting meter data from these meters (as well as from GIGATEK's older meters) to the HPC-7242 in a central control room. This platform has WebAccess installed, which transmits real-time data to the DS-570 for visualization as dynamic graphs. Concurrently, electricity usage information is displayed on a computer screen in the control room and on the LCD screen in the first floor hall.
WebAccess is browser-based SCADA software that gives users a graphical dashboard for viewing energy information on a single screen. The interface supports HTML5, meaning that it can be accessed using major browsers. In this case, it allowed GIGATEK's managers to determine the electricity consumption trends in both buildings, and this could be done using a computer in the control room or from a cell phone or tablet, at any time and from any location. WebAccess can also automatically export electricity data in Excel format and generate reports. In the event of abnormal electricity consumption, it also actively issues an alert to relevant staff.
WebAccess 8.2 : browser-based HMI/SCADA software

HPC-7242 : 2U rackmount chassis for ATX motherboards with 4 hot-swap SAS/SATA HDD trays and RPS

ECU-1152 : TI Cortex A8 Industrial Communication Gateway with 2 x LAN, 6 x COM Ports

DS-570 : Intel® Celeron® N2930/ J1900 Quad-Core™ SoC with advanced graphics signage player

WISE-M502 : Multi-loop DIN-rail smart power meter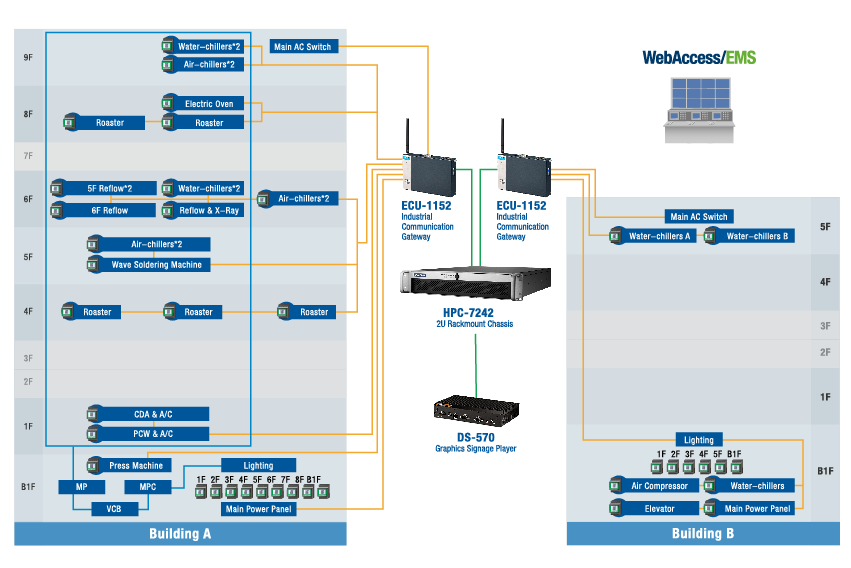 Advantech's EMS solutions and wide range of products provide an easy-to-use, integrated EMS with an open architecture. In addition to rapid implementation, there are numerous secondary development tools that allow users to complete phased energy monitoring programs according to their new requirements.
One of the most notable aspects of this project was the short implementation time and subsequent acceptance-testing process, which was completed within a month. After implementing Advantech's EMS solution, GIGATEK quickly identified the sources of excess power consumption. Benefiting from this easy-to-use and easy-to-integrate solution, the company intends to use it as the core monitoring platform to manage other facilities (e.g., air compressors, fire protection, and access control). Additionally, the control functions will be implemented in the next stage to further enhance its energy-saving effect.