Frozen Foods Manufacturing Execution System (MES)
8/27/2019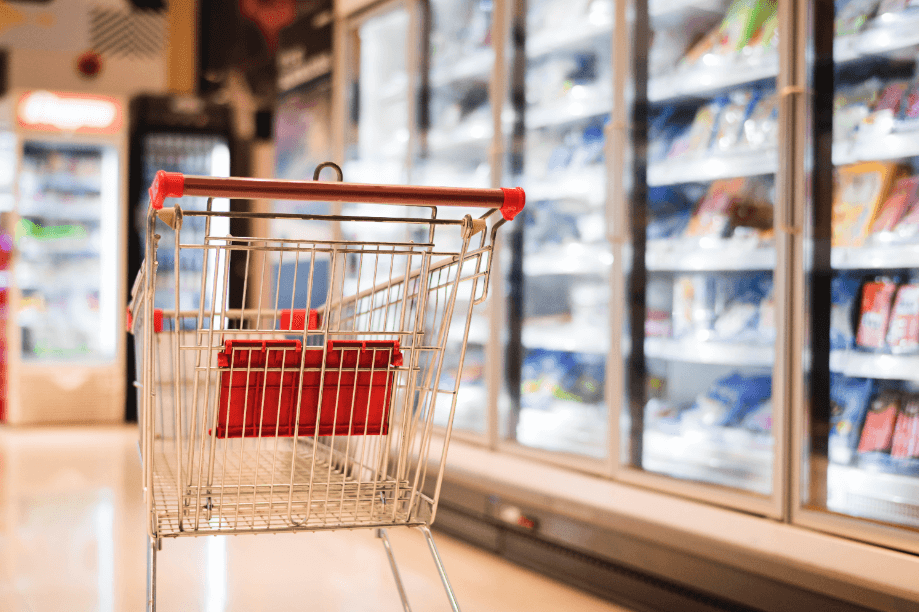 Poor efficacy in food safety systems cause fatal influence
In 2008, an outbreak of Salmonella Saintpaul shocked American society. Over 1,300 people were infected across several states and at least 200 were hospitalized. Uncertainty over the outbreak caused variations in the level of resources allocated between local and state health departments, and thus lead to delays in gathering accurate information for an epidemiological investigation. Poor efficacy in food safety systems, a significant factor contributing to difficulties in managing the Salmonella Saintpaul outbreak, angered members of the general public.
Manufacturing execution systems (MES): Construct traceability mechanisms and help manage the production process.
Over the decade since, traceability has become essential to managing and safeguarding the global food industry. As one example, McDonald's India introduced a traceability system to record the movement of all ingredients sourced from 40 different suppliers across the country. For Amit Jatia, Vice Chairman of Hardcastle Restaurants Private Limited, tracing each step of the production and transportation process is integral to maintaining product quality and consistency. Using traceability systems, McDonald's tracks the temperature and location of products delivered to restaurants across India with pinpoint accuracy. When potential food safety problems are identified, the system takes immediate preventative action.
In food factories, manufacturing execution systems (MES) construct traceability mechanisms and help manage the production process. By implementing an MES, both the sourcing of raw materials and production/logistical data can be managed coherently and efficiently.
Challenges in traditional food factories: High temperature, humidity and quality of employee training
However, challenges remain: in traditional food factories, high temperature and humidity can disrupt data transmission and erode equipment durability. Devices such as touch computers and switches can't translate data and work efficiently due to the factory environment. A few years ago, Tsang-kuang Cheng, the founder of Unicom, a software provider in the computer integrated manufacturing field, developed an MES for food production facilities. "We aren't so worried about broken equipment, however, devices that function unstably end up wasting precious human resources and require too much time to fix. Worst of all, problems that result in unstable functions are often difficult to identify," Cheng said.
Another issue, according to Cheng, concerns employee training—if workers are not familiar with industrial computers, there's a higher likelihood sensitive devices will be dropped, mishandled, or broken. Overcoming unstable data transmission issues and guarding against broken devices are key issues for the food industry and for system integrated manufacturers.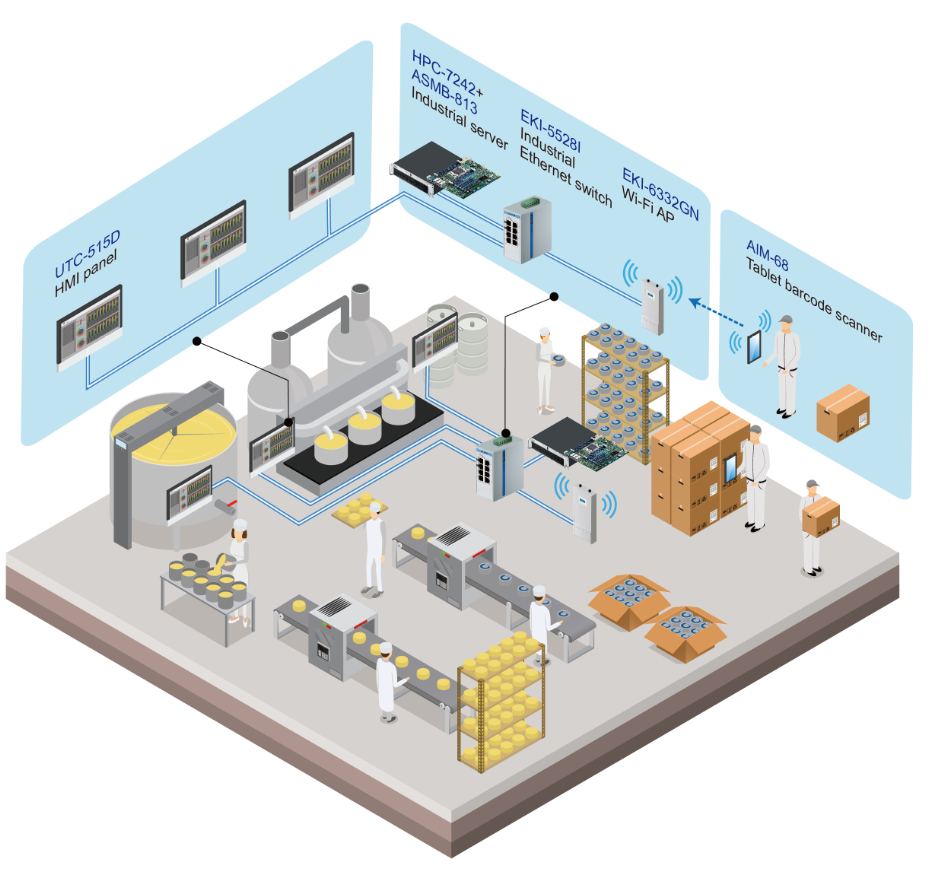 Advantech MES Solution:

Ruggedized designs with extended operating temperature range
To solve this problem, Advantech cooperated with system integrators to provide a series of devices with an extended temperature range (-40~75°C) for MES. These products were designed to endure the high temperatures common in food factories while providing efficient data transmission. Advantech deployed a range of hardware to meet the needs of the integrators. With the Advantech solution, production data could be quickly and efficiently integrated with the MES on the server to allow operators to check and enter the latest information from the Internet.
Mobile tablets for wireless barcode scanning that records ingredient flow
Advantech also provided AIM-68 10.1" mobile tablets with and barcode scanner modules for scanning during the warehouse materials receiving process. The wireless communication feature makes instant ingredient records possible without limitation of wire deployment.
The Wi-Fi AP receives ingredient data from AIM-68 and sends it to Ethernet switches
The EKI-6332GN is a feature rich wireless AP/Client which provides a reliable wireless connectivity. It receives barcode information from AIM-68 mobile tablets and transmits it to EKI-5528I industrial Ethernet. With the support of STP, WMM and IGMP snooping protocols, EKI-6332GN effectively improves the reliability of wireless connectivity, especially in food industries that need high reliability and high throughput data transmission.
Industrial Ethernet for wired network integration and communication
Connected with Wi-Fi AP and HMI panels, the EKI-5528I collects data from all over the food factories to servers, allowing for instant data communication between devices. It uses Modbus/TCP to communicate with the SCADA software and SNMP to communicate with the NMS (Networking Management System) at the same time, thereby allowing full read control over the devices. Composed of the highest quality components, The EKI-5528I enables the range to operate in temperatures of between -40 and 75°C along with Level 3 EMS protection to repel electromagnetic interface for industrial resistance.
Great computing power and stable system for factory automation.
The HPC-7242 is a 2U ruggedized server chassis with metal front, air filter, efficient switching power supply and easy-to-maintain cooling fans. The ASMB-813 is a workstation ATX server board with Intel® Xeon® E5-2600 v3/v4 processor. The ASMB-813 motherboard underwent 24-hour testing under full-load at operating temperatures of -5 ~ 65 °C (23 ~ 149 °F). A series of environmental tests that ensured IEC 60068-2 compliance were also conducted. This server system can endure strict vibration and stably operates under harsh and dusty environment like food factories
Traceability remains a major concern in the food production industry and thus MES are being introduced into factories to track and record the production process. Advantech MES solution enables stable data acquisition and transmission and helps construct traceability mechanisms to manage the food production process.
For more product inquiry, please contact iiot.tech@advantech.com
Advantech experts will be providing you with dedicated support soon!