Improving Operational Efficiency at the Port of Salalah with Advantech's DLT Series of Rugged Vehicle-Mounted Terminals
11/22/2021

Operating since 1998, over two decades of contribution to Oman's economic development and growth, Port of Salalah (POS), the largest port in Oman, is strategically located on the trade crossroads between Asia and Europe and serves the markets of East Africa, Indian subcontinent, the Red Sea, and the Arabian Gulf.
Ranked sixth out of 351 ports worldwide in operational efficiency when receiving and handling container ships based on the Container Ports Performance Index in 2020, Port of Salalah operates both a container terminal and a general cargo terminal. APM Terminals (APMT) operate it as part of the APM Terminals global terminal network. This multi-purpose facility is well-equipped to handle bulk cargo, containers, general and liquid cargo, cruise liners, and naval ships. With a range of value-added services, such as bunkering, container repairs, a container freight station, warehousing, and ship repairs, also provided at POS, the port's excellent infrastructure and history of operational efficiency complement its strategic location.
In the last 20 years of successful operations of POS, mobile data computing systems and radio data terminals (RDTs) were used to manage the port operations. However, with evolving business requirements, POS found that its return merchandise authorization (RMA) process and turn-around time have not been fully efficient. In addition, POS has invested in the upgraded version of the Navis N4 terminal operating system (TOS), which requires high-performance RDT devices to support Windows 10 and Web-based applications via the Google Chrome browser. Therefore, APMT Port of Salalah and the port administrators were exploring new RDT devices with superior system resources that deliver increased computing performance. The investments in technological trade and transport facilitation solutions are vital to the growing maritime and cross-border trade as the port is able to function more smoothly and keep goods flowing. At POS, this is part of its strategic plans to elevate its technological capabilities and evolve its port operations for future demands.
Advantech's DLT series of rugged vehicle-mounted terminals (VMTs) offer comprehensive range of products with the desired specifications and the most cost-effective industrial-grade systems for efficient and reliable port operations. Moreover, with Helicon Technologies serving as a local partner in the UAE, Advantech was able to provide increased customer support in terms of service, consultation, installation, and quality commissioning throughout this project.
10" display with outdoor readability
Supports external outdoor antenna with high signal reception
Programmable function keys and built-in keyboard
Supports 4G/LTE

Windows 10 OS


Certified for SOTI MobiControl and Navis N4 software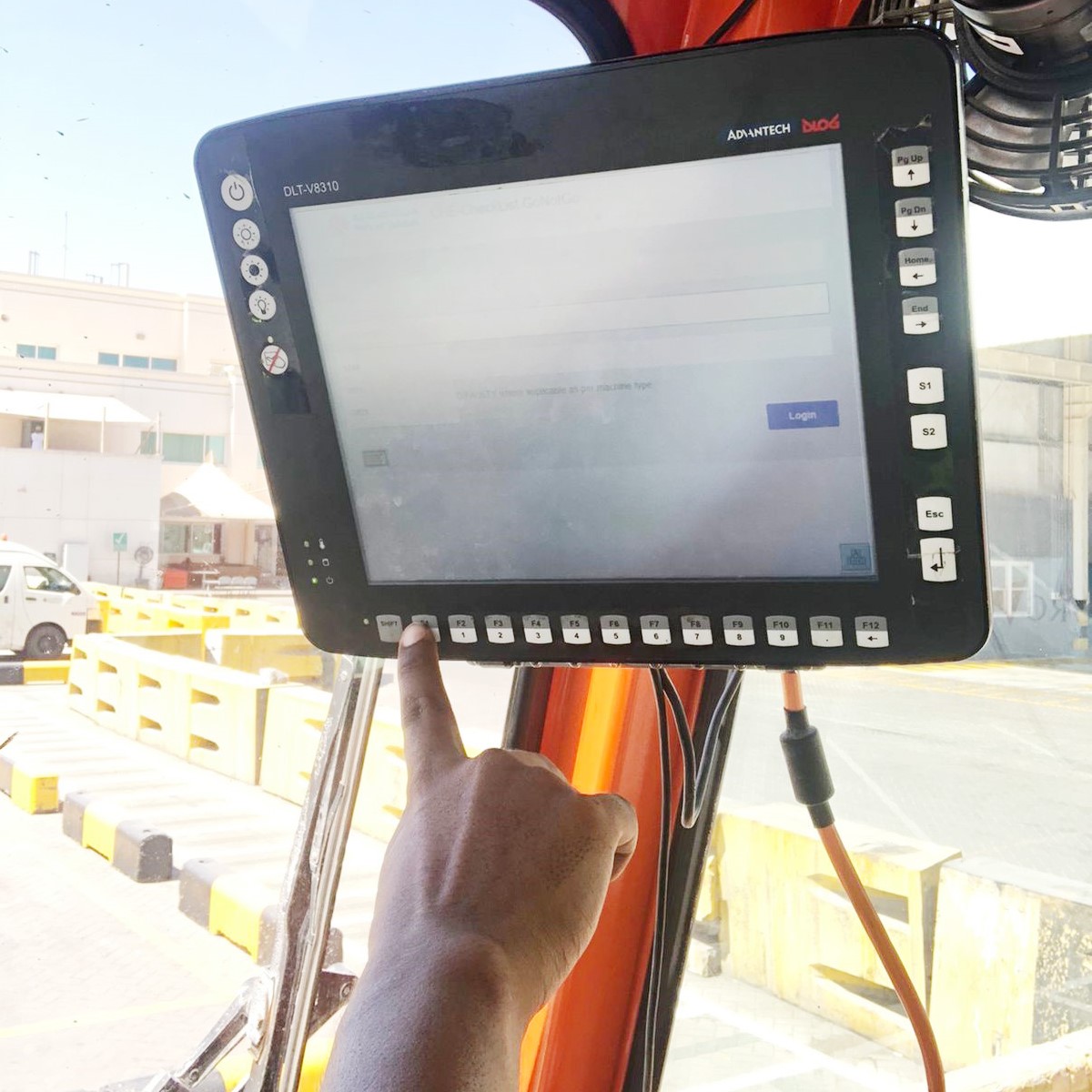 DLT-V8310 10.4" Rugged VMT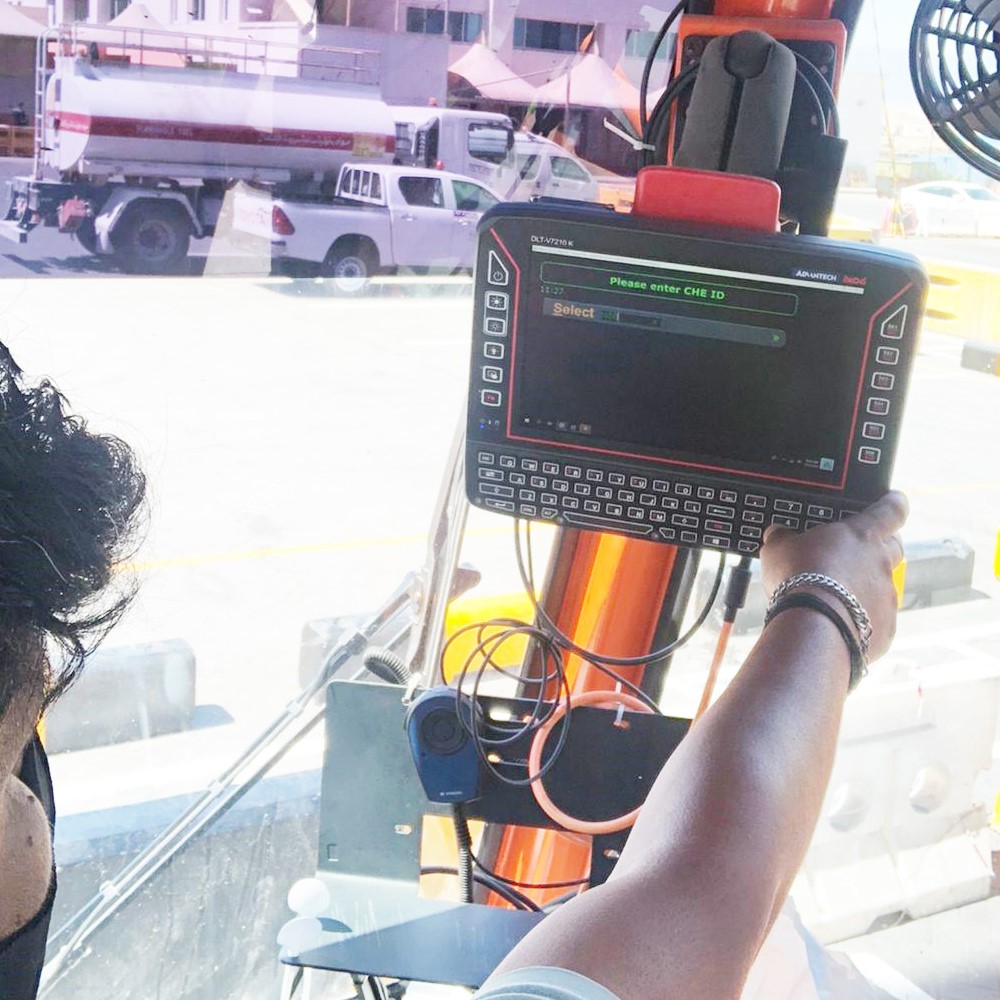 DLT-V7210 K 10.1" Rugged VMT
Applications and Benefits
Navisand SOTI-Certified VMTs Provide Seamless Integration
Advantech's DLT-V8310 VMTs were installed on rubber-tyred gantry cranes (RTGs) and DLT-V7210K VMTs were installed on reach stackers and inter-terminal tractors. The DLT-V8310 and V7210K VMTs serve as a digital console on the vehicles, providing an intuitive user interface that displays all information required by operators and drivers, including graphical views of the yard block, upcoming moves, and rehandle counts for each job. Because of the different vehicle functions, a comprehensive container yard management system needed to be deployed to manage operations. To optimize the container handling process at both waterside and landside, all VMTs were integrated with the Navis ECN4 system using an HTML protocol. The SOTI mobile device management system deployed on all VMTs allows port administrators to manage all mobile devices and terminal equipment at POS. With certification for Navis N4 software and the SOTI MobiControl system, the DLT-V83 and V72 Facelift VMTs were easily and seamlessly integrated into the Navis N4 TOS environment at both the hardware and software levels, while also providing full support for SOTI device management tools.
Durable,High-Performance VMTs Ensure Efficient and Reliable Operations
Advantech's DLT-V83 and DLT-V72 Facelift series are high-performance industrial-grade VMTs. Both terminals support the latest WLAN, LTE, and Bluetooth 5.0 technologies to ensure excellent wireless connectivity and uninterrupted data transmissions for mission-critical applications. The programmable front keys, outdoor-readable display, and intuitive touchscreen enable operators to easily and more efficiently complete their tasks.
Designed for use in the most challenging port/container yard environments, DLT VMTs feature IP66/65-rated protection from water and dust ingress, 5M3 and MIL-STD-810F certification for shock and vibration tolerance, as well as a wide operating temperature range (-30 ~ 50 °C/-22 ~ 122 °F). Thus, Advantech's DLT VMTs provide rugged solutions that can withstand challenging environments and extreme conditions, such as fog, frost, stormy weather, and saltwater exposure.
Successful Project Implementation with a Strong Partnership
Advantech has been working closely with regional partners to provide comprehensive local support and customer service. For this project, Helicon Technology contributed its domain expertise and around-the-clock support to make the project a great success. Additionally, it is worth mentioning that this project was completed during the COVID-19 pandemic, when travel was drastically restricted and the freight and logistics industries were significantly impacted. However, the partnership between Helicon and Advantech was very effective in ensuring that this project was commissioned, delivered, and deployed at POS ahead of schedule. By leveraging Advantech's high-performance DLT-V8310 and DLT-V7210K VMTs and Helicon's strong technical support, APMT Port of Salalah has maximized its productivity and reduced its maintenance and operational costs.