Worry-Free Voyage: SaierNico joins with Advantech's WISE-PaaS to Develop Advanced Smart Vessels
10/3/2019
Based on the WISE-PaaS industrial IoT data application platform, SaierNico built an integrated remote monitoring and management system for data acquisition, data transmission, cloud platform configuration modeling, big data analysis and decision making, and data visualization—realizing real-time vessel perception and greatly reducing the construction, operation, and maintenance costs of smart vessels.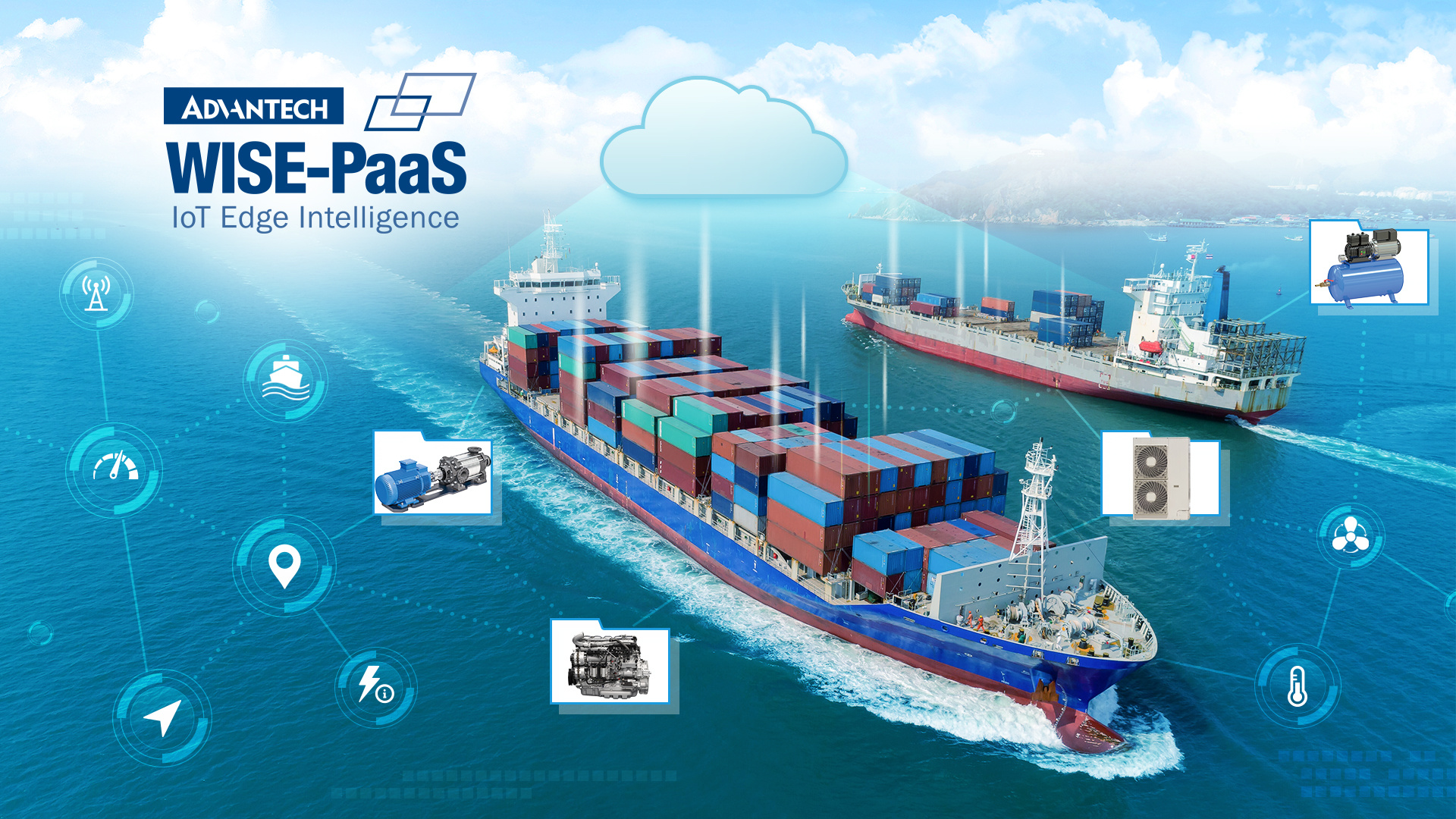 Interviewee: Songtao Chen, Deputy Director of the Research and Development Department, SaierNico Electric & Automation Ltd.
As a strategic emerging industry, the shipping and offshore sector has always been considered a leading driver of long-term development. In recent years, the Ministry of Industry and Information Technology of the People's Republic of China issued the Shipbuilding Intelligentization Action Plan (2019-2021) and Smart Vessel Development Action Plan (2019-2021). Both plans were designed to speed up the upgrading of the maritime industry structure, vigorously promote the supporting capacity and level of marine equipment, and cultivate strong, internationally-competitive enterprises. As a leading promoter of the automation, informationization, and intelligentization of civilian vessels,
SaierNico Electric & Automation Ltd.
(hereinafter referred to as SaierNico) is actively developing an innovation-driven development strategy and currently realizing
the transformation and upgrading of electrical automation solutions of power distribution and automation equipment manufacturers
.
In this area, instantaneous and uninterrupted collection, detection, and analysis of operational and maintenance data of marine equipment and systems—to carry out rapid remote fault diagnosis and provide preventive maintenance recommendations—has become key to improving the overall performance and operational efficiency of vessels. According to Mr. Chen, Deputy Director of the Research and Development Department at SaierNico, "Currently, the maritime industry is in the initial stage of intelligentization. With the promotion of emerging technologies such as industrial cloud platforms and big data, digitalization and interconnection have become the main targets of ship users at this stage."
SaierNico teamed up with Advantech's WISE-PaaS industrial IoT data application platform to build a cloud-based remote monitoring platform which greatly reduced the cost of transitioning to high-end smart ship manufacturing; becoming a "stepping stone" to success in developing smarter vessels
.
Upgrade and Transform: The Maritime Industry Welcomes Intelligentization
According to Mr. Chen, SaierNico, founded in 1994, is a professional supplier of electrical and automation systems for vessels. It is a high-tech company that specializes in R&D, production, sales, comprehensive technical services for electrical and automation systems, and systems integration for ships and ocean engineering. After more than 20 years of development, SaierNico has delivered more than 3,000 ship sets of various products; providing more than 200 sets of electrical automation integration packages. The company covers nearly all ship types, including bulk carriers, container ships, tankers, chemical tankers, LNG ships, marine engineering ships, and ro-ro ships to more than 400 of its customers worldwide. In the field of ship sets, the company has maintained a leading position in the market share of switchboards for more than 10 years and is at the international forefront.
When talking about the overall informationization level of the maritime industry, Mr. Chen says that the automation of China's maritime industry has basically been implemented; informationization is gradually improving, while intellegentization is in its infancy. He explained that this is due to the
external economic situation
; according to the Analysis of the Economic Operation of the Shipbuilding Industry in the First Half of 2018 report issued by the China Association Of The National Shipbuilding Industry, although the global shipping market ushered in a small increase in the first half of 2018, difficulties in financing, delivery, and profitability still exist. On the other hand,
the transfer of the ship set industry causes the shipbuilding industry to lag behind overall
. Many users are slow to adopt changes in comparison to the automobile, electronics, and other industries, and ship customers need to go through a concept recognition process for smart applications.
The development of science and technology has had a profound impact on the shipbuilding industry, and the impact of the penetration of Internet technology into traditional industries is significant, which also promotes the intelligentization of ships. "2019 is also a critical period for SaierNico to move towards intelligentization, transformation, and upgrade." In his view,
with the emergence of big data, smart terminals, and sensing technologies, the development of smart ships has become the trend of the times. Ship data collection, analysis, and visual presentation through cloud platforms will also greatly reduce the construction costs and operation and maintenance costs of making ships smart
.
But this is not easy. Mr. Chen explained that ships are often offshore and many ocean-going vessels only return to their bases once a year. Thus, the
probability of failure
of supporting equipment and systems
must be reduced to a minimum
. Secondly, although the supporting equipment of smart ships has been automated,
a unified information platform and intelligent processing platform
must be built. Finally, if there is a problem with the supporting equipment and system of the smart ship, the impact will be more serious than the failure of normal ship equipment and may even lead to mistakes in the decision-making of the ship's operation.
As such, SaierNico has taken the data-driven remote monitoring of ships as the first step of intelligent development and realized the management mode of "
one cloud, two sides
(ship-cloud platform-shore)" through the cloud platform to complete the collection, transmission, analysis, modeling, and presentation of operational data of the ship. It has established and modified the regular model, explaining that scientific improvement of the customer's decision-making, which, in turn, improves the overall performance and operational efficiency of the ship.
Joining hands with Advantech WISE-PaaS to host customer remote system management requirements on the cloud
After determining the target, SaierNico began to actively look for remote monitoring solutions for ships. Out of the various cloud platforms in the industrial IoT market, SaierNico chose Advantech. Mr. Chen explained that the choice was due to SaierNico's many years of cooperation with Advantech; the partnership can be traced back to 2010.
"We have been working with Advantech for nearly 10 years in automation and data collection, so we understand Advantech's professionalism in these areas." Mr. Chen admitted that Advantech's WISE-PaaS platform has accumulated a lot of industrial know-how in the field of automation, which helps Advantech propose many details on ship system integration and data collection in the discussion phase. Furthermore, Mr. Chen also said that Advantech has strong innovative research and development capabilities, and through the development of a large number of application analysis software for ship operations and management, can help drive SaierNico to complete the digital transformation of many ships.
After discussions with Advantech's technical experts, SaierNico divided the remote monitoring solution into three major modules:
First: collecting ship data and storing it on the cloud platform
. Through Advantech's
WebAccess/SCADA
gateway, SaierNico realized the informationization of the status of various equipment in the engine room, bridge, and cargo spaces, as well as the collection, archival, and configuration of the navigation status information like position, speed, and heading. The data collected by the SCADA gateway was stored in the cloud database through the SCADA Data-Worker. The Data-Worker's data receiving method and API interface were managed by the SCADA Photo software.
Next: visualizing ship data and equipment.
With Advantech's
WISE-PaaS/SaaS Composer
, cloud configuration software with 3D and visible workflow, SaierNico visualized the acquired data and equipment status. For a more intuitive display of information, the Advantech
WISE-PaaS/Dashboard
automatically generated pie charts and histograms to show data value and operational efficiency.
Last, and the most important, was Advantech's WISE-PaaS/APM (Asset Performance Management)
. Mr. Chen said that based on Advantech's APM system, SaierNico helped ship users develop compatible software for different types of equipment, enabled various asset devices on the ship to be managed under a unified framework, and used microservices to flexibly combine services such as equipment monitoring templates, alarm services, equipment operation and maintenance, asset performance calculations, and report management. It is worth mentioning that Advantech APM supports mobile apps for mobile devices such as mobile phones—allowing users to monitor equipment, receive alerts, and view analysis reports anytime, anywhere.
Driven by Big Data, SaierNico achieves worry-free voyages
From Mr. Chen's perspective, with Advantech's help, SaierNico integrated the WISE-PaaS platform service to realize cloud configuration, and
built an integrated remote monitoring and management system for data acquisition, data transmission, cloud platform configuration modeling, big data analysis and decision making, and information visualization for realizing real-time vessel perception
. Mr. Chen says the current system is running well, can achieve remote monitoring of the entire ship's data of 1,400 I/O points on the new ship, and, real-time data uploading occurs in one second or 10 second intervals; realizing the real-time display and information sharing of the ship's operating conditions.
Here, Mr. Chen also highlighted the templating of Advantech's WISE-PaaS/SaaS Composer, which is one of the main services of Advantech's WISE-PaaS Digital Twin. It replaces the traditional image control IDE limitation and can create drawings according to different vertical fields to show real-time dynamic information and remote control. "Our mission is to generate data and become the data creator and transmitter of smart systems." Thus, Mr. Chen believes that the analysis and presentation of data are very important.
"Even if data is available, it must convert into useful information for end users to create real value from the data." Mr. Chen said that SaierNico will further cooperate with Advantech
to filter, store, integrate, correlate, and use data intelligently through Advantech's WISE-PaaS/AFS (AI Framework Service) based on the data accumulated by the WISE-PaaS platform to achieve continuous storage of data, multi-layer mining, hierarchical clustering, and ruleset and model creation, so that the value of data is brought out to help ship users sail worry free
. "For SaierNico, the road to smart ships is long and far-reaching. We will work with Advantech to make progress one step at a time," Mr. Chen concluded.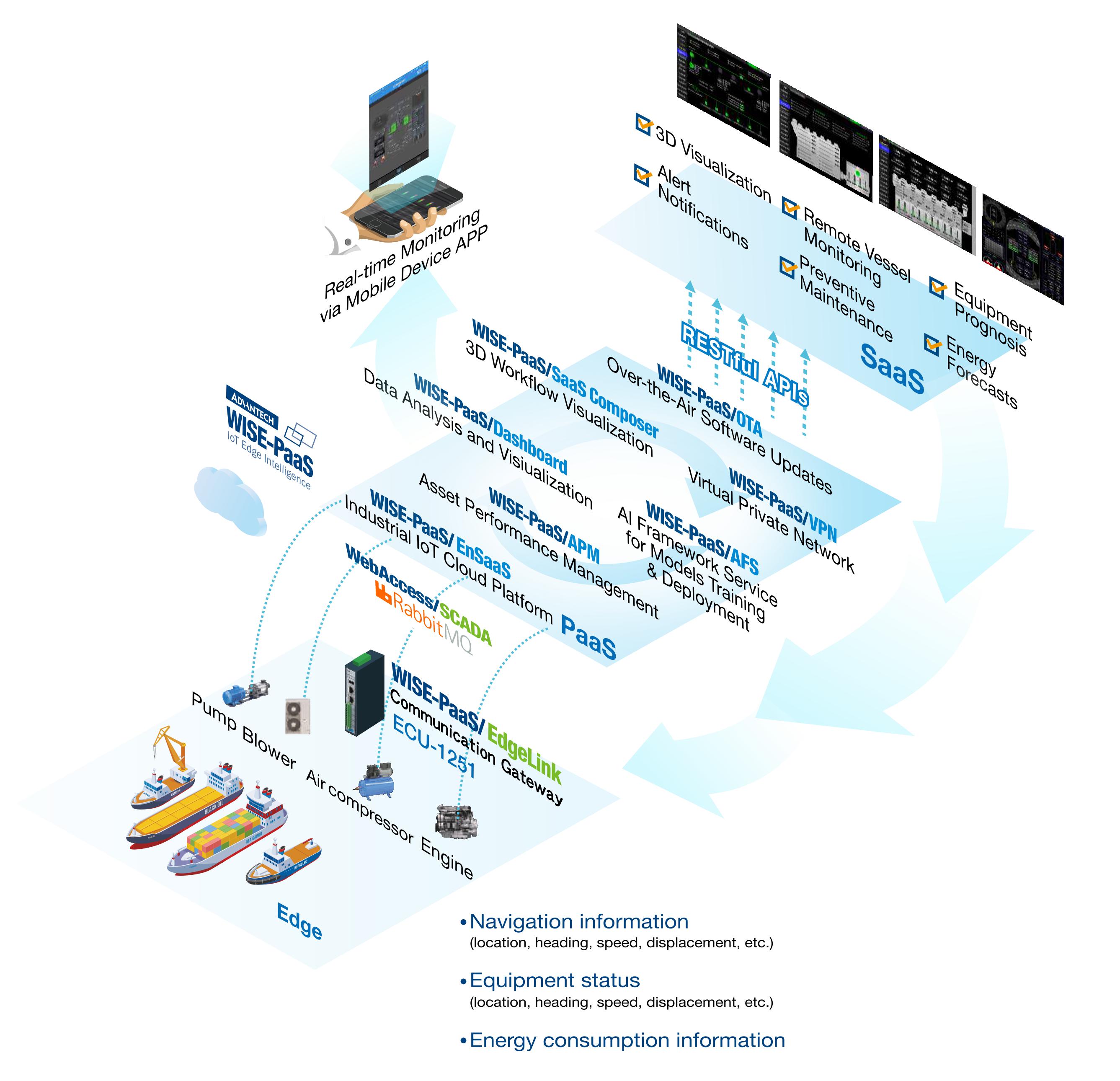 Edge-to-Cloud AIoT Architecture to Enable Real AIoT-Powered Cloud Business Models
IoT Software Online Business Channel to Buy, Deploy, and Customize Industrial Software Needs