The Transformation of the Global Energy Begins with Smart Buildings
7/11/2022
China's energy consumption is concentrated in three major areas: industry, transportation, and construction. Among them, carbon emissions from the construction industry account for about 20% of the whole, which is still low compared to other developed countries. In order for the construction industry to achieve their carbon emission goals before 2030, it is necessary to combine technologies and policies. Improvement of energy consumption in new projects, large-scale utilization of renewable energy in buildings, energy-saving renovation of existing buildings, and energy-saving of rural buildings, can all realize the goals of carbon reduction targets.
Established in 2017, Nanjing Nengkong has focused on becoming a leading information innovation service provider for construction engineering in China, taking green buildings as its core business, it is committed to providing smart energy management solutions for buildings using smart technologies.
A large part of the business in Nanjing Nengkong at present comes from the smart transformation of public building projects. The state attaches great importance to environmental protection, energy conservation, and emission reductions, and has made clear policies and guidelines to stress the issue. Local governments have also issued policies requiring central enterprises or state-owned enterprises in the region to encourage smart building construction when building new commercial offices.
WISE-EdgeLink: IoT gateway softwaresupporting the transferof data from device to cloud
ECU-1051: Industrial communication gateway
In recent years, Nanjing Nengkong and Advantech have cooperated deeply at the technical level, and made use of Advantech's iBuilding smart building management platform to tailor make energy management solutions for customers.
iBuilding is a smart building management solution developed by Advantech through decades of experience. It is suitable for commercial parks, shopping centers, medical institutions, and more. Different building subsystems are integrated into the same interface to take advantage of artificial intelligence, digital twinning, remote operation and maintenance and other smart technologies, providing better operation and maintenance decision making for building managers and users.
For this building energy management solution, Nanjing Nengkong cooperated with Advantech to create a cloud-based end SRP solution, which can intelligently monitor and manage the newly-built 26-storey building of a people's court, including energy consumption analysis, fire control management, equipment asset management, HVAC management, computer room management and more.
For this solution, ECU-1051 Internet of Things gateway and edge software WISE-Edgelink are used to collect data from PLC through Modbus/TCP protocol, and the data is transmitted to the cloud platform through the MQTT protocol in 4G mode, and HPC-7282 lightweight server is used to establish privatization, so that the data is safe and reliable. The equipment lifecycle management (ELM), BEMS building energy management, and smart security management systems are integrated through Advantech's iBuilding smart building management platform for real-time monitoring and management of power supply and distribution, HVAC systems, elevators, fire protection, water supply, and access control systems to reduce unnecessary energy costs.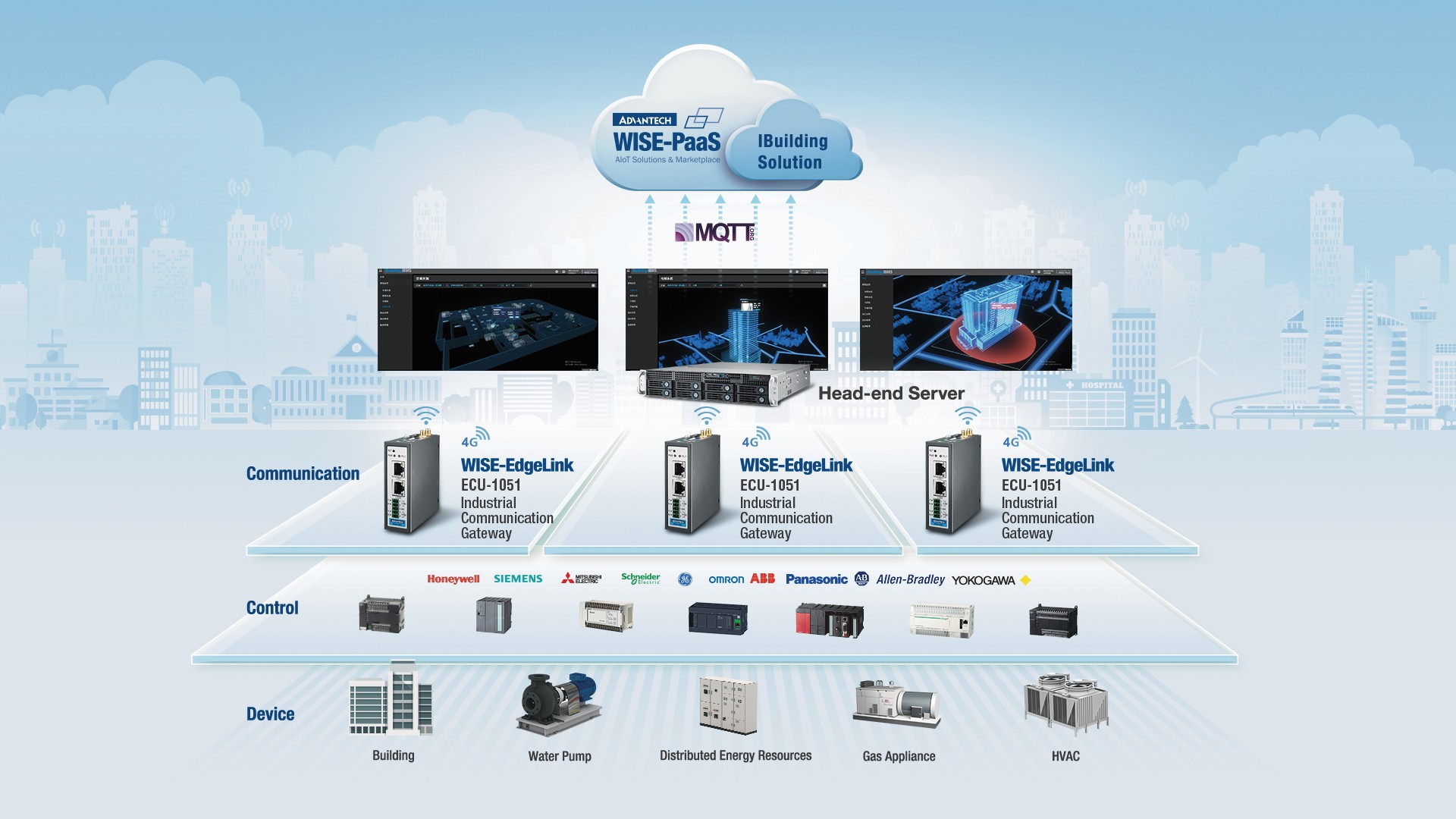 From a long-term perspective, data-driven management has become an irreversible trend in the future development of various industries and the formation of smart cities is based on the integration of intelligent systems. Advantech hopes to build and provide basic underlying technical capabilities for developers, integrators and operators of smart buildings. WISE-PaaS industrial cloud platform helps build smart cities and helps integrate the whole smart energy ecology.