Vision Positioning Solution for Wafer Cleaning
4/7/2022
Wafer cleaning is a crucial part of the semiconductor manufacturing process. The wafer cleaning process removes the photoresist, organic substances, metals, particles, and impurities. It then polishes the wafers using chemical solvents and water, which ensures a precise wafer yield rate. Wafers are cleaned before and after each process throughout the entire IC production line and takes up approximately 1/3 of the whole production time. In the highly competitive IC wafer production business, precision, efficiency, and optimization are what manufacturers look for.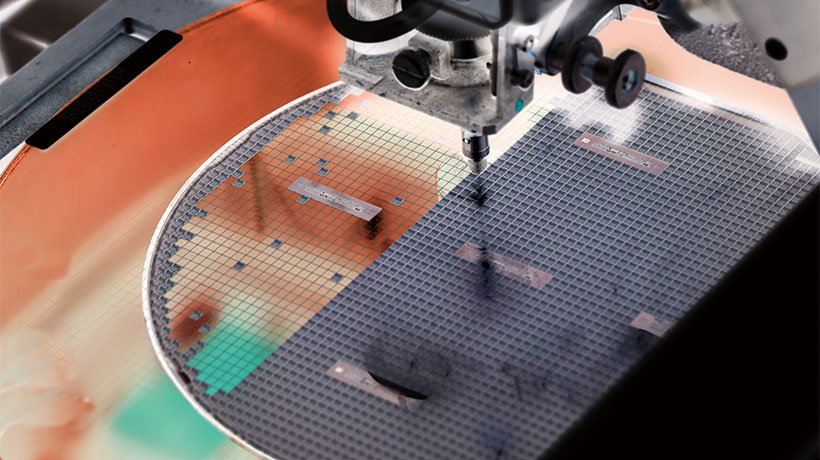 Semiconductor manufacturers have strict criteria for material suppliers and equipment vendors, only certified system integrators/vendors are allowed in their supply chain. Advantech has a long-time partnership with a system integrator (SI) who serves a top tier semiconductor manufacturer in Taiwan who were looking for a solution to optimize and shorten wafer cleaning and positioning times. Before the cleaning process there is a step called "wafer centering", which sits after the wafer is picked up from the cassette. This is performed by a kind of mechanical gripper device used to re-center each wafer using a positioning algorism. Unfortunately this results in a slight decrease in cleaning efficiency as time is lost when wafers are carefully re-centered. In addition, there's a small but significant risk of wafer cracking caused by the gripper tool contact, which could result in efficiency loss. Advantech proposed using a machine vision solution to replace the mechanical positioning equipment and results show that each wafer can now be accurately re-centered in milliseconds rather than seconds—without wafer damage.
Because every process and mechanical movement causes a slight displacement from a wafer's original absolute position, the exact center position must be recalculated to allow the precise adjustments needed for the next step. There are two stations between a pick and place machine: the pick station—a location and process whereby the robot takes a wafer from the cassette carrier to the intermediate station for centering; the place station, a location and process whereby the robot measures the wafers position and transfers it to the spindle for cleaning. On the pick station, wafers in the cassette can typically have up to a 4 mm displacement error caused by the cassette carrier action. The grabber tool then picks each wafer up from the cassette and places it on an intermediate station for error correction.
For this project, the system integrator contractor integrated Advantech's IPC-7120 + AIMB-787+ PCIE-1674 with built-in VisionNavi and one Advantech QCAM mega pixel PoE industrial camera on an intermediate station to help with position correction. The QCAM was installed above the wafer to capture visual data, which is sent back to IPC-7120 + ASMB-787 and VisionNavi for analysis and action.
An AIIS-3411P compact vision system computer is used on the place station with VisionNavi and three QCAMs to judge the center position and any warpage before a wafer is moved to a wafer spindle for cleaning. Once the center position and warpage are calculated, the robot is notified and told to place the wafer onto a cleaning spindle in a precise position without imbalance or vibration to complete the final cleaning process.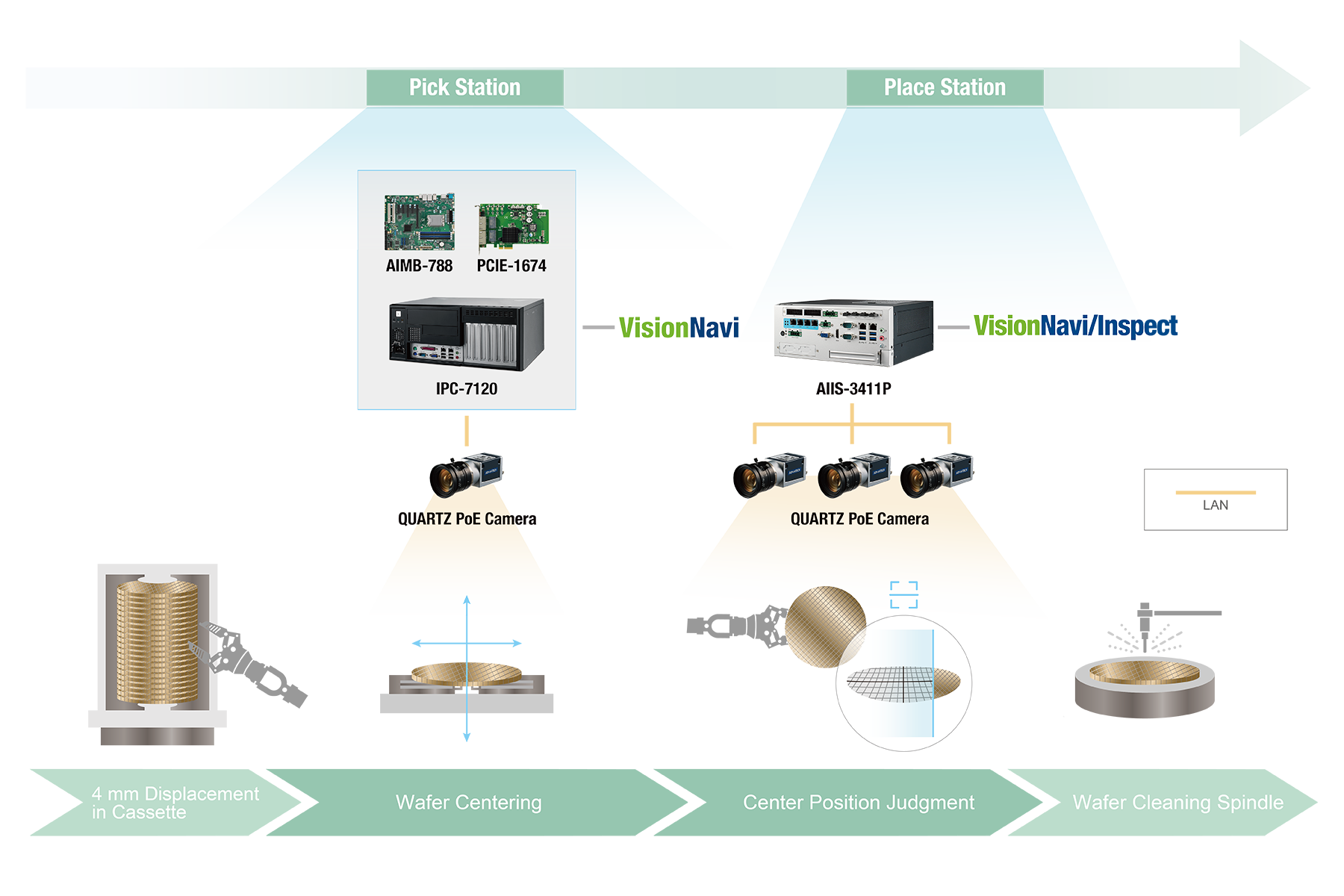 Achieving a yield rate 99.9% across millions of wafers a year is very challenging in IC wafer production that involves complex physical interactions throughout the whole production. Advantech vision positioning solution greatly shortened the time for wafer cleaning from seconds to milliseconds (ms) and allowed precise pick and placement that avoided wafer damage. The solution comprised of a high computing vision analysis platform for 20.0 megapixel PoE industrial cameras that performed high-speed wafer dimension calculations and center position measurements. The intelligent vision analytic solution helped the IC manufacturer transform their wafer cleaning process into a smart optimized process. This helped them continuously manage and improve production yield rates and improve efficiency to maintain their premier position in the semiconductor manufacturing industry.