Yogurt Container Maker Uses Visual Inspection System to Increase Quality Control
4/7/2022
An Australian dairy company has been producing the purest high quality set yogurt in traditional pots for over 60 years. Their success stems from their commitment to quality control and the delivery of the most natural of products using sustainable, cost-effective methods. In keeping with their spirit of innovation and commitment to quality, the yogurt manufacturer requires quality at every step of the process, which includes the special containers used to package their main product—yogurt.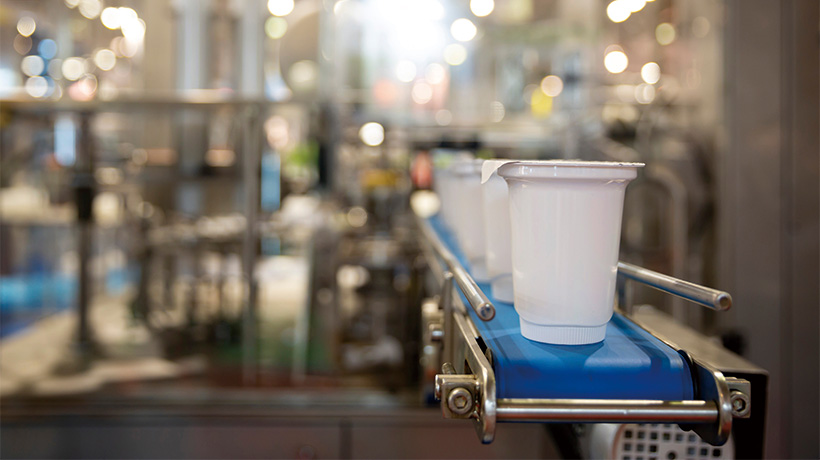 While container production may seem trivial in the larger production picture, health and quality control results are dependent on the direct control of each step of the process. For the yogurt manufacturer, delivering the perfect container is not a trivial thing. A single imperfection can create sealing or hygiene issues that are incompatible with their impeccable standards for food production.
Historically they have relied on manual inspection for a large portion of their quality checks. As a result of this, minor defects were not able to be 100% detected, resulting in negative feedback regarding the quality of their plastic container packaging. The defects—split finishes, crumbles, deformations, blisters, thin walls, etc.—led to wastages, loss of product, and longer production cycles. Even more concerning is that certain container defects may pass through undetected into the final line, contributing to efficiency issues, failed quality checks, and other issues. In a worst-case scenario, if damaged containers were to go undetected, there could be issues with shelf life and freshness, and even more serious consequences such as product recalls—at a significant cost to the company. Therefore, improving manufacturing inspection was urgently required to reduce cost and wastage, and help protect their brand perception and image.
The yogurt manufacturer's approach to safeguarding quality standards involved the collaboration with a system integrator (SI) to augment the quality control process for their containers. As market innovators, the yogurt manufacturer understood their quality requirements started with production and continued all the way through to labeling and packing. Quality starts with details and only correctly placed labels would pass quality controls and prevent a container from being removed from the final production line. On larger containers, handles are incorporated requiring specific orientation and placement for effective use, which was another crucial detail within the manufacturing process.

Stringent specifications meant delivering quality within the bounds of tight tolerances and that meant providing accurate production line inspections at all stages. The SI developed a visual inspection system on fundamentally sound principles, which meant a good container should easily go through the production line without any disruption. Advantech QUARTZ cameras were installed to provide persistent inspection and real-time feedback on the quality of each batch. Achieving this task required the SI to locate and develop multiple positions within the plastic molding and assembly line for the inspection cameras.Control cabinets provided operators with access to a user interface for system configuration and programming. This entailed determining the right location within the production line for the optimal positioning of the cabinets and their front facing viewing screens.Cable routing needed to be discrete and out of sight throughout the entire system, which was facilitated by the use of bespoke networking devices. In addition, a future-proof design was needed to ensure flexible utility, minimal downtime and improved production output.

The SI developed a specific visual inspection solution for each production machine. Molding machines and specific products had distinct considerations to be addressed and the cameras varied to meet these unique requirements. Altogether, an AIIS-3400 compact vision system and MIC-7700 compact fanless embedded system with PCIe-1674 frame grabber card were chosen as the vision inspection solution and control access was established through an industrial widescreen display (IP65 certified) using a slim FPM-7211W enclosure.
High-quality food container manufacturing can easily be achieved through the optimization of the manufacturing process, whereby controls are put in place to detect and eliminate any defective products. By implementing an automatic inspection system to inspect each container, the whole manufacturing process was streamlined.
The detection of defects was not the only outcome of the system. The inspection system also brought about the means to identify equipment issues. These could be tracked directly to the source and quickly resolved to prevent trickle-down problems. A secondary benefit came from the accumulation of data. The Advantech solution provided timed stamped images of defects for further analysis and refinement.
The inspection system allowed remote access, so they were able to monitor the system in real-time and perform inspection adjustments. In conjunction, manufacturing operators were able to alter production schedules based on surveillance results. The technical teams could analyze surveillance data to ensure production performance, keeping manufacturing efficient and within precise quality control standards.
The Advantech vision inspection solution formed an integral part of the client's ability to consistently deliver high quality yogurt products to market while minimizing total cost without compromising on quality.