Advantech Launches New, Isolated Digital I/O Cards with Digital Filter and Interrupt Functions
1/9/2019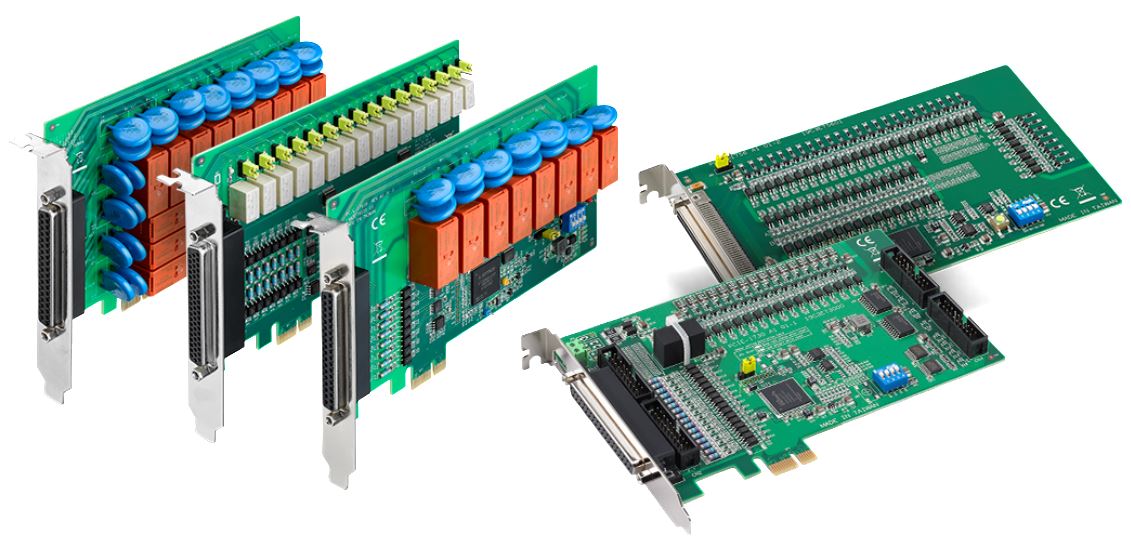 Advantech, the leading IoT and automation solution provider, launches a series of isolated digital input/output PCI express cards to augment their extensive portfolio. From cards with 16 to 64 digital input/output channels, or dedicated 128 input/output channels, Advantech provides the broadest range of data acquisition products for customers to base their applications on.
All of these Digital I/O cards feature 2500VDC isolation protection and all input channels have a selectable digital filter to prevent inaccurate recognition of signals and a digital interrupt capability for all input channels. These cards are suitable for a wide variety of industrial data acquisition applications.
PCIe-1730H features 32 TTL digital I/O channels and 32 digital I/O channels with up to 2,500 VDC isolation protection, ideal for industrial applications that require high-voltage isolation. All signals can be used as interrupt request signals and can be enabled/disabled for each channel, as well as supporting edge interrupt register, which generate interrupts.
PCIE-1750U provides 32 isolated DI/O with 2500VDC protection. They feature software-configurable DO-polarity so users can apply either NPN (sink type) or PNP (source type) to the DO channels according to their application scenario. The high sink current capability ensures this card to be applied in industrial automation environments.
PCIE-1756H features 32-ch opto-coupler isolated inputs (for use with current sink outputs) and 32-ch isolated outputs, with all of the inputs having an interrupt function. This product also has a digital filter function to help prevent mis-detection of input signals that contain noise. PCIE-1756H is ideal for use in industrial automation control systems.
PCIE-1758DI, PCIE-1758DO and PCIE-1758DIO are all isolated Digital I/O PCI Express card products with high density design – dedicated 128-ch isolated digital input for PCIE-1758DI, dedicated 128-ch isolated digital output for PCIE-1758DO, and a 64-ch input/output for PCIE-1758DIO. When you have a lot of I/O devices to control, these cards are your best choice.
All these products have a digital filter function used to eliminate glitches in input data and reduce the number of changes to examine and process. The filter blocks pulses that are shorter than the specified timing interval and passes pulses that are twice as long as the specified interval. Intermediate-length pulses that are longer than half of the interval, but less than the interval, may or may not pass the filter.
All these products also provide an interrupt function for every digital input channel. You can disable/enable interrupt functions, and select a trigger type by setting the Rising Edge Interrupt Registers or Falling Edge Interrupt Registers of the card. When interrupt request signals occur, the software will service these interrupt requests by ISR. These multiple interrupt sources provided by the card add more flexibility for customers.
All these features assist machine builders in their quest to conquer harsh environments and realize real-time response in machines. For more information please contact your nearest sales office or visit the website: www.advantech.com