Advantech Beefs up Server and Appliance Portfolio
7/12/2017
Boosts performance, I/O density and crypto throughput for a broad range ofapplications from network security to industrial and edge computing
Taipei – 11 July 2017 – Advantech (TWSE:2395) Networks & Communications Group, today announced two new platforms: the FWA-6170, its most powerful and flexible 2U dual socket network appliance and the SKY-8101, a single socket, short depth 1U server, both based on the new Intel® Xeon® Scalable Processor Family. The scalability of the FWA-6170 increases significantly, with up to 12 more cores than on the previous generation appliance. When coupled with new security features and augmented platform modularity, the FWA-6170 enables equipment and service providers to build faster, more secure networks, bringing greater cost-efficiency to applications such as network and cyber security, policy enforcement, quality-of-service, and network analytics leaving sufficient overhead to anticipate future infrastructure changes.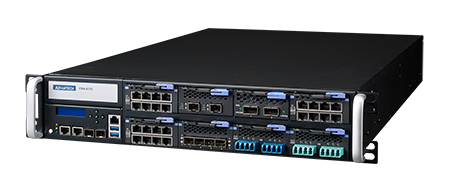 The SKY-8101, available in both carrier grade and industrial versions, meets market demands for higher performance,broader scalability, and increased security at the network edge where new technologies such as Virtual Radio Access Networks (vRAN), Edge Cloud, Fog and Multi-access Edge Computing (MEC) are vital to enabling the next generation of digital services. It also meets the needs of industrial applications where cost efficient, compact, rugged and reliable solutions are required in environments with limited space, higher ambient temperature and low noise constraints.

vRAN and vEPC Performance Gains
Virtualization of the radio access network and the evolved packet core is key to the success of network densification, centralized cloud operation of the RAN over diverse backhaul networks, and an open, cost-effective approach for mobile network operators to optimize infrastructure for both density and cost using commercial off the shelf hardware.
Amarisoft, a leader in Software Defined Radio technology, enables decoupling of baseband signal processing from the radios themselves, allowing eNodeB workloads to be easily moved onto localized compute resources alongside the vEPC. By optimizing their software to take full advantage of the new Intel® AVX512 instructions for signal processing workloads, Amarisoft estimates a minimum performance increase of 20% on an Advantech SKY-8101 configured with an Intel® Xeon® Platinum Processor 8176M at 2.1GHz with 28 cores.
"Advantech continues to raise the bar in compute and I/O density in small footprints using general purpose processors based on Intel Architecture," Said Franck Spinelli, CEO at Amarisoft. "As Amarisoft's algorithms in software defined radio continue to advance, service providers can benefit from the latest innovation in both hardware and 3GPP standards at lower costs compared to proprietary platforms".
The SKY-8101 offers sufficient connectivity and capacity to perform L1-L3 processing of data from 14 Remote Radio Heads (RRH) configured for MIMO 2x2 20MHz FDD , with adequate headroom to execute a fully functional vEPC (required to converge voice and data on LTE networks), perform low-latency app processing for network subscribers,as well as gateway services for Narrowband-IoT (NB-IoT) devices. In addition the new Intel® Xeon® Processor Scalable Family allows service providers to choose from a broader range of processor SKUs in order to best match their workload needs and cost budgets.

"Digital services are driving a diversity of new opportunities especially at the network edge" said Ben Shen, Director NFV Infrastructure Division, Advantech Networks and Communications Group. "The new scalable platform for networking and compute from Intel brings higher performance and greater agility for network operators to drive innovation and rapid service delivery in the next generation multi-access edge computing and 5G networks".
Network Security & IPsec Gateways
Performance advances were also observed in the throughput of encrypted packets using the latest Intel® QuickAssist Technology, now available in the chipset, to perform IPsec encryption and decryption.
"As security threats intensify, appliance markets continue to experience high growth in many areas especially network security, where demand for on premise hardware solutions in the unified threat management segmentcontinues to grow." said Sandy Chen, Director of Enterprise Networking, Advantech Networks & Communications Group. "The FWA-6170 has been designed to meet Enterprise CIO challenges of increased data traffic across many higher speed connections and provides the flexibility to meet a wide range of performance, connectivity and offload needs."

On the FWA-6170, ECC Memory capacity has been increased to 24 RDIMMS for memory hungry security applications while memory performance has been improved by over 50% as a result of the increase in the number of channels from 4 to 6 and the support for higher memory speeds.

Taking advantage of the unprecedented 48 PCIe gen.3 lanes now available on the processor and a further 20 lanes on the chipset, the FWA-6170 offers extremely modular I/O expandability. In addition to two internal PCIe slots destined for further encryption offload, 8 Network Mezzanine Card (NMC) slots can be populated with NMCs from abroad choice of GbE, 10GbE, 40GbE and 100GbE modules, with or without advanced LAN bypass, for different deployment scenarios.

Three new NMCs are being introduced today alongside the FWA-6170:
NMC -6002: 2 x 100GbE ports based on Mellanox ConnectX-4 on a double-width NMC

NMC-4007: 4 x SR 10GbE with LAN bypass

NMC-4006: 2 x QSFP+ 40GbE without LAN bypass
Network Function Virtualization (NFV)
For NFV needs, both platforms bring up to 3.9x higher virtualized throughput and more VMs/server as compared to the previous generation Intel® Xeon® Processor E5 performance based on virtualization infrastructure consolidation workloads.
For high-end NFVI at the virtual service edge (VSE) where packet processing performance and bridging of 1, 10, 40 & 100GbE networks is key, the FWA-6170 is an ideal platform for virtual broadband network gateways (vBNG) and virtual broadband remote access servers (vBRAS) as well as for traditional network security applications.

Where NFV overhaul of servers in NEBS Level 3 carrier grade environments is needed and where limited rack space is available, the SKY-8101 offers compelling I/O density with the ability to attach up to 16 Gigabit Ethernet or 14 10GbE ports, add intelligent NICs for offload, or integrate line cards connecting newly virtualized legacy services.

The SKY-8101 combines cutting-edge performance with the ruggedness, reliability, and long system lifecycles required by industrial markets, across a broad range of applications from machine control to on-board computing and edge data processing. The power and cooling options along with the streamlined mechanical design make it ideal for demanding applications requiring high performance acceleration technologies such as GPU, DSP and FPGA cards. In research and instrumentation markets for instance, more cost efficient, compact, rugged and reliable solutions are required for distributed data processing. The SKY-8101 meets acquisition, preprocessing and forwarding performance needs and can operate in environments with limited space, higher ambient temperature and lower low noise level constraints.
Where more storage is needed, the L version of the server extends the system depth to 27.5" and enables the addition of ten 2.5" removable drive bays at the front of the system. The last two of the ten removable drive bays can accommodate 2.5" NVMe drives, each connected to a PCIe Gen3 x4 Intel OCuLink bus. The two NVMe drive bays can also be configured physically into one PCIe slot, accommodating one commercial off the shelf PCIe Gen3 low profile card.
Further details related to the FWA-6170, SKY-8101 and other Advantech products based on the new Intel® Xeon® Scalable Processor Family can be found at: https://www2.advantech.com/nc/spotlight/Intel-Xeon-Scalable-Family
The SKY-8101 is available now. The FWA-6170 is currently sampling with key customers and will be available in volume in 4Q17. For more information please contact ncg@advantech.com