Advantech's Intelligent Ward and Telehealth Solutions Achieve HIPAA and GDPR Compliance
1/12/2022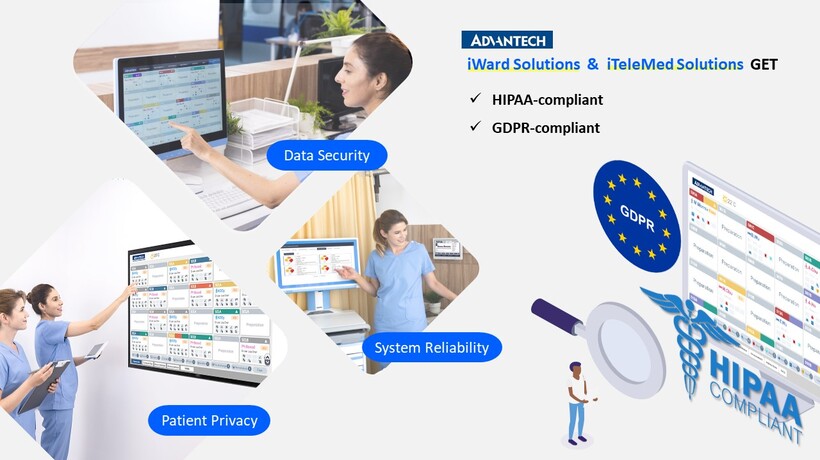 January 2022, Taipei, Taiwan - Advantech, a global leader of industrial IoT, is pleased to announce that its intelligent ward (iWard) and telehealth (iTeleMed) solutions have achieved Health Insurance Portability and Accountability Act (HIPAA) compliance in the U.S. and General Data Protection Regulation (GDPR) compliance in Europe. As the first healthcare software offerings produced in Taiwan to secure both HIPAA and GDPR compliance, Advantech iWard and iTelemed solutions are expected to expand market demands for Taiwan's intelligent healthcare solutions in Europe, the U.S., and Southeast Asia.
According to SGS, the world's leading testing, inspection, and certification company, HIPAA and GDPR are the main regulations governing the protection and security of health information in Europe and the U.S. For that reason, HIPAA and GDPR compliance is an important criteria for medical companies when evaluating healthcare technology solutions. However, achieving HIPAA and GDPR compliance in regards to product design, implementation, and verification is not only key to entering the European and U.S. markets; it also evidences the product's value for health information management applications and reliability for data protection.
Jackson Hsu, Product Manager of iHospital solutions at Advantech, stated that in order to comply with HIPAA and GDPR regulations and boost customer confidence, Advantech initiated strategies to optimize data security and privacy protection. These strategies were based on SGS recommendations and included encrypting data during transmission and storage, monitoring data records and retention, improved password management, and integrating a data retrieval function.
Furthermore, Jackson highlighted that in the European and U.S. markets, Advantech's intelligent ward and iTeleMed solutions are already very competitive in terms of function, integration, and future applicability. Therefore, with the addition of HIPAA and GDPR compliance, Advantech's iHospital solutions are optimally positioned to capture the global market.
In regards to its intelligent ward solutions, Advantech integrates various nursing care systems and patient-oriented functions into a single platform, greatly improving operational efficiency and care quality compared with traditional standalone care systems. Meanwhile, Advantech's iTeleMed solutions, which include a telehealth cart and telehealth suitcase, provide portable tools for delivering remote medical care/treatment. Because these solutions are highly integrated, patient consultations can be conducted remotely, and all collected data can be directly transmitted to the centralized electronic medical records (EMR) system. Doctor reports and diagnoses can also be uploaded to the centralized hospital information system (HIS) or nursing information system (NIS) and easily accessed from one integrated platform, streamlining operations for increased efficiency.
Looking to the future, Advantech plans to collaborate with local hospitals and system integrators to promote iWard and iTeleMed solutions globally. These efforts will begin in Southeast Asia and eventually expand into the European and U.S. markets. Advantech hopes this will not only showcase the innovation of Taiwanese intelligent healthcare solutions internationally but also give healthcare providers the right tools to elevate the quality of medical care.
Advantech's HIPAA and GDPR-compliant iWard and iTeleMed solutions are available to order now. For more information about these or other Advantech products, contact your local sales support team or visit our website at www.advantech.com.
Founded in 1983, Advantech is a leading provider of trusted, innovative products, services, and solutions. Advantech offers comprehensive system integration, hardware, software, customer-centric design services, embedded systems, automation products, and global logistics support. We cooperate closely with our partners to provide complete solutions for a wide range of applications in diverse industries. Our mission is to enable an intelligent planet by developing automated and embedded computing products and solutions that facilitate smarter working and living. With Advantech products, the number of potential applications and innovations made possible becomes unlimited. (Corporate website: www.advantech.com)