Advantech's SQFlash 720 Series Provides Complete Security in Diverse Form Factors
10/23/2020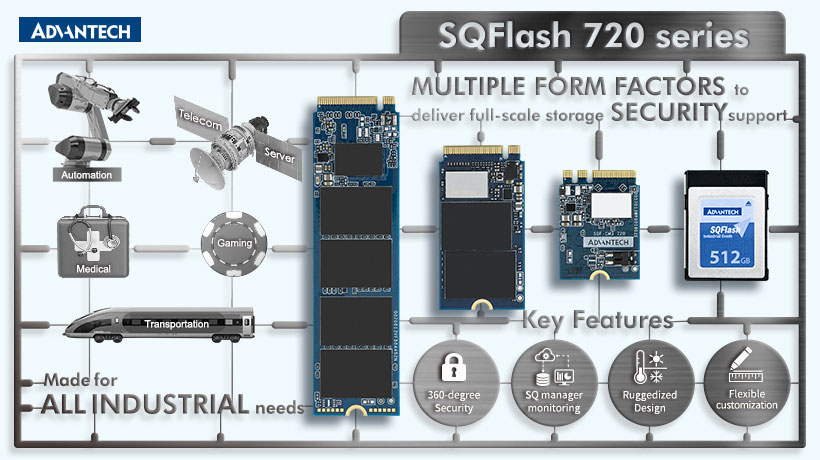 October 2020, Taipei, Taiwan - Advantech, a leading global provider of industrial flash storage solutions, announces the SQFlash 720 series. As the newest addition to Advantech's NVMe SSD product line, the SQFlash 720 series SSD supports wide operating temperatures (0 ~ 70 °C/-40 ~ 85 °C) and TCG-OPAL functionality for self-encryption and decryption. These features enable low-power consumption, high capacity storage, and full-scale storage security support. SQFlash 720 series SSD products include: M.2 2230 (SQF-CM3), M.2 2242 (SQF-CM4), M.2 2280 (SQF-CM8), and CF Express (SQF-CFX) form factors designed to meet a wide range of customer needs. Advantech's selection of industrial flash solutions are compatible with common embedded boards and system designs to enable greater flexibility for system integrators. Customers will benefit from SQFlash's superior performance without replacing their preexisting motherboards and legacy equipment.
Smart manufacturing requires 5G connectivity to enable factory automation and remote management. The surge in demand for cloud computing and network access control has made SSD security the main focus for industrial applications. SQFlash 720 series SSD offers large volume data transmissions and high speed computing capabilities that are supported with complete TCG-OPAL security features which encrypt and secure data. Advantech's SQFlash 720 series is supported with Advantech's DeviceOn/SQ Manager, a software package that intelligently monitors performance and manages security from the network edge to the cloud. Using this software, management receive real-time data on equipment status such as, operation loading, endurance, SMART information, read/write errors, and operating temperatures.
PCIe /NVMe performance and small form factor variants
SQFlash 720 series comes in multiple form factors compatible with most common embedded boards and system designs, which increases design flexibility for system integrators. One of this series—SQF-CM3 720 NVMe SSD is designed in a M.2 2230 A+E key form factor and is primarily used for Wi-Fi modules. This form factor is increasingly popular in industrial motherboard designs. SQF-CM3 720 NVMe SSD features a small form-factor design (22 x 30 mm), with a maximum 512GB capacity and supports PCIe Gen3 x2. This compact solution boosts total system performance. Future form factors are also in development— including SQF-CM4 M.2 2242, SQF-CM8 M.2 2280, and SQF-CFX CF Express.
Security Features for Data Protection
As data security and protection are vital, SSD security remains the focus of industrial applications. Security is one of most important functions of SQFlash 720 series. By adding the latest TCG-OPAL 2.0 compliant security feature set, users can safely protect SSD data from unauthorized access. Additionally, Advantech provides security management utilities compatible with multiple OS. This security management utility is also available with Extensible Firmware Interface (EFI) version for easy BIOS integration, yielding improved security. Similarly, all SQFlash 720 series feature McAfee anti-virus to protect the system from viruses and malware.
Wide operating temperature support (0 ~ 70 °C/-40 ~ 85 °C) for diverse applications.
Multiple form factors: M.2 (2230/ 2242/ 2280) and CF Express.
PCIe / NVMe SSD come with TCG-OPAL functionality for enhanced security.