Advantech AIMB-592 Enhances Edge Performance Using AMD EPYC™ 7003 Series Processors
1/16/2023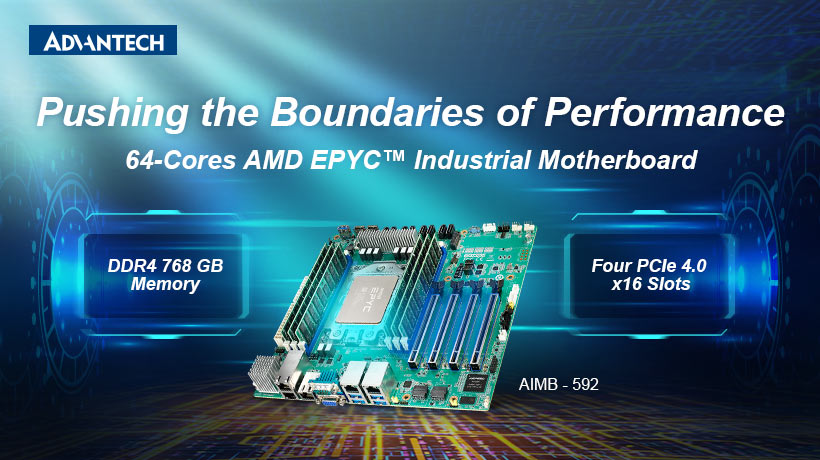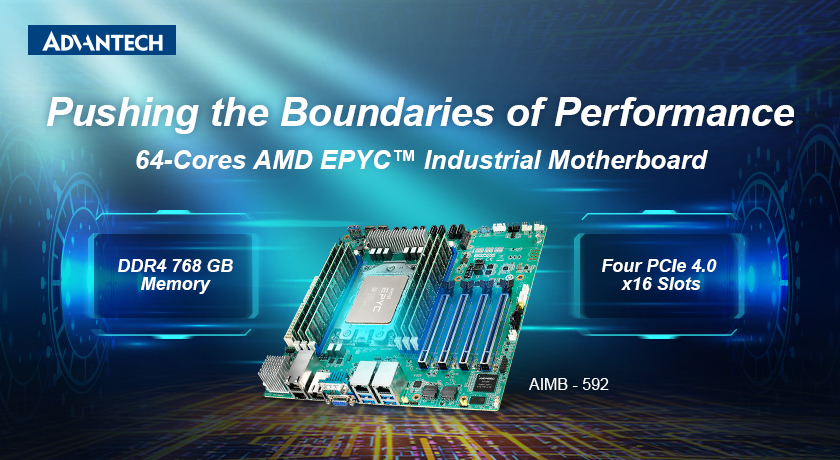 Taipei, Taiwan, February 2023 — Advantech, a leading provider of embedded IoT computing solutions, is proud to announce the first server-grade motherboard in the AIMB series — the AIMB-592. This high-performance, Micro-ATX form factor board leverages AMD EPYC™ 7003 Series Processors and 4 x steel PCIe 4.0 x16 slots to deliver excellent computing power and support GPU extension. Indeed, AIMB-592 supports up to 64 CPU cores and onboard 768GB memory (via 6 x DDR4 RDIMM slots) to deliver best-in-class performance. It features dual 10Gbe LAN, dual 2.5GbE LAN, and dual slimline functions (dual PCIe 4.0 x4) to augment bandwidth networking and empower big data cloud services while maximizing transmission efficiency. It also provides intelligent remote management services via M.2 M-Key and IPMI 2.0. This combination of features and attributes makes AIMB-592 an ideal solution for data-intensive applications at the edge.
Flexible GPU Configuration Enhances Machine Vision Performance
AIMB-592 uses 4 x steel-reinforced PCIe Gen 4 x16 slots with 152 GB/s bandwidth to support diverse expansion capabilities in machine learning and deep learning applications at the edge. Indeed, it supports the use of double-deck GPUs, 4 x single-slot GPUs, and other accelerator cards to deliver excellent graphics performance. Buttressing this, AIMB-592 features an onboard M.2 M-Key that supports high-speed NVMe SSD when used in scenarios requiring responsiveness and superior AI computing capabilities — including high-end medical workstations and/or high-speed test equipment.
Powerful Computing via a 64 Core CPU and 768GB Memory
AIMB-592 leverages 3rd Gen AMD EPYC™ processors with up to 64 cores (256 MB L3 cache). This solution is capable of converting raw data into actionable insights quickly. AIMB-592 also leverages 6 x DIMMs to support up to 768GB DDR4 memory at 153.6 GB/s data in total in an effort to deliver leading performance to data-intensive applications tasked with handling simultaneous high-speed workflows.
Delivering Security, Speed, and Strong Cloud Connectivity
High-end computing devices need to process huge quantities of data and provide excellent security encryption. Accordingly, the AIMB-592 is equipped with dual 10Gbe LAN, dual 2.5Gbe LAN and dual slimline SAS for secure data transmission. It also features 8 x SATA 3 to provide superior data storage when used in medical workstations and high-speed test equipment. AIMB-592 also supports IPMI 2.0 to improve device security and monitoring while ensuring future-proof networking and reducing labor costs and time wastage.
Highlighted Features
AMD EPYC 7003 Zen 3 Core
128GB DDR4 3200MHz RDIMM
4 x PCIe Gen 4 x16 slots
Expansion support: 2 x 10Gbe LANs, 2 x 2.5GbE LANs, 1 x 1Gbe for BMC management, 4 x USB 3.2 Gen 1 (Rear I/O), 1 x USB 3.2 Gen 1 (internal vertical header), 8 x SATA 3, 1 x RS-232
2 x Slimline SAS 4i, 1 x M.2 M-Key
BMC: IPMI 2.0
Embedded OS: Windows Sever 2019, Linux Ubuntu, & WISE-DeviceOn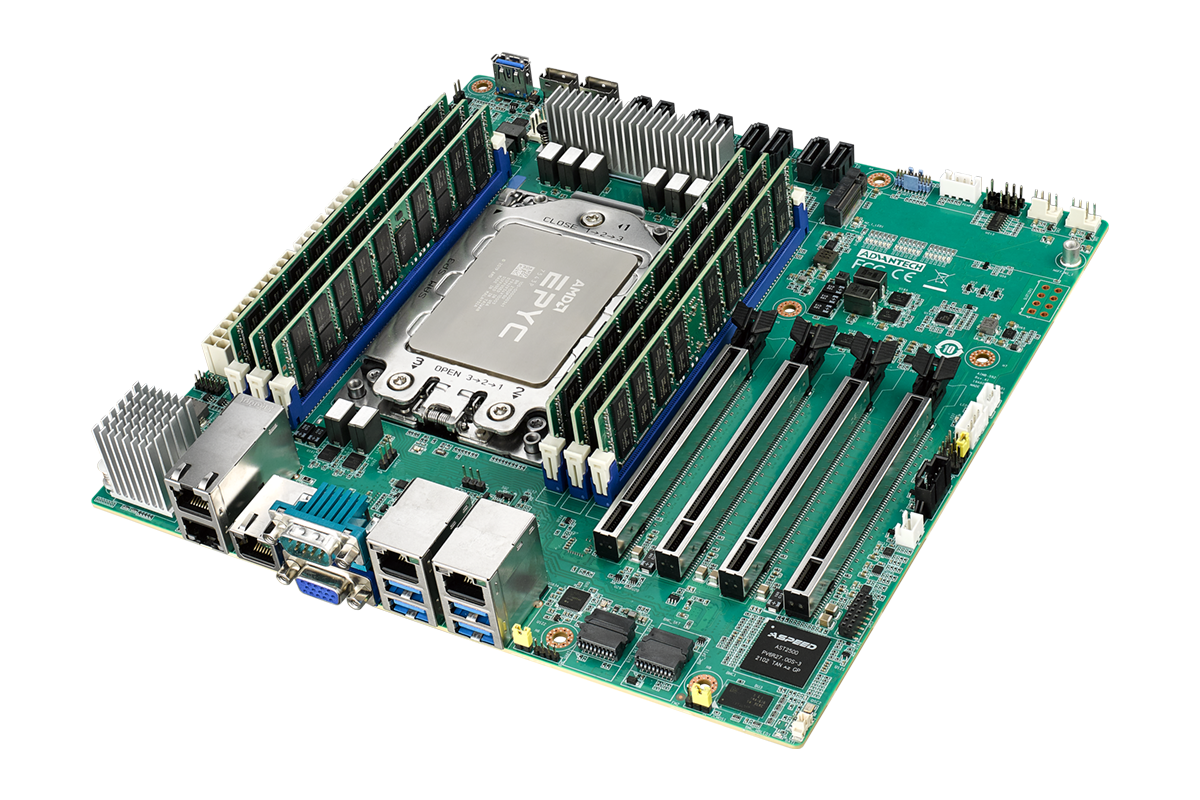 The Advantech AIMB-592 will be available for order in February 2023. For more information about AIMB-592 or other Advantech products and/or services please visit our website or call a regional service provider.