Advantech Collaborates with Capgemini to Deliver 5G Smart Roadside Unit Solutions for the Connected Infrastructure
2/25/2022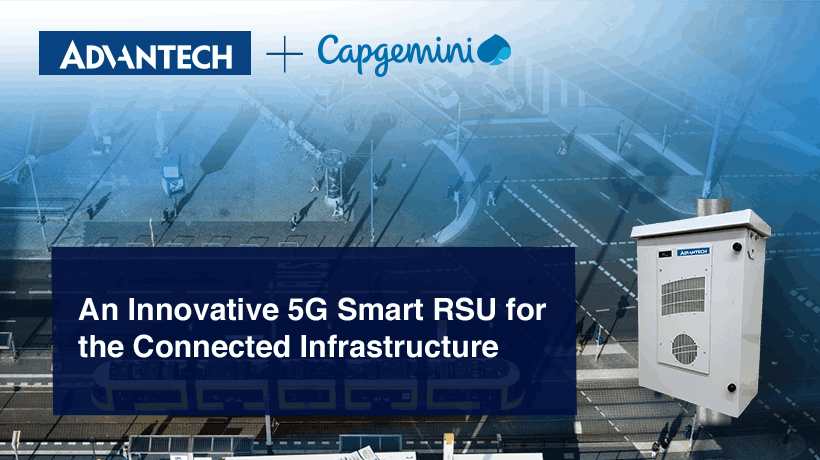 The cloud-native platform, which combines 5G Open RAN, Artificial Intelligence and Multi-access Edge Computing technologies to improve road efficiency and safety, will be showcased at MWC Barcelona
February 25, 2022, Barcelona, Spain - Advantech and Capgemini today announced their collaboration on an innovative 5G Smart Roadside Unit (RSU) solution that provides 5G connectivity and Artificial Intelligence (AI) edge computing capabilities to enable ultra-reliable low latency traffic management services in smart cities and connected highways. Based on Capgemini Engineering ENSCONCE Multi-access Edge Computing (MEC) platform and Advantech SKY-8000 Edge Servers, and developed in concert with Intel, the solution targets Intelligent Transportation Systems (ITS) and V2X use cases to improve traffic flow and safety. The 5G Smart RSU will be showcased at Mobile World Congress 2022 in the Intel booth, Hall 3 Stand 3E31, February 28th to March 3rd, in Barcelona.
The 5G Smart RSU is a fully integrated, cloud-native platform developed by Capgemini Engineering and validated to be deployed on Advantech SKY-8000 Edge Servers. Transport and communications infrastructure owners and operators will be able to equip their networks with these outdoor compute and networking nodes capable of hosting high performance, high availability, low latency 5G and AI applications, enabling a wide range of innovative ITS, V2X and smart city services in airports, ports, highways and cities including integrated traffic management, EV charging, or digital twins for infrastructure/city management.
"We are enabling ITS solutions that meet the demand for smarter mobility services to streamline daily trips and journeys" said Magic Pao, Associate VP at Advantech Cloud IoT Group. "This Smart RSU collaboration with Capgemini and Intel further strengths our commitment to develop solutions that put technology at the service of modern citizens to build greener and safer cities."
"We are proud to play a major role by enabling 5G Smart Roadside Unit Solutions with Advantech" said Shamik Mishra, CTO Connectivity, Capgemini Engineering. "Capgemini Engineering is thrilled to demonstrate the value of intelligent industry with an innovative cloud-native platform which combines 5G Open RAN, 5G Standalone Core Network, AI and MEC technologies and will help transport and communications infrastructure owners and operators to improve road efficiency and safety."
"ITS solutions are intrinsic to Intel's vision of a more responsible, inclusive, and sustainable world, enabled through technology. Our hardware and software technologies are foundational to Advantech and CapGemini's smart RSU solution, and a strong example of how industry collaboration allows for faster and more streamlined deployment and scalability," said Sameer Sharma, Global GM of new IOT Markets at Intel Corporation.
The 5G Smart RSU solution simplifies the smart city and transportation technology challenges through the Capgemini Engineering's ENSCONCE MEC platform. This cloud-native, edge application runtime and orchestration platform helps developers seamlessly deploy 5G connected, smart AI inference applications across a cluster of edge nodes, and combine a variety of sensors (vision, lidar, and radar) to enable roadway, railway, and maritime use cases. It implements the Intel® Smart Edge Open Experience Kit, which allows solution designers to build disaggregated nodes while converging network, compute and AI acceleration. The solution also integrates a complete 5G communications framework with Capgemini Engineering's 5G RAN, automotive-grade V2X and Core Network coupled with Intel's FlexRAN hardware and software technologies to help build localized 5G points-of-presence that insulates the networking complexity from smart city applications developers. In addition, the Capgemini Engineering Visual Compute Application Platform provides pre-optimized media analytics pipelines to shorten time to market, and integrates the Intel OpenVINO toolkit and the Intel Movidius Myriad X VPUs for AI inference acceleration.
The 5G Smart RSU solution leverages Advantech SKY-8000 Series Servers for edge deployment. These optimized compute and networking nodes provide a complete server solution in a compact IP65 enclosure for outdoor deployment, along highways and cities. The servers balance high performance 3rd Gen Intel Xeon Scalable processors with high density PCI Express card payload to integrate the required high speed network interfaces, time synchronization, AI and vRAN acceleration technologies. Its carrier grade design and advanced platform management provide superior reliability to high availability 5G, V2X and MEC applications while streamline operations.
The 5G Smart RSU solution is immediately available for customer evaluation and will be on display at the Intel booth, in Hall 3 Stand 3E31 at Mobile World Congress 2022, in Barcelona. For more information about Advantech products, visit the Advantech booth in Hall 5 Stand #5F60.
*Intel, the Intel logo, and other Intel marks are trademarks of Intel Corporation or its subsidiaries.
Charo Sanchez
Global Alliances Manager, Advantech Cloud-IoT Group
About Advantech CIoud-IoT Group
Advantech Cloud-IoT Group helps service, solution providers and enterprises extend the cloud to the IoT edge by providing scalable platforms that reliably execute business and mission critical services anywhere in the network. Our innovative servers and appliances enable a seamless transformation toward cloud native operations and are supported by a vibrant software ecosystem and supply chain, offering key foundational building blocks that accelerate digital transformation. From SD-WAN, SASE and Private Wireless to Open RAN, Edge and Hybrid Cloud, Advantech Cloud-IoT Group is enabling the co-creation of products and services that will form the backbone of the new 5G & AIoT economy.