Advantech Upgrades Intel Select Solutions with Enhanced 2nd Generation Intel Xeon Scalable Processors
2/23/2020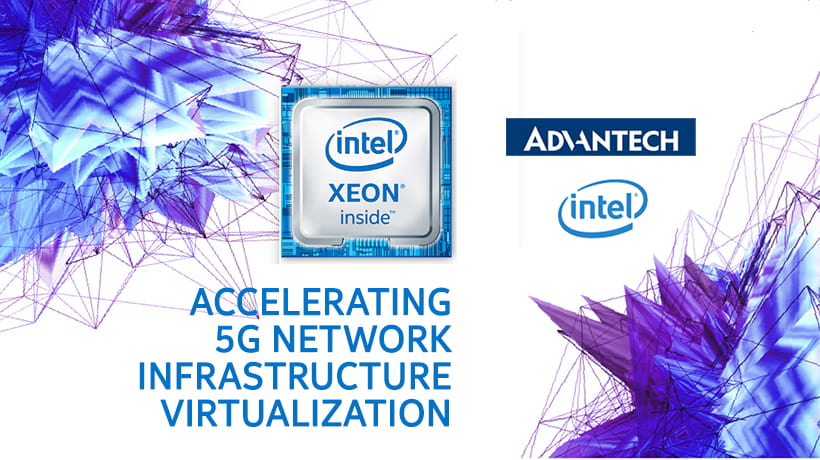 Advantech Server Platforms deliver additional customer value with increased performance and industry leading CPU frequencies at attractive price points

The upgraded platforms will allow Communication Service Providers to capitalize on the benefits of higher packet processing throughput and increased virtual machine density across a fully scalable product line with more processor cores and higher base frequencies.
Taipei, Taiwan, Feb 24, 2020 – Advantech (TWSE: 2395.TW) – today announced upgrades to its verified Intel Select Solutions for NFVI and uCPE with the latest 2nd Gen Intel Xeon Scalable processors. The upgrades to both dual and single-socket designs, which leverage high-performance compute cores, built-in AI acceleration, advanced security and the Intel hardware and software portfolio, will allow developers to immediately measure the increased customer value of the new processors.
Next generation networks will require a significant boost in performance, network throughput and agility to maximize the opportunities created by 5G at sustainable costs. The new upgrades will allow Communication Service Providers and Enterprises to tap into the performance gains on already-proven server designs successfully deployed in a wide range of customer and provider edge applications.
Advantech's SKY-8101D 1RU dual-socket NUMA-balanced server, a verified Intel Select Solution for NFVI Forwarding Platform Cloud Node Plus, now gains in performance with the introduction of the new 28-core CPUs from the Intel Xeon Gold processor range. With more cores packed into a single socket at higher clock speeds, subscriber density and network throughput on elements such as virtual Broadband Network Gateways (vBNG) can be significantly increased bringing greater cost efficiency per rack unit.
The higher core count is also beneficial for virtualization workloads based on "per socket" licensing costs meaning the more cores per socket, the greater the cost savings. Current installations which deploy Open Virtual Switch (OVS) infrastructure will gain immediate benefits.
The performance upgrades and built-in acceleration will also bring a significant boost to applications requiring the highest speed packet handling and flow processing on Intel architecture in applications such as policy control and enforcement, carrier-grade NAT, quality-of-service, network security and network analytics.
Upgrades on Advantech's FWA-5070 1RU single-socket white-box appliance, a verified Intel Select Solution for uCPE Plus, will help boost large enterprise and cloud gateway installations at the SD-WAN provider's point-of-presence (PoP) where significantly higher bandwidth and aggregate throughput are required to connect to the major cloud application providers. In deployments where throughputs are less demanding the new 16-core SKUs provide a cost-effective drop in replacement at higher clock speeds.
"Advantech is announcing further leading-edge capabilities to its broad portfolio of white box server solutions designed for the cloudification of the network". said James Yang, VP Advantech Networks & Communications Group. "These enhanced integrations with the Intel(r) Xeon Scalable platform foundation are designed to help customers seamlessly achieve their Network transformation goals with a unified platform approach to software defined networking and network function virtualization."
The SKY-8101D is fueled by two 2nd Generation Intel Xeon Scalable processors with Intel DL Boost, and up to four 10.5" PCIe x16 Gen3 adapters, designed for applications requiring high TDP, high speed networking capacity or longer length add-on cards. The server can significantly scale the bandwidth up and provide better cost advantages for applications such as NFV infrastructure requiring up to 400Gbps throughput, high definition multi-stream video processing and AI workloads leveraging high density FPGA offload adapters. Redundant power supplies, the ability to withstand single fan failures, redundant firmware images with failsafe upgrades and hot swappable FRUs make the SKY-8101D the platform of choice for applications requiring zero downtime.



FWA-5070 is a single socket design equipped with the 2nd Gen Intel Xeon Scalable processors, well suited to handle ADC security functions, remote access and access policy management, with built-in acceleration for data compression and encryption. The FWA-5070 provides up to 220Gbps bandwidth for networking and up to 40 Gbps for data compression and encryption with built-in Intel QuickAssist Technology (Intel QAT). For Router, NGFW, Firewall, IPS/IDS, and UTM markets, the FWA-5070 brings significant cost savings to next generation designs where a broad choice of Intel Xeon Scalable processors and Intel QAT will allow vendors to cost-optimize compute and acceleration for a desired workload and throughput.
Single socket designs with higher core count processor SKUs offer customers further economies of scale over dual socket designs at lower power budgets while meeting the workload demand for mid to lower high-range deployments. The appliances can be fully configured for virtual networking workloads requiring high-speed packet processing, encryption and compression or for bare metal deployments.


Both the SKY-8101 server and FWA-5070 appliance upgraded with new 2nd Gen Intel Xeon Scalable processors are available for shipping.
Advantech Cloud-IoT Group helps service providers and enterprises extend network function virtualization from the core to the edge by providing scalable compute platforms that reliably execute virtual network functions anywhere in the network.Our innovative white-box uCPEs for software-defined WAN and white-box servers based on Intel architecture are supported by a vibrant software ecosystem and supply chain, offering key foundational building blocks that accelerate network transformation. From next generation central offices to edge cloud expansion and IoT, Advantech Clou-IoT Group is enabling the co-creation of products and services that will form the backbone of the new digital economy.