Advantech Launches UNO-2271G V2 Industrial Edge IoT Gateway for Smart Factory Applications
5/4/2022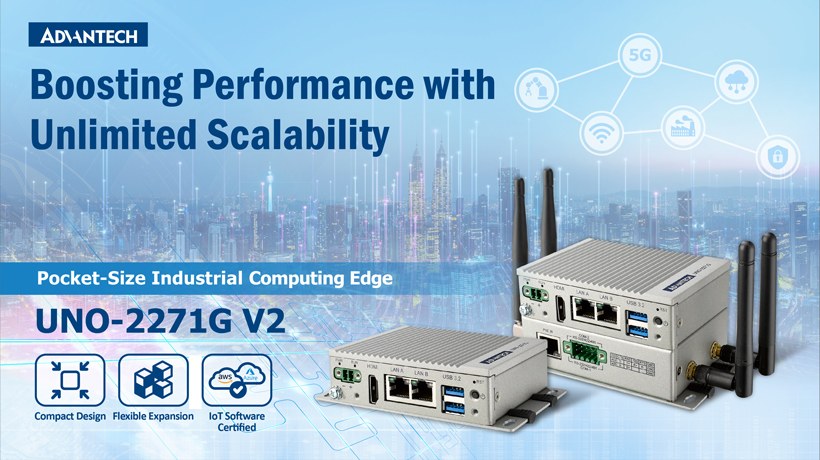 May 2022, Taipei, Taiwan - Advantech, a leading provider of embedded computing solutions, is pleased to announce UNO-2271G V2 – the next generation of its widely adopted UNO-2000 modular IoT automation gateway. Equipped with the latest Intel® Celeron® N6210 dual-core/Pentium® N6415 quad-core processor, DDR4 memory, and dual display interfaces (HDMI and DisplayPort), UNO-22712G V2 delivers a competitive solution for high-performance computing in a compact, pocket-size form factor. To ensure flexible configuration and deployment, the UNO-2271G V2 edge IoT gateway features a modular design with optimized I/O and can be easily integrated with an optional second-stack I/O extension module to support diverse operations, including equipment connectivity, process visualization, environment management, and dispatch management. Moreover, with the provision of 1 x mPCIe slot on the base unit and 1 x M.2 connector on the expansion kit, UNO-2271G V2 supports dual high-speed wireless communication via Wi-Fi, 4G, and 5G technologies to enable long-distance data transmissions and real-time networking.
Optimized for Improved Efficiency and Performance
Powered by an Intel® Celeron® N6210 dual-core/Pentium® N6415 quad-core processor, Advantech's UNO-22271G V2 delivers the high-performance computing necessary for industrial IoT applications. Compared to the previous UNO-2271G model featuring an Intel® Atom™ E3825 processor, UNO-2271G V2 has 4 times higher performance. UNO-2271G V2 also offers increased memory capacity with up to 8 GB of DDR4 (2666 MHz) memory and 32 GB of eMMC storage on board in order to support computing-intensive IoT operations.
Modular Design for Flexible Configuration and I/O Expansion
To ensure easy deployment for diverse IoT applications, including in-cabinet installations with limited space, UNO-2271G V2 features a compact, pocket-sized (100 x 70 x 30 mm/3.9 x 2.8 x 1.2 in) form factor. Moreover, to satisfy specific usage requirements, Advantech offers 3 x stackable extension kit options for easy PoE, COM, and iDoor expansion, while support for various mount options, including DIN rail, stand, wall, and VESA, ensures convenient deployment in a wide range of environments.
Scalable Wireless Communication Enables Remote Management

For added value that extends the system functionality, UNO-2271G V2 can be installed with Advantech's WISE-DeviceOn IoT device management software platform. This platform is engineered to facilitate centralized monitoring, device access/control, and over-the-air software updates. Built-in Wi-Fi, 4G, and 5G technologies offer scalable high-speed communication capabilities for real-time mobile networking and data transmissions. With the inclusion of WISE-DeviceOn, UNO-2271G V2 provides a 5G-ready IoT gateway that can be used to manage edge devices remotely, reducing downtime and maintenance costs while increasing processing efficiency and overall productivity.
Intel® Celeron® N6210 dual-core/Pentium® N6415 quad-core processor

4 GB/8 GB DDR4 onboard memory

2 x GbE, 2 x USB 3.2 Gen 1, and 1 x HDMI 1.4


Stackable PoE, COM, wireless connectivity, and iDoor extension kits

Built-in TPM 2.0 for hardware-based security

Compatible with Ubuntu Core, Microsoft Azure IoT Edge, AWS IoT Greengrass, WISE-DeviceOn, and WISE IoT Edge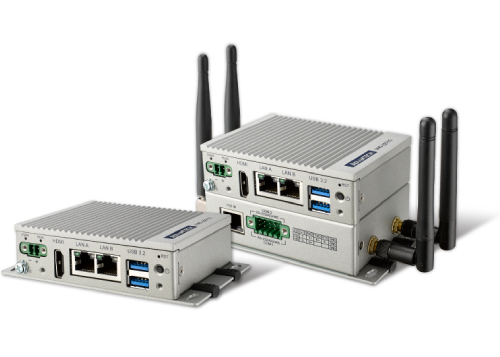 Advantech's UNO-2271G V2 edge IoT gateway is available to order now. For more information about this or other Advantech products, contact your local support team or visit our website at www.advantech.com.
Founded in 1983, Advantech is a leading provider of trusted, innovative products, services, and solutions. Advantech offers comprehensive system integration, hardware, software, customer-centric design services, embedded systems, automation products, and global logistics support. We cooperate closely with our partners to provide complete solutions for a wide range of applications in diverse industries. Our mission is to enable an intelligent planet by developing automated and embedded computing products and solutions that facilitate smarter working and living. With Advantech products, the application and innovation potential becomes unlimited. (Corporate website: www.advantech.com).