Advantech TDM Kit Fulfills Diverse Touch Display Needs
5/1/2023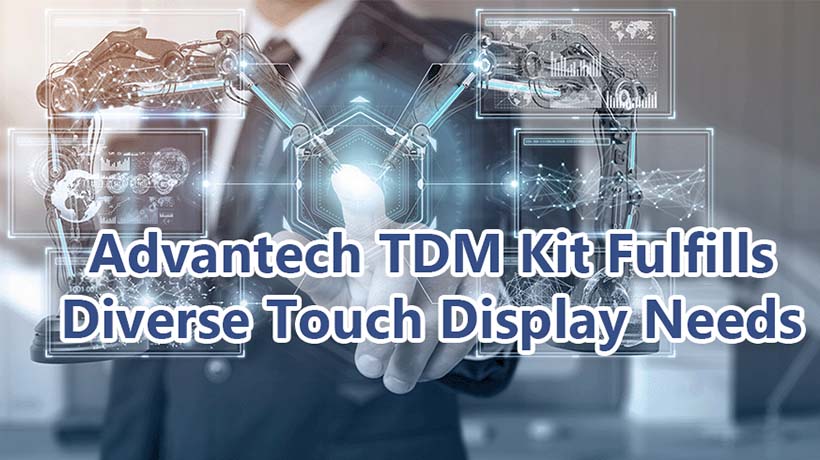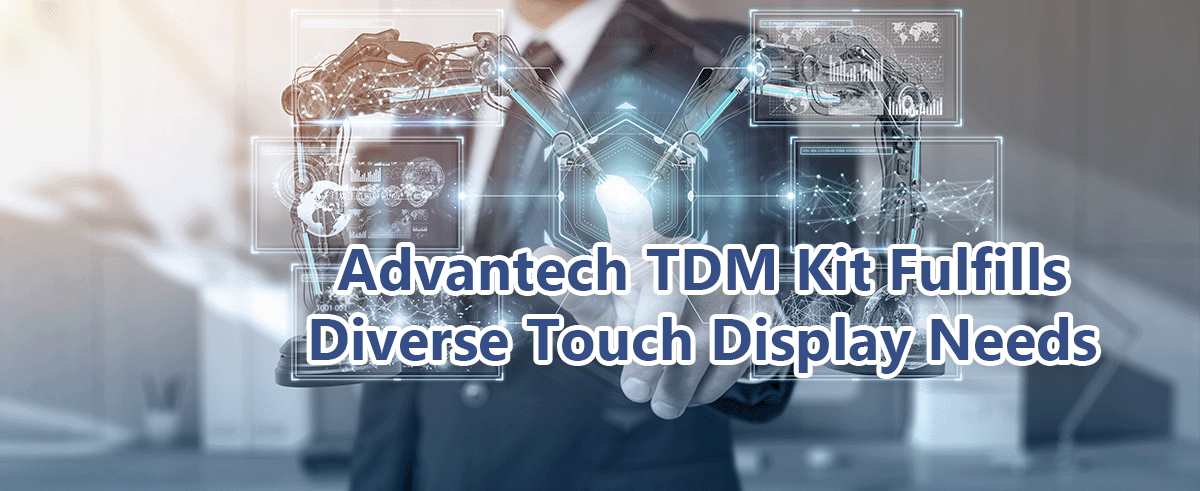 Advantech Touch Display Module (TDM) integrates a display (LCM) and a touch panel module (TPM) into a single solution. Advantech uses air bonding or direct bonding (AKA optical bonding) as an adhesive method when laminating these two parts.
Air bonding uses adhesive tape along the sides of the outer frame (AKA bezel) to bond TPM to LCM. This means an air gap exists between the LCM and the TPM.
Direct bonding is an optical adhesive method that involves applying optical adhesive fully on and between the TPM with the LCM. This method eliminates the air gap and makes the screen thinner. Optically Clear Adhesive (OCA) and Optical Clear Resin (OCR) are typical optical adhesives. They are transparent and allow more than 90% light transmittance. The following 2 x figures demonstrate the difference.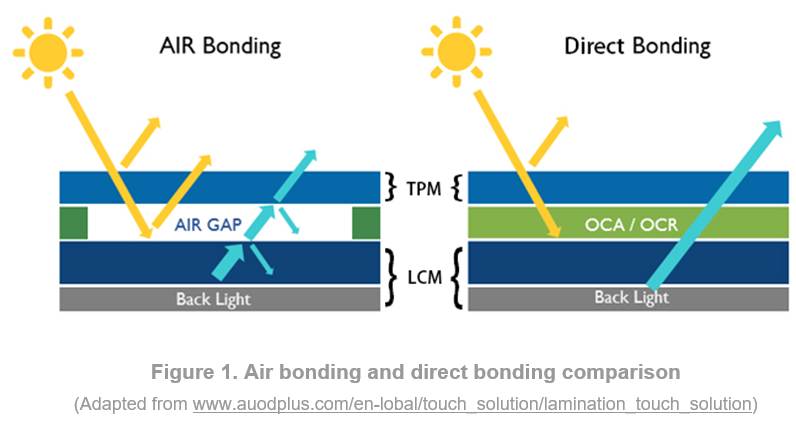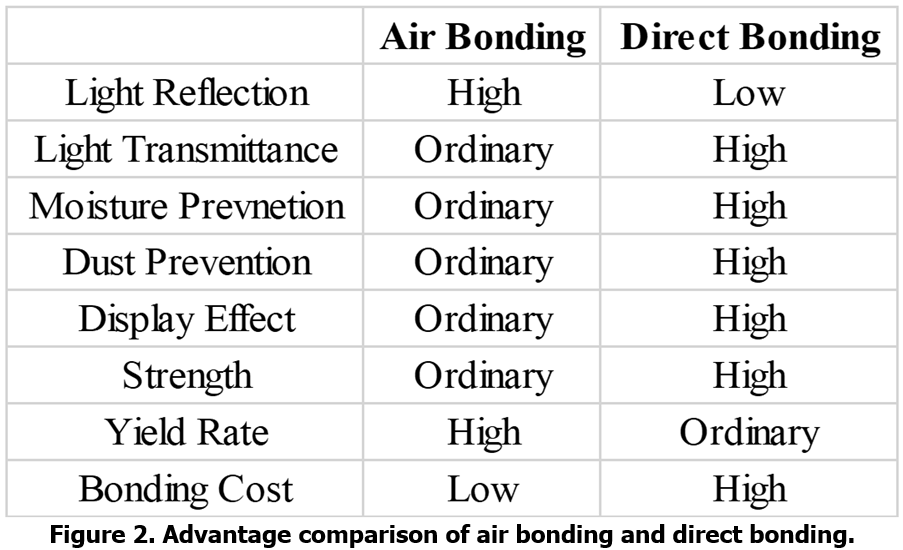 Advantech TDM provides a touch display solution with integrated LCM and touch module for industrial touch display applications. The TDM is protected by sturdy cover glass and endowed with noise immunity; and optional UV-Cut functions and/or moisture resistant exterior. These advanced features support use in diverse environments and industrial applications. Users can choose either air bonding or direct bonding according to their requirements and/or target applications.
Advantech TDM saves time and effort during product development by eliminating issues related to lamination failure, material losses, human labor, and maintenance. Our process streamlines product development schedules and frees users from worrying about lamination yield rates.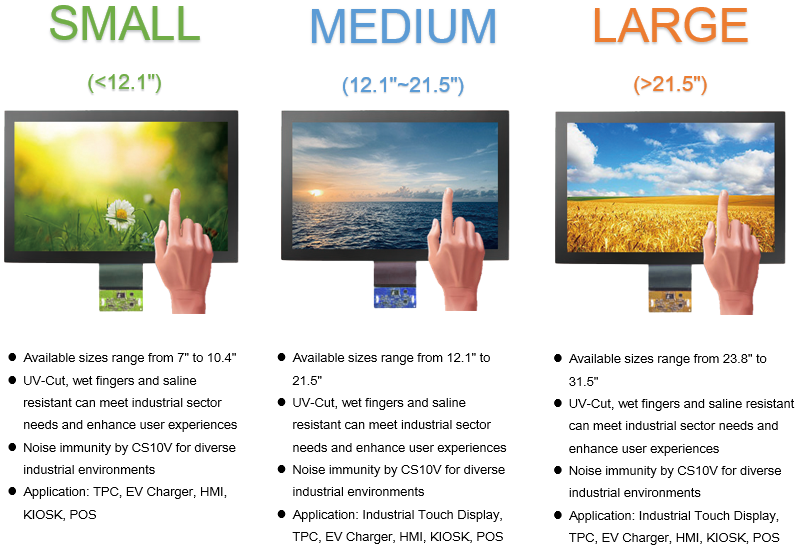 Our broad range of sizes (7" to 31.5") covers most industrial applications. Likewise, our default functions support noise immunity and wet fingers use, enabling users to leverage TDM and save time and effort during product development.
1.
Lower Inbound Freight
TDM can save overall inbound freight on the upstream supply chain. Before, users had to buy the LCM and TPM respectively. They then needed to send both elements to a third part for bonding. Now users can buy TDM without the need for a third-party bonding provider. This save in supply chain freight and results in larger, long-term savings.
Inbound Freight of Old TDM from different manufacturers ≈ Inbound Freight of LCM+TPM
Inbound Freight of New TDM from single manufacturer ≈ Freight of LCM
2.
Accelerated Development
The Streamlined TDM supply chain saves time and money during product development by eliminating the risk of lamination failure. Issues resulting from lamination failure often cause disagreement among LCM, TPM, and bonding service suppliers. Such disagreements also delay the schedule.
3.
Easier and Better Firmware Tuning for Touch Function
TDM ensures touch functions can work properly on default systems before they are shipped to customers. This means many time-consuming testing jobs — related to gloved finger inputs, false touches caused by water droplets, EMI & EMC interference, and others — will be done by TDM suppliers on the default system level. Indeed, users can focus on the fine tuning the final system as the overall system quality is guaranteed and testing time is reduced.
PM: Joshua.Chuang; 511-7931; joshua.chuang@advantech.com.tw
BDM: Phyllis.Yang; 511-7199; phyllis.yang@advantech.com.tw