Advantech Unveils MNT-6000 Semi-industrial Touch Monitors
8/1/2023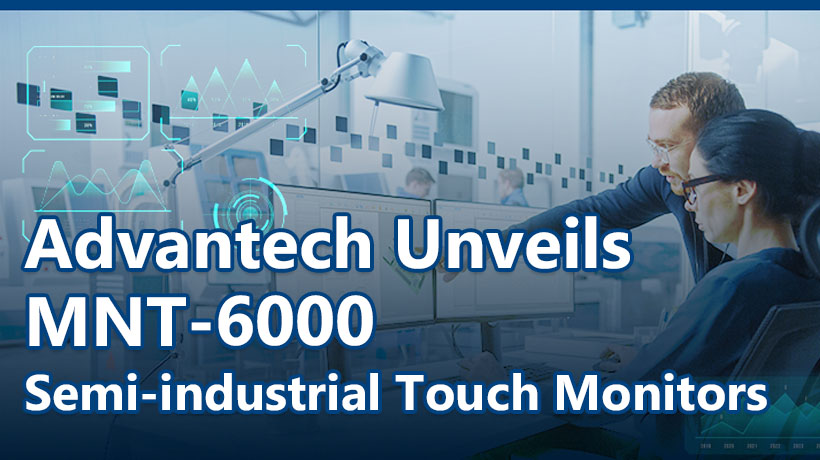 The MNT series offers touch and non-touch monitors designed for semi-industrial sectors. Introducing the latest addition, the MNT-6000 models feature PCAP touch functionality to meet the requirements of semi-industrial applications. They offer lower noise immunity (CS3V instead of CS10V) and limited glove support. These monitors come with Full HD resolution, a sleek and compact design, and multiple connectivity options, ensuring an excellent user experience.
The MNT-6000 series incorporates Glass-Film-Film (G/F/F) stack-up structure and projected capacitive (PCAP) touch technology to cater to 21.5-inch and 23.8-inch displays. These monitors offer versatile connectivity options, including VGA, HDMI, and Display Port (DP), enabling the transmission of both analog and digital signals.
In response to customer feedback on specifications, the MNT-6000 series offers a clear-type cover glass without any treatment. For sectors such as retail, front desk, and simple KIOSK, these monitors provide a noise immunity capability of CS3V. However, in environments with motors, it is highly recommended to opt for VUE models that feature CS10V noise immunity instead of the MNT-6000 touch monitor model.
The MNT-6000 models feature a front panel design with even printing on all four sides. Additionally, these monitors have a slimmer chassis compared to industrial models. This design not only adds a stylish touch to customers' space but also enables seamless interaction with the digital world.
When comparing the VUE touch monitors with the MNT-6000 models, it is worth noting that VUE models offer support for 10-12 types of glove operation. Whereas MNT-6000 models primarily support latex gloves due to their thinner skin. Moreover, MNT-6000 models do not support active touch pens but rather passive touch pens, as there are limitations imposed by the touch IC.
When considering semi-industrial touch monitors, it's important to consider their diverse applications and mounting options. MNT-6000 monitors can be connected to wall mount kits or stands that adhere to the 100 x 100 mm VESA specification, allowing for versatile setups. Whether placed on tables or on the ground, mounted on walls using wall mount kits, or supported by custom mechanical brackets for specific applications, MNT-6000 models are suitable for effortless and straightforward configuration.

Non- touch models of MNT Family
The MNT-3000 series comprises non-touch monitors available in 21.5-inch, 23.8-inch, and 27-inch sizes, offering convenient connectivity options to seamlessly connect with IPCs. The MNT-3238 and MNT-3270 models are equipped with VGA, HDMI, and DP ports, allowing for the transformation of both analog and digital signals. Regarding power input, the MNT series supports 90-220VDc power input based on an AC power design.
The MNT-3000 models feature an even three-side (upper, left, and right) design without a protective cover glass. This design resembles commercial monitors, but the panels used are semi-industrial, offering higher brightness compared to commercial monitors and a longer product lifespan.

The MNT-3215 model, available in 21.5 inches, offers both black and white chassis options to cater to diverse customer preferences. The white variant of the MNT-3215 is particularly suitable for front desks in hospitals or for stores and restaurants aiming to deliver a clear and bright image to end customers.
The MNT series offers a 100x100 mm VESA grid, enabling diverse installation options to cater to users in various scenarios. Ideally suited for personal and collaborative work in office environments, as well as public spaces and homes, such as hotels, financial institutions, and educational settings.
To summarize, the MNT series offers an additional option for the semi-industrial sector by including non-touch (MNT-3000) and PCAP touch (MNT-6000) models. These models serve as entry-level solutions within the touch monitor industry. They are well-suited for noise-free environments (with CS3V noise immunity) and support finger or latex glove touch input for basic interactions. Additionally, the 100x100 mm VESA compatibility allows customers to connect to MNT models in various ways based on their specific requirements.
Ordering Information of MNT-3000 series (None Touch Type)
| | |
| --- | --- |
| Part Number | Product Description |
| | Advantech 21.5" Full HD Monitor,VGA/HDMI (Black housing) |
| | Advantech 21.5" Full HD Monitor,VGA/HDMI (Black housing) |
| | Advantech 23.8" Full HD Monitor,VGA/HDMI/DP (Black housing) |
| MNT-3270-FD25BX-V0 | Advantech 27" Full HD Monitor,VGA/HDMI/DP (Black housing) |
Ordering Information of MNT-6000 series (Touch type)
| | |
| --- | --- |
| Part Number | Product Description |
| | Advantech 21.5" Touch Monitor, VGA/HDMI/DP/ USB-B for touch cable |
| | Advantech 23.8" Touch Monitor, VGA/HDMI/DP/ USB-B for touch cable |
PM: Hannah.Chuang; 511-7292 hannah.chuang@advantech.com.tw