Advantech Unveils VUE-4000 ARM-base All-in-One for Industrial Interactive Ecosystem
6/1/2022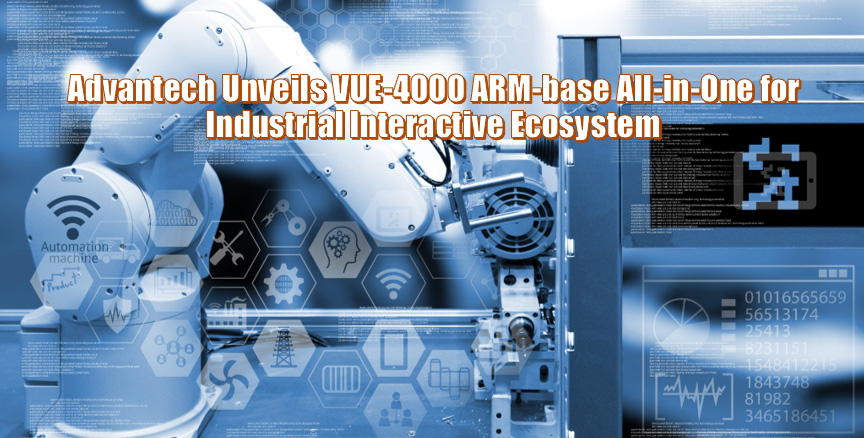 Advantech VUE-4000 series belongs to VUE touch display family and contents ARM-base models by 10.1, 15.6 and 23.8 inch, equips Android 11 as operating system for industrial interactive ecosystems.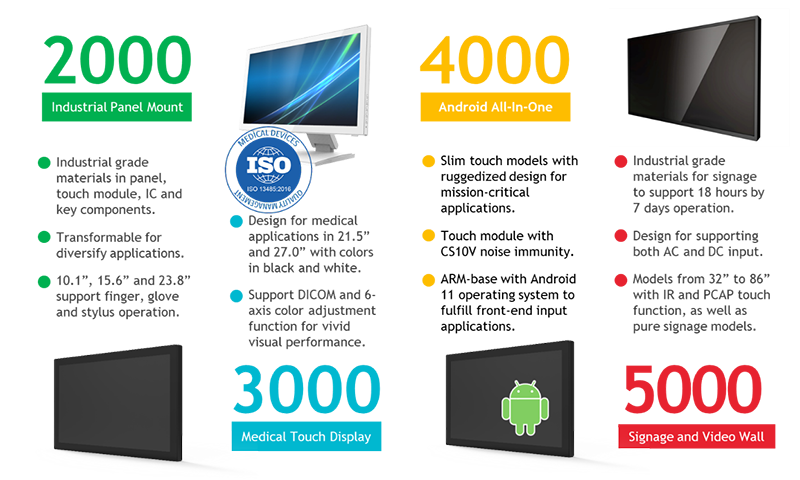 With more and more demands on easy to use, quick response and integration touch solution for interacting, VUE announces a new 4000 series which takes ARM-base processor and Android 11 operating system, as well as 4G RAM and 128GB eMMC. eMMC is for APP installation mainly, one extension slot on the system board is ready for use.
ARM-base all-in-one touch display provides easy input and interactive interface between users and digital world, on the other hand, it operates light loading for enterprises. With simple and quick response VUE-4000 models, enterprises are able to consolidate the data with back-end database to assist decision making, trends tracing, AI analysis and so on.
Benefits to work with VUE-4000 models are included but not limited as follow:
Take VUE-4000 ARM-base all-in-one models, customers no need to purchase computing device and touch display separately. The hardware and software integrated models work as a platform, therefore, each company or user is able to install specific APP to customize VUE-4000 for unique use.
Meanwhile, the work loading of Android is light. VUE-4000 would support easy input at front-end, and gather data to back-end database.
VUE-4000 takes Android 11 operating system without GMS. It means Google services like YouTube, Gmail, Market…can't be accessed by personal use. MIS members deploy specific APP or documents through internal Ethernet or local network (i.e. production SOP), the management could be centralized.
VUE-4000 equips RJ45 port to access internet, and embedded WiFi as optional use (default is off). With WiFi upgraded technology, users is able to take WiFi dongle to connect with VUE-4000 in the future.
Furthermore, all video signal ports are integrated on the system board, but VUE-4000 keeps one HDMI port in case of Android shut-down. External operating device connects with VUE-4000 through HDMI as emergency solution once Android 11 is shut-down.
VUE-4000 inherits VUE family's spirit to provide longevity support with industrial grade materials. VUE-4000 models are capable with IP65 at front panel, and IK08 impact protection. The touch solution is CS10V noise immunity to work in highly noisy environments. The power input covers 12V to 19V DC power to support industrial and commercial power inputs.

Combine with application and VUE-4000 features, diversify usages would be customers'. Furthermore, SI or solution providers are able to integrate VUE-4000 with software or APPs to customize a solution for specific sector.
Advantech WISE-PaaS provides some industrial APPs to fulfill industrial demands, it would be another way to take the APPs to customize to meet the needs. Now, VUE-4000 co-work with SI and solution providers for applications, as long as the applications for front-end data collection, VUE-4000 would be proper solution, for instance, shop floor data input, equipment control, museum guild or interact with users and so on.
Have a trial on VUE-4000 models, and you would find the charming items for your demands and applications.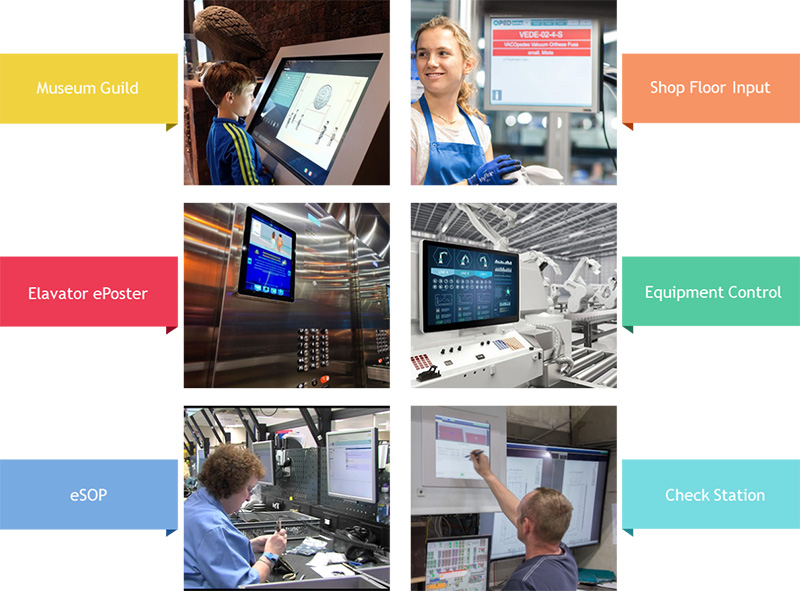 Recommended Product Offerings
VUE-4101-WX50PX-A4 / Advantech 10.1" WXGA Android AIO, incl. EU+TW+US+UK Power Cord

VUE-4101-WX50PA-A4 / Advantech 10.1" WXGA Android AIO, incl. JP+KR+MENA+AU Power Cord
VUE-4101-WX50PC-A4 / Advantech 10.1" WXGA Android AIO, incl. China Power Cord
VUE-4156-FD45PX-A4 / Advantech 15.6" FHD Android AIO, incl. EU+TW+US+UK Power Cord
VUE-4156-FD45PA-A4 / Advantech 15.6" FHD Android AIO, incl. JP+KR+MENA+AU Power Cord

VUE-4156-FD45PC-A4 / Advantech 15.6" FHD Android AIO, incl. China Power Cord

VUE-4238-FD35PX-A4 / Advantech 23.8" FHD Android AIO, incl. EU+TW+US+UK Power Cord

VUE-4238-FD35PA-A4 / Advantech 23.8" FHD Android AIO, incl. JP+KR+MENA+AU Power Cord

VUE-4238-FD35PC-A4 / Advantech 23.8" FHD Android AIO, incl. China Power Cord