Advantech Launches AINavi and Provides Free Trial Version for Industrial Partners
1/11/2022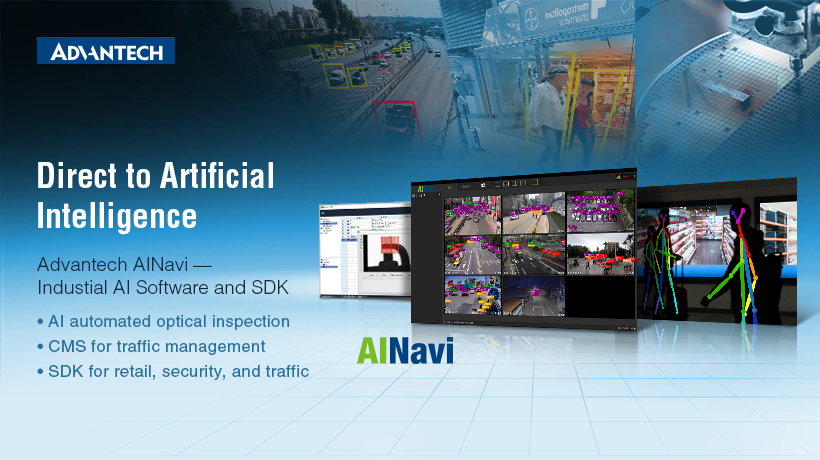 Advantech, a leading industrial edge AI solution provider, is excited to announce the release of AINavi — an AI dedicated software and SDK. Through collaboration with Smasoft and YUAN, Advantech is helping our automation manufacturing and smart city partners deploy AI in their edge systems.
Advantech has found that the loss of staff and resources over that last two years has presented our industrial partners with technical and management challenges when deploying AI. Likewise, many companies lack programming staff, limiting their understanding of machine vision inspection. Therefore, even companies seeking to implement technological systems that decrease visual inspection rates and increase inspection efficiency are unable to do so. Advantech is launching AINavi — a single vision industrial software and SDK with a friendly graphical user interface and pre-trained AI models — in an effort to lower the threshold to entering AI.
AINavi-AOI Empowers Transition from Visual to AI Inspection
Smasoft is a manufacturing domain-focused software company based in Taiwan. AINavi is a cooperative program between Advantech and Smasoft that aims to help the manufacturing industry shift from human visual inspection to AI inspection. AINavi-AOI combines rule-based machine vision and AI visual identification, and is an excellent solution for the introduction of automatic inspection systems. AINavi-AOI is divided into two subseries — AINavi-AOI/Industrial and AINavir-AOI/Seq. AINavi-AOI/Industrial is an AI model training software that chooses the most suitable AI algorithm base for testing times and items. Conversely, AINavi-AOI/Seq is focused on the development tools used in automated robotic equipment. These program development tools have an equipment operation process editor at their foundation and support multiple robot control modules — including industrial cameras, inspection algorithms, multi-axis motion control solutions, robotic arms, and digital I/O signals. This solution empowers quick operation process configuration, and facilitates complete automated optical inspection, positioning, and material transfer
AINavi-CMS and AINavi-SDK Empower for AI Smart City Solutions
Advantech collaborates with YUAN, a leader in video capture and streaming, to provide video management and AI model systems that meet growing demands for AI in the safety and security market. AINavi-CMS is an AI smart city solution that enables users to monitor up to eight 1080P IP cameras and support custom layouts. In addition, the powerful digital zoom features leveraged by these solutions enable the detailed surveillance of designated areas — including store and warehouse interiors, and streets. This solution provides preinstalled pedestrian and vehicle AI models, AI object recognition, and line & area detection to monitor up to nine events simultaneously.
AINavi-SDK is a comprehensive SDK that provides labeling, training tools, and pre-trained AI models. Indeed, its pre-trained AI models cover facial, vehicle, and object detection as well as behavioral analytics for low code implementation. AINavi-SDK prepares video and images acquired via AI inference/analytics for display, recording, and transmission. It is capable of processing raw data from IP cameras, capture cards, or video files; and handles cropping and frame dropping using AI inference. In addition, AINavi-SDK can function both in NVIDIA Jetson and x86 systems with GPU.
Advantech's AINavi is available now. We invite potential customers to download a free trial version for use on our high performance edge AI computing platforms: MIC-730AI and MIC-730IVA. More information about AINavi, please contact a regional Advantech sales professional.