TREK-550 Mobile Data Terminal Solutions for e-Bus Systems
7/22/2013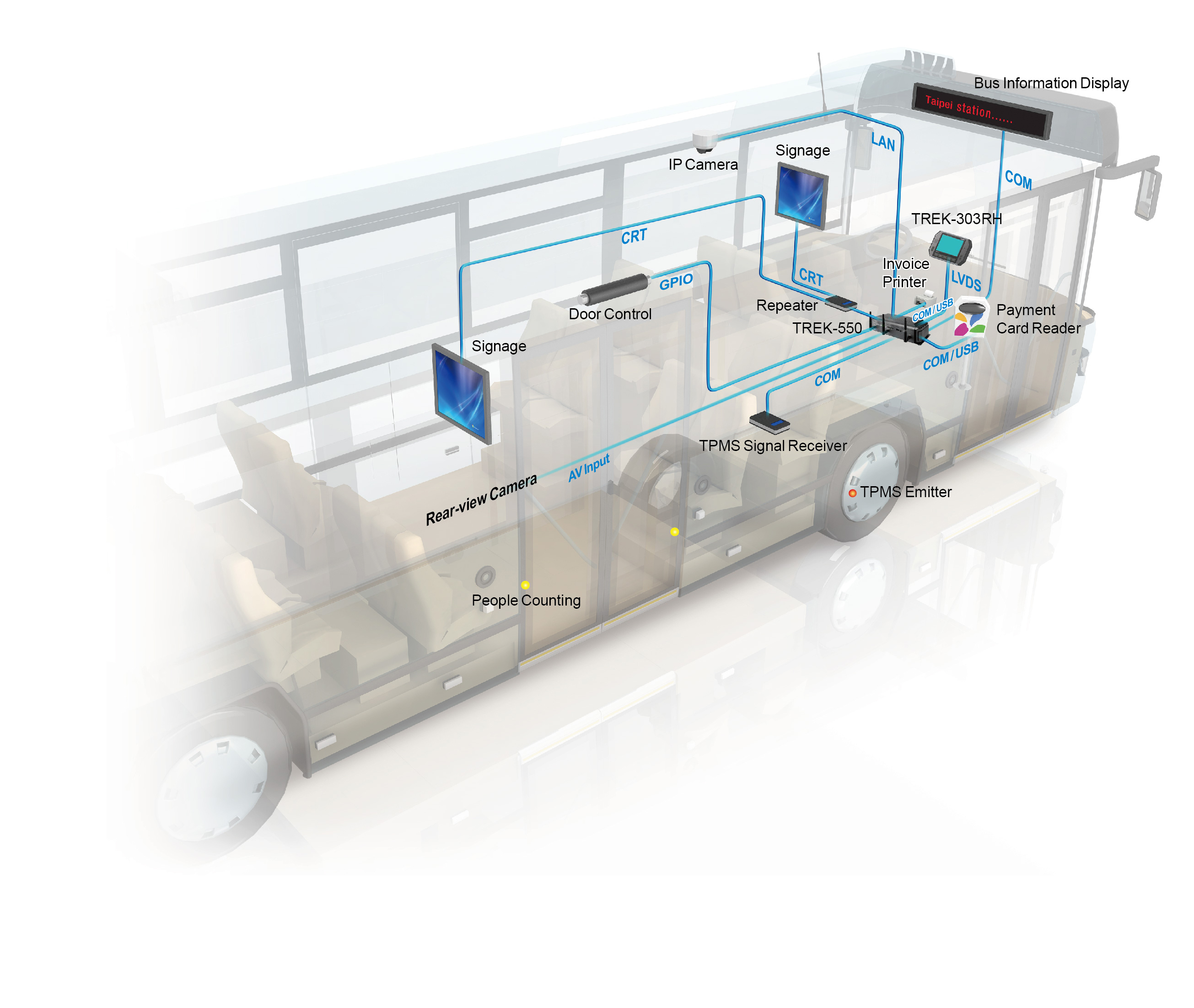 Introduction
Customers looking for smart vehicle solutions for sophisticated e-Bus systems have a diverse set of needs. Advantech-DLoG is helping system integrators design e-Bus systems as part of a sophisticated wireless infrastructure to bring mobile onboard computing and back-office communications in the transportation industry to the next level. Advantech-DLoG uses its knowledge to deliver an industrial grade Intel Atom processor based, in-vehicle box computer ideal for municipal and inter-urban bus fleets.

System


Solution

Advantech-DLoG fulfills the requirements of metropolitan bus fleets with the TREK-550 in-vehicle box computer and the TREK-303H smart vehicle display providing:
• ISO 7637-2, SAE J1455 & SAE J1113 certifications—guarantees operation in an environment with a wide range working temperatures, transient power disturbances, vibration and shock.
• TREK-303H smart vehicle display (LVDS) – designed to fit in the tight space of a cab and provide the driver with easily-controlled touch panel interface
• Door sensor (GPIO) – allows a passenger counter to keep track of the number of riders onboard
• In-vehicle surveillance (LAN) – enhances security by recording an interior view of the passenger compartment via IP camera
• Real-time rear view camera (Video-in) – increases safety by preventing accidents and alerting driver of pedestrians the rear of the bus
• Vehicle status monitoring (CAN with J1939) – provides driver/dispatch with vehicle metrics and diagnostic information
• Tire Pressure Monitoring System (COM) – increases safety by monitoring and reporting tire pressure
• In-vehicle signage display (CRT) – enables delivery of unique information at different points on the bus through dual independent video and audio connections
• Advanced GPS (module) - includes dead reckoning and AGPS support for continual navigation when satellite tracking is unavailable
• Built-in GPRS, HSDPA, CDMA, Bluetooth and wireless LAN, enabling different RF communication technologies.


Benefits

Advantech-DLoG's mobile data terminal computing system is a full-featured, comprehensive solution. Its benefits include:
• Real-time billing and invoicing
• Enhanced safety for passengers and drivers
• Improved efficiency for fleet managers and route planners
• Real-time communications and information delivered to driver and the central office
• Industrial design that is both reliableand space-conscious
• Proactive vehicle diagnostics monitoring
• Ability to learn bus position and other information by smart phone