AI AOI System Ensures Quality of Fruits and Vegetables
1/25/2021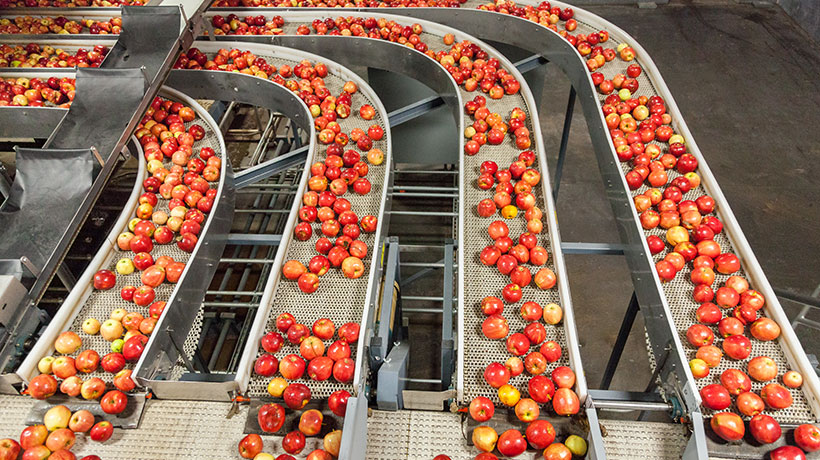 Fruits and vegetables are collected, washed, packaged, and distributed through cold-chain logistics to various sales channels. The final quality grading and inspection determine the prices. Traditionally, grading and inspection are conducted by automatic grading machines or human eyes and quality factors normally include weight, color, size, and appearance. Therefore, the process is time-consuming, labor-intensive, and costly. In particular, the judgment of inspectors is not always 100% consistent. Every inspector has their own subjective judgment, which can easily cause excessive differences between the grading and the actual quality. With the maturity of AI technologies, the inspection issues of traditional human visual inspections or rule-based AOI equipment can be solved by AI technologies driven by big data and deep learning algorithms. Eventually, a neural network model will be developed and greatly improve accuracy and efficiency. Advantech's AIR-101 edge inference system provides highly stable visual inference computing capabilities and is equipped with two Intel® Movidius™ Myriad™ X VPUs, as well as multiple I/Os. It is lightweight, low power consumption, easy to install and is able to operate stably under industrial environments.
Our customer is a well-known sorting, grading and packaging machine manufacturer who has been involved in the fruit and vegetable processing industry for many years. After the fruits are sent to the grading machine, they will be scanned by IP cameras and sorted by their appearance, size and color according to the AI model, as well as inspected by other monitoring methods to filter out defective fruits. and leave only high-quality ones. At first, the customer used Field-Programmable Gate Array (FPGA) for AI inference and AI floating-point arithmetic occupied a lot of resources of the FPGA. Therefore, the grading performance was poor, and the cost was high. Later on, the customer chose Advantech AIR-101 AI inference system and used a VPU vision processor for grading. With sophisticated computing performance, multiple I/O interfaces, excellent reliability, and DIN rail design features, it achieved high-precision fruit and vegetable quality grading.
Improve inspection efficiency with Edge AI to avoid manual re-inspection
Advantech's AIR-101 AI inference system is powered by an Intel® Atom® x7-E3940 CPU quad-core processor and two Intel® Movidius™ Myriad™ X VPUs to achieve high-performance visual computing and analysis. It is equipped with a total of four USB 3.0 ports and two LAN ports, which allow connections of up to four cameras. When fruits pass the camera above the conveyor belt, the camera transmits images to AIR-101 for real time analysis based on appearance, color, size, shape, surface damage, and other characteristics, then grading is completed according to analyzed results. Also, damaged fruits are labeled and displayed on screens to remind inspectors to pay attention. In addition, its rich I/O interface can also be connected to various devices, such as weighing sensors, code scanners, and automatic printers. The two 4K HDMI interfaces can also be connected to the display screens, which is convenient for on-site management. In addition, Advantech provides a user-friendly and visualized Edge AI Suite software package, which is pre-integrated with Intel's OpenVINO™ toolkit and supports a variety of mainstream AI frameworks such as Caffe, TensorFlow, and ONNX. Customers can easily deploy their AI models into the AIR-101 AI inference system through OpenVINO™ toolkit. AIR-101 also provides real-time device information such as CPU/VPU/GPU temperature and workload factor, which greatly saves time during the development and deployment phases.
Advantech is your best partner for high-performance and reliable AI industrial systems
In addition to powerful visual computing capabilities, AIR-101 AI inference system provides a reliable and high-quality guarantee. Its fanless design satisfies production line requirements for dust resistance and ensures a more stable operation of the equipment. Moreover, AIR-101 uses a DIN rail design, which is easy to install and integrate into the grading equipment. In the fruit grading case, the customer used the VPU for fruit sorting and inspection, and they came to realize that the combination of Intel® CPU and VPUs can meet the requirements of high precision and high sorting efficiency, and is suitable for future expansion. Advantech provided VEGA-300 series AI acceleration modules and AIR series AI inference systems, which all have the Edge AI Suite software package pre-installed. The integrated edge AI software and hardware solutions allowed customers and developers to easily get started and use them according to environmental and application requirements, as well as to rapidly develop and deploy AI applications.