Advantech's All-in-One Infotainment Terminal Adopted by Response Care to Provide a Multifunctional Solution for Senior Healthcare
6/27/2017
By Josephine Lin
Interview with Myron Kowal, President of Response Care
In recent years, as members of the baby boomer generation, defined as people born between 1946 and 1964, begin to reach retirement age in large numbers, countries worldwide are facing unprecedented challenges related to a rapidly aging population. According to a report published by Forbes, in the U.S. alone, baby boomers will reach 65 years of age at a rate of approximately 10,000 per day, every day for the next 20 years. Undoubtedly, such a drastic change in global population dynamics is set to present wide-ranging healthcare challenges as well as revenue opportunities.

To address these concerns, Response Care, a North American provider of nurse call solutions for nursing homes and senior care facilities, launched a diverse range of communication systems designed to facilitate the provision of quality care. Response Care solutions incorporate Advantech's HIT-W121B all-in-one solution infotainment terminals with the aim of improving care quality, simplifying communication, and increasing safety for care facility residents.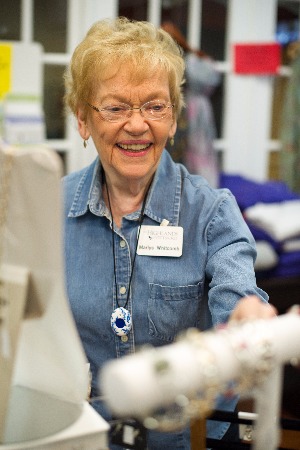 Optimizes Staff Workflows and Productivity
Unlike traditional nurse call master stations, Advantech's HIT-W121B allows staff to monitor task fulfillment and improve operational efficiency. Healthcare providers can mark calls for assistance as "received" to inform patients/care facility residents that they will be attended to soon. After providing assistance, caregivers can then mark the call as "responded" to confirm task fulfillment. Using this system, care providers can ensure that every call is responded to, map operational processes, and optimize workflows.

Response Care's solution functions as a modern emergency call center in senior care facility or nursing home settings, enabling facility administrators to monitor the performance of aging life care professionals. By reviewing period-over-period workflow reports, administrators can analyze key metrics such as response time, action taken, and call prioritization in order to improve the response quality, increase staff productivity, eliminate wasted time, and ensure all seniors receive prompt and appropriate assistance.
Integrated with EMR and EHR Systems
Advantech's HIT-W121B terminals can be integrated with existing electronic medical record (EMR) and electronic health record (EHR) systems to allow healthcare staff to easily access, share, and update patients' medical records. It helps caregivers to identify resident's upcoming preventive checkup. Furthermore, if an emergency occurs, and elders are forced to transfer from care center to hospital, physician can have a clear overview of patient's health history, prior diagnostic results, and significant medial events.

Myron Kowal, President of Response Care, stated that "One of the best benefits of the system is that it allows patients' medical records to move with them." For example, when seniors are transferred to hospitals or other care facilities, their medical records can be shared between organizations in real time. By providing access to EMR and EHR systems, HIT-W121B eliminates the difficulty of data management and sharing, and increases the accuracy of patient information.
Provides a Reliable Communication Portal
For caregiving applications, interoperability and communication capabilities are crucial features for devices. Healthcare staff must be reachable at all times. HIT-W121B serves as a reliable communication portal that, unlike traditional wireless intercom systems, allows caregivers to connect with patients throughout a facility using a variety of communication methods. HIT-W121B features a touchscreen panel and mobile network connectivity, and can be equipped with an optional handset, for sending text or voice messages via a wired or wireless intercom system.
Equipped with Power-over-Ethernet
For Response Care, the optional power-over-Ethernet (PoE) functionality offers added flexibility, reduces installation costs, and enables efficient multifunctional operation. Mr. Kowal also added that "Browser-based control panels with numerous functionalities typically require more than one cable to supply power and enable data communication." However, with the inclusion of PoE capabilities, the existing network infrastructure can be leveraged to provide device power and network connectivity via a single cable.

Built-in PoE functionality makes HIT-W121B a very flexible system that can accelerate installation and reduce deployment costs. HIT-W121B can be widely deployed throughout facilities with minimal operational disruption and system downtime, ensuring healthcare providers are equipped to manage ever-changing healthcare environments.
Key Trends for the Future
What are the future market trends for senior healthcare technology? Based on 30 years of experience in the elder care industry, Response Care boldly projects that at-home elder care services will be one of the market's fastest growing segments. Instead of moving to assisted living facilities, an increasing number of elderly people will choose to remain in their own homes, where they feel more comfortable and are less stressed. This concept is known as "aging in place" and refers to a person living in their own home independently as they age.

With increasing demands for homecare, compact and multifunctional equipment will become essential in the future. "We are looking for cost-effective, all-in-one, consolidating solutions," Mr. Kowal commented. "Advantech solutions can be employed in both smaller settings and larger environments." HIT-W121B can serve as an integrated smart home computer for managing the various aspects of a senior living space. Besides functioning as a clinical device for monitoring vital signs, HIT-W121B, with the onboard computer, can serve as an infotainment center and communication portal that enhances quality of life for seniors.