Taipei City Public Transportation Office Implements Advantech's ADAS Solution to Increase Public Safety
2/22/2021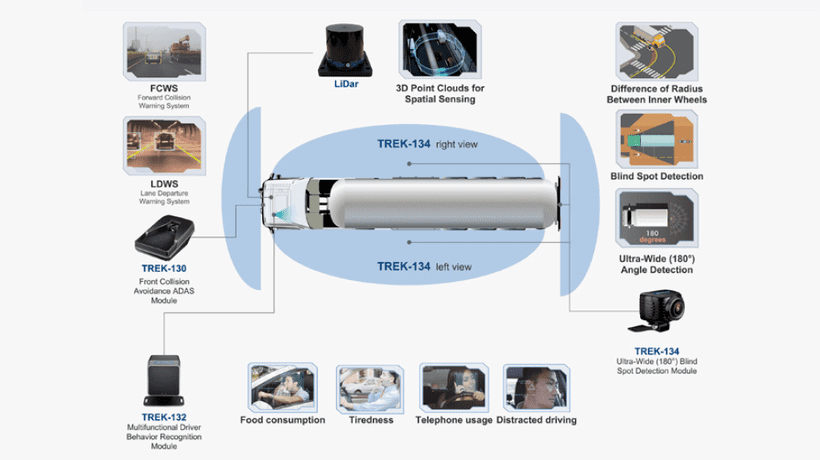 Photos provided by Shutterstock
Interview with Thalese Tsai, Product Manager Intelligent Mobile Solutions of Service IoT Group, Advantech; Xian-Wen Guo, Section Chief, Taipei City Public Transportation Office (TCPTO)
According to statistics from the Traffic Division of the Taipei City Police Department, the number of accidents involving public buses in Taipei City has increased in recent years. From 2012 to 2016, such traffic accidents numbered 1401, up from 1091 for the previous five years. Furthermore, up to 82% of these accidents were the result of human factors. To address this issue, the Taipei City Public Transportation Office (TCPTO) launched a project in 2018 to deploy Advantech's ADAS driving safety solution in buses of varying type and size. Thus far, 70 buses have been equipped with the solution. Because of the project's remarkable results, the TCPTO applied to the Directorate General of Highways of the Ministry of Transportation and Communications for permission to expand the deployment. Their aim is to implement the ADAS solution on another 80 buses by the end of 2020.
Xian-Wen Guo, Section Chief of the TCPTO Inspection Section, said that the TCPTO analyzed the driving violations and accident rates of buses in Taipei and then calculated the ratio of violations, accidents, and mileage for each bus operator. Based on this data, transport operators can create schedules that ensure drivers with frequent violations drive buses equipped with the ADAS solution in order to reduce accident rates.
ADAS reduces risks associated with distractions and fatigue
According to Thalese Tsai, Intelligent Mobile Solutions Product Manager of Service IoT Group at Advantech, its ADAS offering is an integrated-hardware software solution that utilizes in-vehicle AI computers, smart in-vehicle displays, surveillance cameras, sensors, and a cloud platform for real-time monitoring of driving behavior. All collected data is transmitted to the backend management center in real time. This allows supervisors to monitor drivers and issue warning alerts to reduce the likelihood of traffic accidents resulting from driver fatigue, distracted driving, or not noticing blind spots, thereby enhancing driving safety.
Tsai explained that Advantech's ADAS solution comprises the TREK-132 multifunctional driver behavior recognition module, TREK-134 ultra-wide (180°) blind spot detection module, TREK-303 vehicle display system, and the WISE-PaaS backend cloud platform. The ADAS solution provides a variety of safety functions, including blind spot detection, front vehicle distance detection, lane departure warnings, and driver fatigue warnings.
TREK-134 is a blind spot detection module with an ultra-wide 180° detection angle. All collected data is transmitted to the backend management center for real-time monitoring of driver behavior and vehicle status. One bus driver involved in the project reported that after his bus was installed with Advantech's solution, the system was able to detect vehicles to the left and right of the bus and emit audio alerts when necessary, reducing the likelihood of blind spot accidents. These functions are tremendously helpful for drivers of large vehicles.
The ADAS solution also monitors whether the vehicle is maintaining a safe following distance to the vehicle in front and staying within the driving lane. In regards to distracted driving detection, if a driver yawns, turns around to speak, answers the phone, or starts eating, the ADAS system will promptly emit a warning alert for the driver and notify the backend management center.
Tsai highlighted that the in-vehicle computer is able to collect all types of vehicle information, including engine startup, emergency braking, and traveling speed data. This data is then transmitted in real time to the backend cloud platform for statistical analysis. With the integration of management and reward-penalty systems, transport operators can effectively guide the driving behavior of employees.
In addition to guiding driving behavior, transport operators can use the available data to define the types of behavior that constitute dangerous driving and identify dangerous route sections. Once enough data has been gathered, AI-based analysis can be performed to obtain operational insights. Managers can then use these insights to develop appropriate mechanisms to prevent traffic accidents resulting from human factors.
Advantech's highly integrated solutions enable smart fleet management
However, in order to realize the benefits described above, in-vehicle computers must have a smart, highly integrated, and open platform. Unfortunately, most of the systems currently installed on public buses are independent. In other words, each system is linked to its own host, making it difficult to consolidate data on a single platform.
Having recognized this issue early on, Advantech developed a smart in-vehicle computing system that uses a single platform and host to support a variety of vehicle safety functions. The flexibility and scalability of the ADAS solution's in-vehicle system enable transport operators to control costs while achieving smart management. Tsai emphasized that Advantech not only offers a highly integrated in-vehicle driving safety solution, but also leverages its extensive onsite deployment and integration experience to provide comprehensive technical support and facilitate implementation and integration.
With Advantech's ADAS solution providing driving safety assistance and prompt guidance to modify driving behavior, a genuine reduction in the number of human-induced traffic accidents can be achieved. This will in turn increase public safety and improve the service quality on public buses.