OEE Management Forms the Cornerstone of Intelligent Manufacturing
3/4/2020

Avex-SG adopted Advantech's OEE SRP to build a real-time production and equipment management platform for optimizing the manufacture of CNC tools, specialized machines, and PLC-based equipment while improving production efficiency.
Willy was sent by his company to attend an Industry 4.0 Intelligent Factory Seminar. After listening to the experience sharing of experts on the stage, he learned that if manufacturing industry wants to transform into a smart factory, equipment networking is the first task. However, he still has some doubts about the Overall Equipment Effectiveness (OEE) management mentioned by some participants. Willy thought: Can a traditional manufacturing factory like ours also implement OEE? There are so many CNC machine tools of different brands, age-old machines and equipments, and special machines exclusively made by manufacturers for us in our factory. Can all their information be transparent and visualized?
Information from vague and hidden to fully control and transparent
Avex-SG Technology Inc., which specializes in providing automation control solutions and is a key component supplier of machine tools, undertook a project helping a traditional factory to implement equipment networking OEE application last year. This case answers all of Willy's concerns raised by him in the above scenario simulation.
This is a metal hand tool manufacturing factory located in Central Taiwan. The factory has more than 20 units of CNC machine tools, as well as many outdated equipments, special machines and PLC-based machines. According to WANG CHIEN HSIUNG, an Avex-SG's engineer in charge of this project, "This factory has only people's productivity, but no machine's utilization. Its equipment operation is like a black box, making manager difficult to fully grasp the actual operation of the machine".
Therefore, at what point did these machines fail? When are they in standby or idle without being effectively used? Or when the equipment runs at reduced speed because of mechanical problems? Since the equipment information has never been collected, of course, the factory has no way of knowing these issues.
By using Advantech's traditional industry intelligent manufacturing solution to integrate software and hardware as well as developing system, Avex-SG helped this metal hand tool manufacturing factory to build a complete OEE platform. The system is able to collect the production data of various machines on the production line, and to calculate and compile data to analyze the equipment availability. At the same time, the data is graphically presented on the computer screen in the central control room. The managers not only get real time information at a glance but also can access historical data at any time for optimizing decision management to increase production efficiency.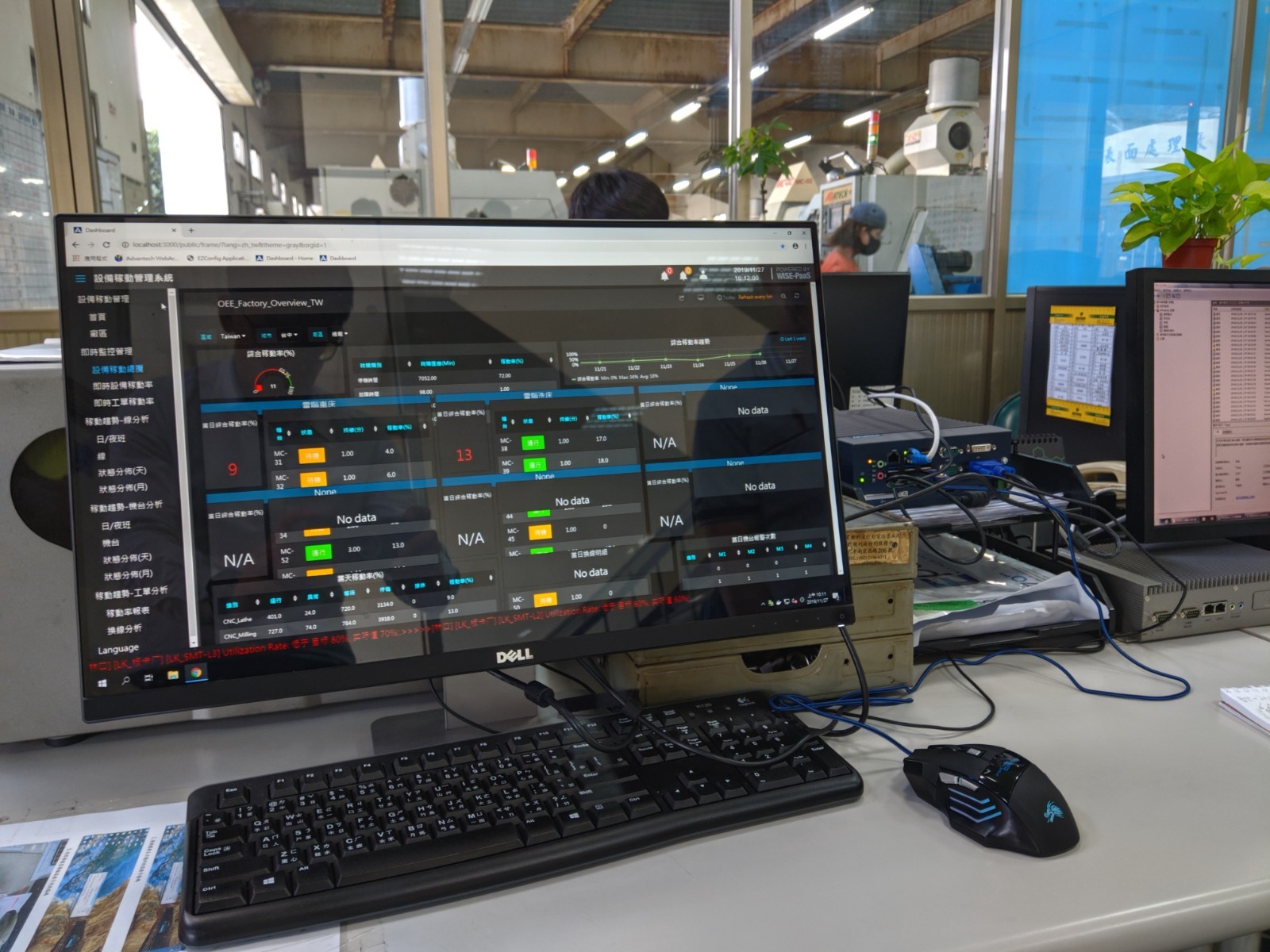 Ready-to-use without development due to standardization
Over the years, Avex-SG has used many Advantech's products. The partnership has already completed a number of success monitoring projects in the industry, government and school sectors. As for why choosing Advantech's solution this time, JAN KUO SUNG, Assistant Manager of Avex-SG's System Engineering Department pointed out that "CNC is a very special machine tool rather than a general PLC machine, so networking is not easy for it." Thanks to Advantech, its solution provides the networking function of CNC machine tool, and then leading to the cooperation.
For this project, Advantech's traditional industry intelligent manufacturing solution comprises many products, including the industrial computer UNO-2483G with built-in CNC machine networking software WebAccess/CNC, which is responsible for acquiring CNC machine information; digital I/O IoT wireless module WISE-4050 is responsible for collecting data form tri-color light and counter; and OEE SRP (Solution Ready Package) containing the server MIC-7700, IoT software WebAccess/SCADA and OEE applications as an OEE computing platform in the central control room, which is responsible for receiving on-site data and dynamically and graphically displaying the real-time production status of the production line.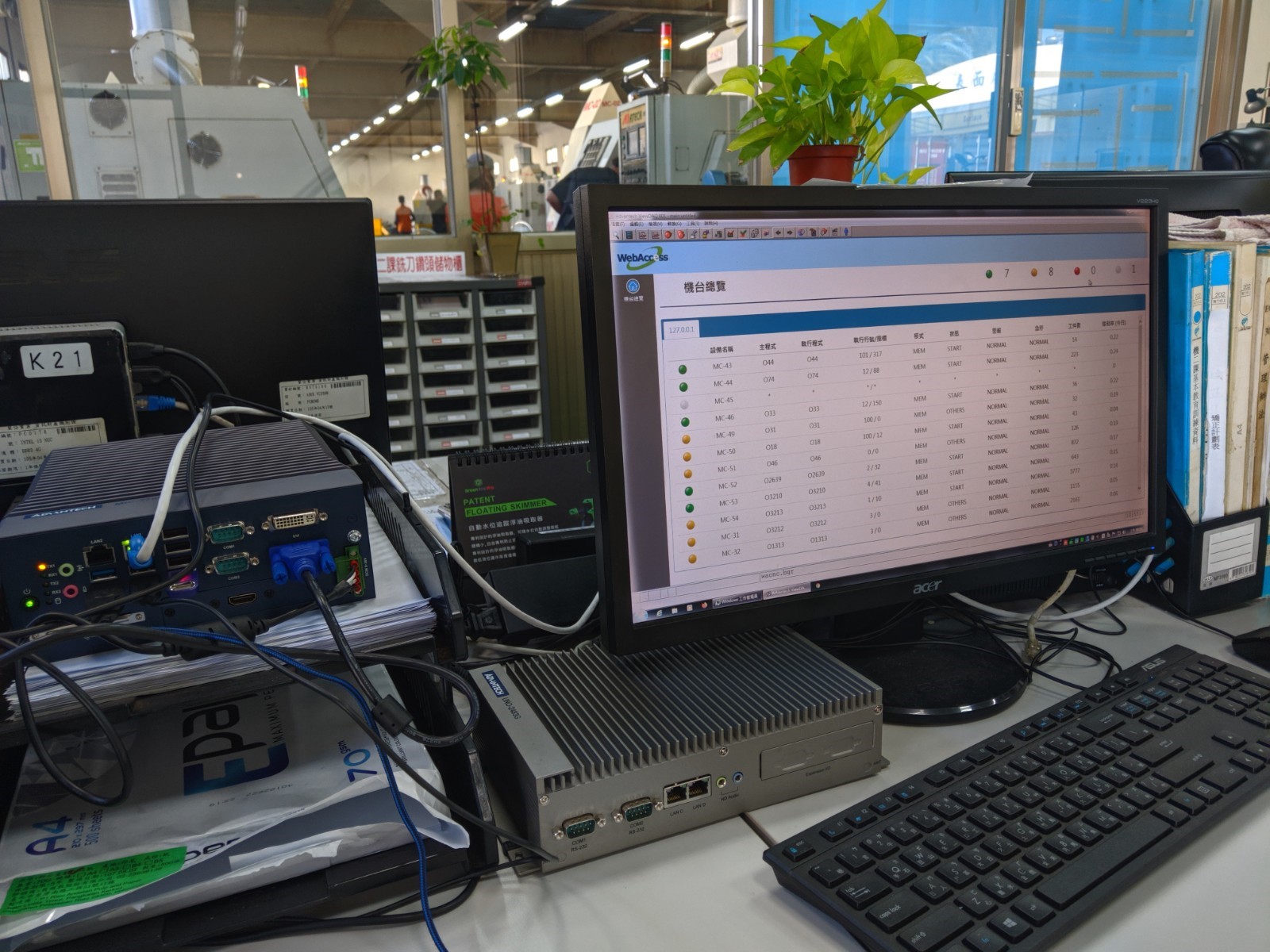 The two most critical products of the project are WebAccess/CNC and OEE management solution. The former provides a network interface for the network controllers of current mainstream CNC controller vendors (e.g. FANUC, MITSUBISHI, HEIDENHAIN, SIEMENS, LNC, etc.) to collect information on CNC machine tools. It eliminates the trouble of programming software and externally installing sensing device. The latter provides ready-made OEE dashboards (such as real-time production, machine availability, day/night shift production and changeover efficiency management) commonly used in manufacturing, allowing users to use them as needed. According to Advantech's explanation, the OEE solution is to standardize the common functions of Industrial Engineering (IE), so System Integrators like Avex-SG can more easily and seamlessly integrate OT and IT.
Besides, Mr. WANG emphasized, "Advantech's OEE solution has already completed many necessary functions. The ready-made dashboards allow us to avoid designing and developing from scratch." Avex-SG took about a week to make up the monitoring screens that customers need, since there is no need to write programs and only need to retrieve data from the database. Moreover, he said, "Our customers also participated in Advantech's WebAccess and OEE training courses with us. The two sets of software are quite easy-to-learn and easy-to-use, even the engineers of our customers are eager to try to design dashboards by themselves too".
OEE application opens the door to intelligent manufacturing
In the past, the manufacturing industry used to evaluate the production efficiency of the factory, focusing on how much labor and how many working hours were invested in the production line as well as the quantity of output. As the company continues to grow, the factory will inevitably add a variety of machinery and equipment. Plus, with the advent of industry 4.0 era, the need for equipment networking is increasingly highlighted. As a result, equipment management has become another important indicator for measuring the productivity of a factory.
In addition, recalling the past when the production capacity was insufficient, the most direct method for the factory was to increase additional working shifts and laborers or to purchase new equipment. When overcapacity occurs, excessive manpower will increase manufacturing costs and idle equipment would reduce the profits of the enterprise. But nowadays, even if the factory has all kinds of old and new equipments, machine information can be acquired through network technology easily. By making good use of these data for inspection and analysis, managers will be able to start by optimizing the utilization of existing equipment to increase factory productivity.
Mr. JAN indicated, "Although 'Industry 4.0' is a path that the manufacturing industry must take and we all have heard a lot about it, what we really should do is not clear to everyone. However, if we do nothing, we will never take the first step." This OEE project jointly completed by Avex-SG and Advantech is a key application to improve production efficiency and open the door to intelligent manufacturing.
Regarding the next step, Mr. JAN expressed, "Our company is Advantech's VIP member of WISE-PaaS Alliance, so we can get a lot of technical support, industry trend, case and experience sharing from Advantech and find out the future direction of the market. We are also fortunate to be able to cooperate with Advantech on this project. Such major industrial control company enables us to learn and understand from its strengths. In the future, we will definitely work together to provide more high-quality Industry 4.0 solutions for the industry and customers".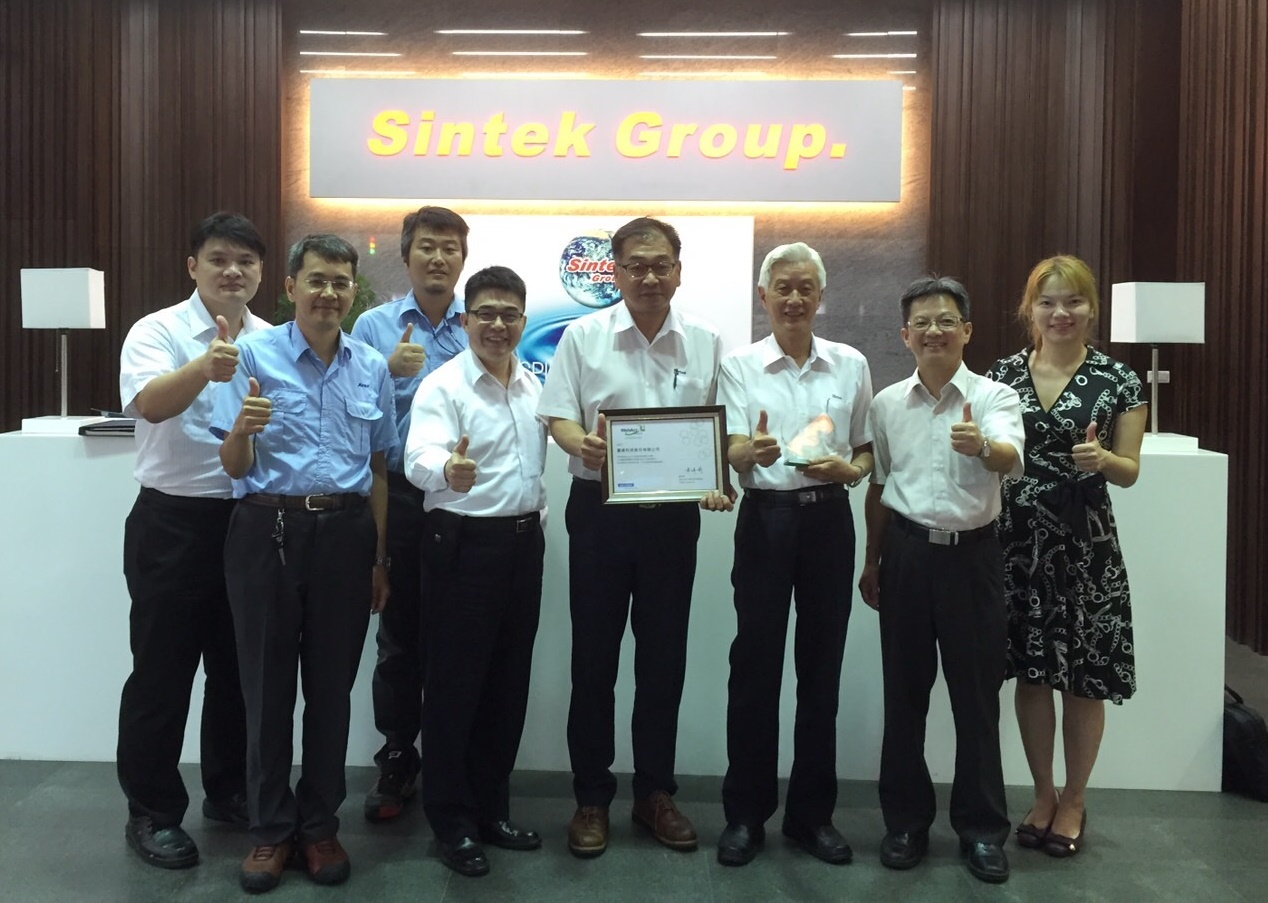 Want to know more about OEE solution?
Many manufacturers find it hard to identify those specific losses that contribute to low machine productivity as they are difficult to identify, record, and analyze, so manufacturers are looking for support in making the move toward smart factory transformation. Overall Equipment Effectiveness (OEE), one of the most vital intelligent factory solutions, realizes intelligent factory through data acquisition, aggregation, and analysis of machine availability to improve productivity, reduce loss, and increase profit.
Start Your Industry 4.0 Journey with Intelligent Factory Solutions
Complete data acquisition from heterogeneous machines for machine availability management and production information analysis.
Dashboard visualization of real-time machine status and stoppages to enable root cause analysis for maximizing machine utilization and productivity
Accelerate Your Digital Transformation with OEE SRP
Real-time Production Management. Machine status can be monitored as machine running, error, idle, and machine stopped.
Machine Availability Management. The runtime of each machine can be counted to calculate machine availability that reflects the percentage of planned production time the machine is available for operation.
Changeover Efficiency Management. The average changeover time can be calculated to analyze daily efficiency.