On-premise Private Cloud WISE-STACK— A Fully Integrated IoT Edge Intelligence Experience
8/27/2019
Although public and private hosted cloud are becoming increasingly mainstream, many Industrial IoT solutions need to connect to on-premise application servers or on-premise private clouds cloud where there is close proximity to gateways and other IoT devices. Latency, connectivity, security and reliability are among the key reasons for on-premise deployment.
Thanks to the latest server technologies based on hyper-converged infrastructure, the costs of on-premise cloud are no longer prohibitive, and offer greater scalability than previous generation servers. Cloud software solutions have also become simpler and faster to implement thanks to Cloud Operating System such as Openstack and migration technologies.
To meet increased customer demand for a comprehensive private cloud offering for on-premise deployment, Advantech has worked closely with key customers to help define and deploy a fully integrated system that offers a complete cloud experience and development tool set. Key system requirements such as end-to-end security features and a user defined access pathway are specified to ensure security and privacy of data and AI models. WISE-STACK is designed and tested to host AI IoT applications with high availability, elastic expansion, and high data throughput characteristics. It provides full WISE-PaaS service capabilities and offers seamless integration with Advantech edge devices allowing customers to easily complete their IoT initiatives by combining Advantech's edge computing products with WISE-STACK.
Advantech offers standardized, on-premise cloud configurations to satisfy large computation and high availability needs. Starting configuration consists of six server nodes and one optional analytic node with GPU. The cloud configuration consists of controller node switch control operation and coordination of servers to achieve load balancing and high data throughput. Three controller nodes guarantee high availability for operational continuity, even when a server goes down. Users can perform hot-swap to maintain operation and ensure the performance of their private cloud. HCI Nodes provides high computation power and storage space. The configuration allows businesses to setup their private clouds with a reduced number of servers in the initial stage. Analytic Nodes harness the power of NVIDIA Tesla P4 graphic cards to shorten the training period for deep model learning.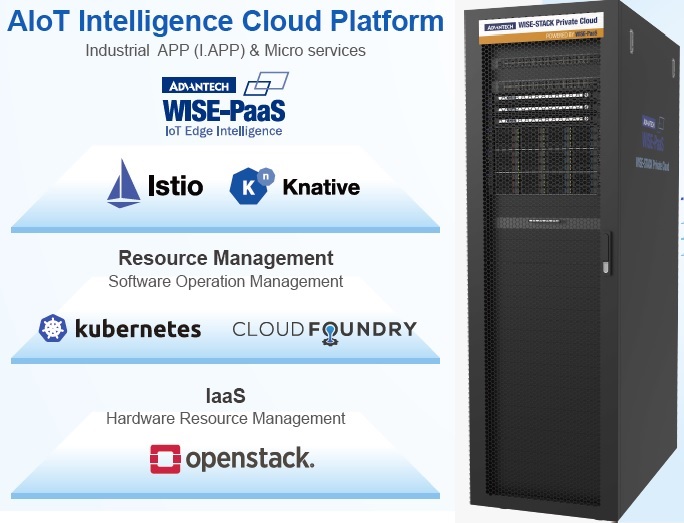 Complete edge-to-cloud solution for industrial IoT
Focus on value-add AIoT solutions
Move freely between public and private cloud