Remote Monitoring System Optimizes IC Testing Workflow Efficiency and Productivity
7/30/2019
One of IC design company is the world's leading TV controller SoC supplier, whose production volume is so huge that their manufacturing base in Taiwan at any given moment has to use hundreds of computers to perform tests on thousands of TV modules at the same time to verify whether the functions of the chips they design and produce fulfill specific customer requirements.
In the past, they used commercial-grade PCs to perform the task, but suffered constant issues due to the high breakdown rates, and more than not the commercial PC computer suppliers were reluctant or unable to change or modify components to meet their specific industrial needs. What's more, due to the lack of a network management platform, their IC test engineers had to stay close each computer to oversee the test processes and results, and if needed, change and input new test conditions into the computer, which is a highly time and labor consuming process.
With the increased availability of Internet of Things (IoT) technology, the company decided to change their old conventional methods in the IC testing department. They sought help from an IT integrator company, and decided to deploy Advantech's edge intelligence server in place of their standard PCs. They decided to construct a remote monitoring control system based on the Advantech WISE-PaaS/DeviceOn IoT platform which would carry out and oversee all IC testing processes.
With their new IC testing monitoring control system in place, IC testing monitoring control system IC test engineers only have to sit in a central control room to view data on a dashboard to oversee hundreds of field computers performing all the tests. They were also able to update programs and software over the air (OTA) from a server without the need to visit the computers in the field.
Now they can input new test conditions into a group of field computers remotely, over the air at once, and the system will automatically keep records of software versions and historical data for future lookups. In this way, The conpany has managed to upgrade their equipment management capability and improve testing workflows and efficiency, thereby enhancing their overall productivity and efficiency.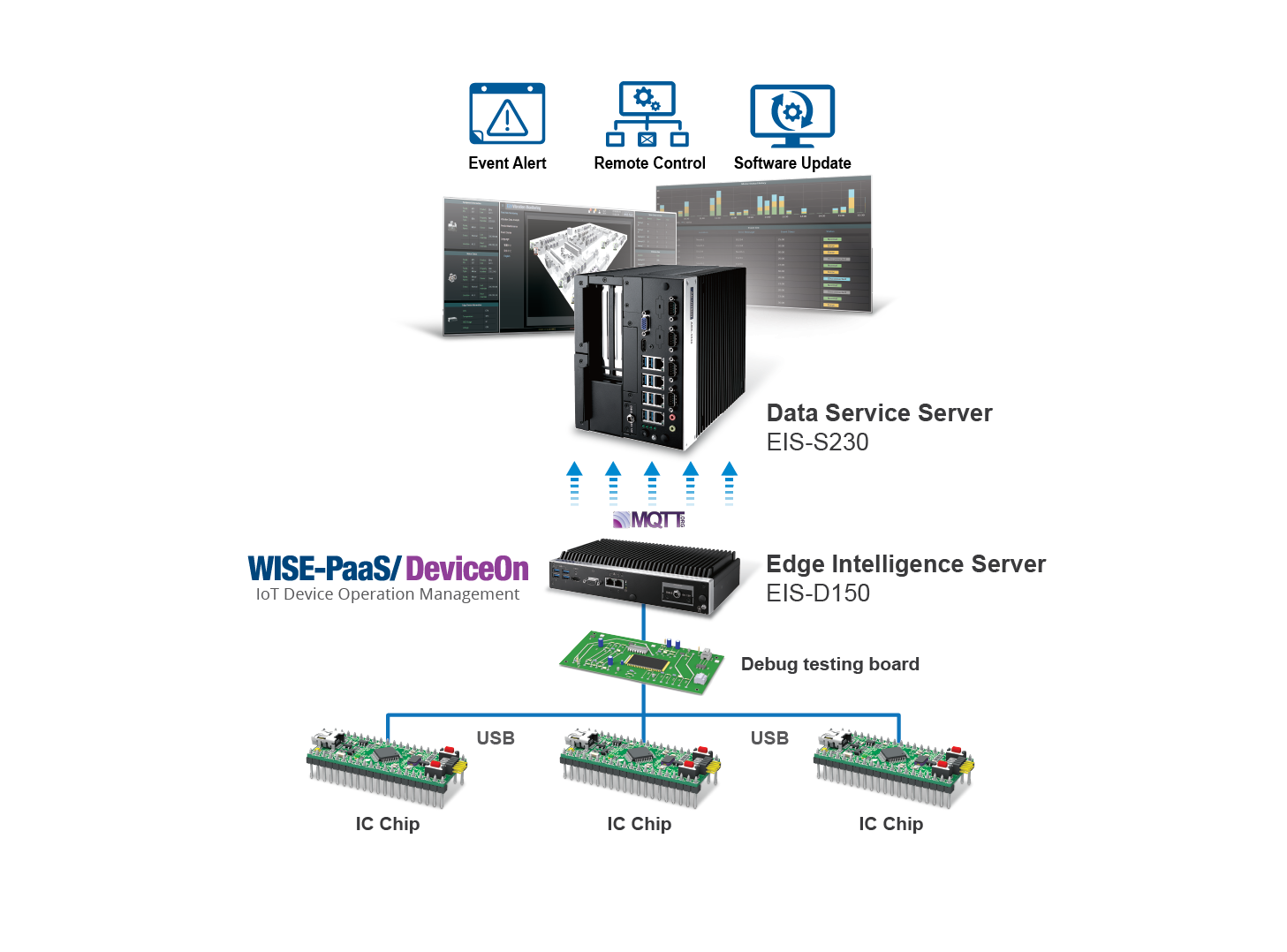 The industrial computers used in this application needed to have high reliability and stability, as they will have to endure harsh manufacturing environments and operate 24 hours a day, 7 days a week with zero failure. Plus, constant on-demand modifications of the system will be needed to meet the customer's requests.
The customer also required advanced remote functions, which will enable them not only to update software over the air, but also control and manage hardware and firmware settings of all field computers from a remote desktop. Therefore, the system had to be equipped with Intel® AMTremote management technology to allow the engineers to diagnose, repair, and protect all their computer assets connected to the web and simplify their management process.
The Advantech EIS-D150 edge intelligence server, running on an Intel Core i5 grade processor has integrated hardware and software that links the edge computing services to the cloud. It is a powerful edge computer suitable for fast deployment in the field—perfect for this IC testing monitoring control system. With embedded IAMT remote connectivity/hardware management functions integrated into Advantech's WISE-PaaS/DeviceOn platform, the EIS-D150 edge server can quickly deploy, connect, and integrate all field and backend equipment and devices, data, and applications.
To implement this project, The company deployed hundreds of EIS-D150 units into their IC test department to replace the commercial PCs they originally had. Each EIS was connected to a set of IC test equipment, which controlled the testing process and uploaded test data to an Advantech EIS-S230 backend server. The EIS-S230 central server is based on a microservices architecture using Kubernates container technology, providing benefits of easy scalability and centralized monitoring and management over the air.
Meanwhile, the Advantech WISE-PaaS/DeviceOn software platform integrates all development tools and documents needed for developing IoT and cloud applications, including a dashboard creator tool for producing customizable dashboards with intuitive interface for data visualization and device management. The IoT software platform also contains Intel's Node-RED flow logic editing tool which provides easy-to-use yet powerful tools to quickly make changes to the IC testing process for small improvements and updated test workflows, or programs that can quickly be deployed to targeted field computers via the OTA function provided by the system.
The deployment of IoT technology enhances equipment management capability, optimizes the IC test process, and improves overall productivity and efficiency.
The implementation of remote monitoring and software updates via OTA technology reduces the workload of the IC testing department, freeing up engineers for other tasks.
Industrial-grade computers provide higher robustness and reliability on the production line environment, with powerful engineering support and services from Advantech with system modifications and maintenance.