WISE-PaaS/EdgeSense: A Comprehensive Development Environment for Smart Edge Computing
1/18/2018
Author │ Chia-I Liao, Digitimes
Interviewees│ Chi-Wen Lin, Director; Louis Lu, Director, Advantech IoT Embedded IoT Division
The current trend for IoT development is edge computing, and this is especially true for applications that emphasize real-time feedback and responsiveness or large amounts of data processing. It is during data sorting and selection that the importance of edge computing becomes readily apparent. To realize smart edge computing, Advantech released Edge Intelligent Server (EIS) in 2016, significantly increasing the functionality of conventional gateways. However, in the overall development of smart edge computing, it is unfeasible to rely solely on hardware for front-end data processing; in determining how to implement effective management and optimize utilization, software has a critical role.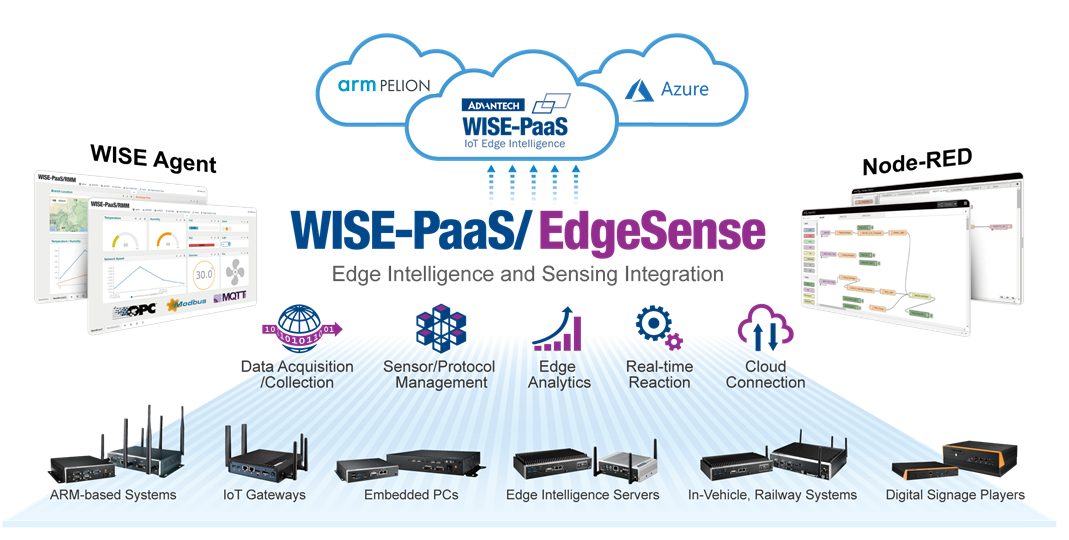 The value of hardware can be enhanced by adding value to software. Accordingly, Advantech has expanded its entire line of smart edge computing services. In addition to strengthening software/hardware integration, the connection between connected equipment and the cloud has also been expanded. The WISE-PaaS/EdgeSense software platform, which provides a new generation of IoT solutions, serves as a bridge that connects users with the cloud. End users can thus integrate various communication protocols for wired/wireless sensors, connected equipment, and edge devices to achieve smart manufacturing. At the cloud end, optimized data management and analysis can be realized by adding value to various types of software. AI can also be utilized to establish predictive maintenance measures that are as cost-effective as possible.
WISE-PaaS/EdgeSense offers powerful features to help customers acquire data, manage communication protocols between sensors, execute edge computation/analysis, provide real-time feedback, and connect to the cloud. Within the platform, the most valuable software applications include Advantech's embedded system software and newly developed software services. These software applications have different uses and features: WISE-PaaS/RMM is mainly used for the remote control and management of various IoT devices, WISE-PaaS/OTA can support centralized remote software upgrade services, and WISE-PaaS/Security is the main control station responsible for managing IoT device security and data transmission. In addition, Advantech released WISE Agent as an open-source software service to enable clients to develop applications to collect data from their current sensor equipment for uploading to the WISE-PaaS cloud platform. As another example, WISE-PaaS/ESL, a newly launched product designed for electronic tags and wireless modules, can be used for medical and retail applications.
According to Mr. Lu, Director of the Advantech's Embedded IoT Division, the benefit of using WISE-PaaS/EdgeSense in IoT environments is that it accelerates IoT development through its new platform architecture, which supports a wider range of applications and services based on EIS. For example, Advantech first incorporated data analysis, machine learning, and other IoT-related application modules into the platform in order to allow clients to prepare various smart services during the development phase. This increases hardware value and helps clients transform from a traditional business model of selling equipment to a diversified model of selling equipment plus services.
Mr. Lu also added that since different edge computing services are based on open-source and public standards, developers can redesign the software based on their own platforms and requirements. In the future, Advantech will also provide a user-friendly and open development environment under a sharing model for clients to develop their own solutions, which then can be integrated into the WISE-PaaS/EdgeSense software platform. Furthermore, Advantech is also planning to modularize and standardize these applications so that clients can develop and introduce such solutions into their product lines at an even faster pace.