Advantech Launches UPOS-510 Industrial-Grade Modularized POS System for Diverse Retail and Hospitality Applications
12/16/2016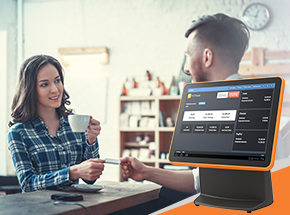 December 15, 2016 (Taipei,Taiwan)– Advantech, a leading industrial computing platform provider, is pleased to announce its UPOS-510 all-in-one, point-of-sale (POS) system with a small footprint. Powered by an Intel® Celeron® J1900/Core™ i processor for extreme performance, UPOS-510 is a sleek, industrial-grade, fanless POS system equipped with a true-flat, border-less touchscreen featuring PCAP touch functionality for maximum responsiveness and easy operation. The IP65-rated front panel protects the system from water and dust, while the system's compact and modular design enables peripheral integration, installation on counter tops with limited space, and deployment for a wide variety of applications. To support further peripheral expansion, the system is equipped with reserve hatches located at the top and sides of the display. The snap-in rear cover and easy-access USB ports allow prompt and easy maintenance, making UPOS-510 the ideal modern, energy-efficient platform for the retail and hospitality industries.
Slim and Powerful POS System Offers Enhanced Brand Promotion
The UPOS-510 is a slim and fanless POS system that features a true-flat, borderless touchscreen. Powered by an Intel® Celeron® J1900/Core™ i processor, UPOS-510 provides a powerful computing platform that delivers stable operation. The system's stylish appearance and compact size make it suitable for installation in diverse retail and hospitality environments, particularly small countertops and limited spaces. Moreover, the exterior can be customized to fit existing décor or branding for enhanced brand promotion and awareness.
Supports Secondary Displays for an Improved Shopping Experience
UPOS-510 features a modular design that allows the system to support various types of secondary displays and digital signage devices. The system can also be integrated with products such as Advantech's AIM-37 (with AIM-37 serving as the secondary display) for providing additional advertising space to increase potential purchase opportunities.
Highly Expandable I/O for Easy Maintenance and Superior Data Storage
To reduce system downtime and support diverse retail and hospitality applications, UPOS-510 is equipped with easy-access HHD and USB ports, as well as highly expandable I/O. The system's screw-free rear cover enables easy removal and snap fitting for convenient HDD updates and maintenance. The system cables are routed through the POS stand to facilitate peripheral integration and cable management. UPOS-510 also incorporates RAID technology to ensure superior storage reliability and database recovery capabilities.
Considering the benefits described above, Advantech's UPOS-510 provides a compact and flexible solution with diverse features that enables retailers, restaurant and hotel owners, and service staff to conveniently manage operations and promote business growth through improved customer service.
Key Features
Intel® Celeron® J1900/Core™ i processor with 8 GB of DDR3L/16 GB of DDR4 memory

Aluminum alloy tower installation stand facilitates deployment in small spaces

Flat, borderless 15.1" PCAP touch panel

Fanless design for quiet operation and reduced power consumption

IP65-rated front panel offers protection from water and dust

Reserve display hatch for integrating modular peripherals to support diverse applications

Highly expandable I/O ensures flexible and convenient integration

Screw-free rear cover design and internally routed cables for efficient cable management

Snap-in rear cover and easy-access USB ports ensure prompt, stress-free maintenance