Advantech DS-780 Delivers a Smooth 4K Signage Experience Across Three Displays
11/21/2016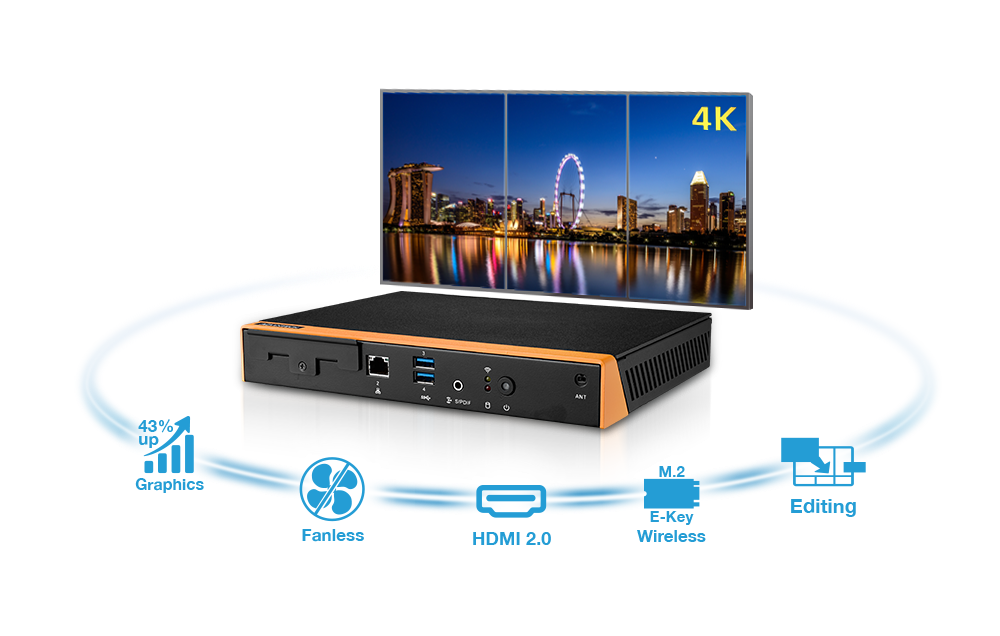 November, 2016 Taipei –Advantech (2395.TW), a global embedded computing leader across multiple vertical markets, is pleased to release its 4K UHD multi-display
fanless signage solution DS-780. Designed for advanced digital signage and multi-display projects, DS-780 combines high processing and graphics performance with excellent expansion flexibility. Powered by 6th Generation Intel® Core™ U series processors and integrated with Intel Iris 540 / HD 520 for advanced 3D graphics computing, the fanless DS-780 supports displays up to 4096 x 2160 true 4K resolution via HDMI outputs on three independent displays. DS-780 is the ideal choice for digital signage applications in FIDS, casino signage, eMenu boards, QSR, interactive multimedia systems and more.
Delivers a Smooth 4K Experience on Three Displays
Featuring amazing graphics and fast video decoding performance with the latest 6th Generation Intel® Core™ U series family of processors, DS-780 delivers a smooth 4K experience on up to three independent displays to actively engage with customers. Its HDMI 2.0 design supports 4K up to 60fp sallowing 4096 x 2160 resolution along with higher frame rate 2D content. DS-780 is also equipped with rich I/O interface including 3 x HDMI, 2 x RJ-45 (Giga LAN), 4 x USB 3.0 ports, 1 x RS-232, Audio port and m.2/Mini-PCIe for wireless connection and for interconnected devices in IoT. DS-780 supports HEVC video decoding for better compression ratios requiring less storage space. DS-780 also provides two options to meet different application/budget needs including an Intel Iris 540 advanced graphics engine whose 3D computing performance is enhanced by 43%, perfect for graphics-heavy applications such as 3D digital advertising and 4K video playback. With a fanless and slim design, DS-780 is suitable for a wide range of application fields.
Empowering Easy Signage Management in the IoT Era
To afford easy signage network management, DS-780 comes bundled with dedicated signage software, WebAccess/IMM and WISE-PaaS/RMM remote device management software, allowing the customer to manage digital signage networks installed in multiple locations with less effort at no extra cost. With a user friendly interface, WebAccess/IMM allows users to easily design visual layouts by dragging and dropping video clips, still images, web pages or tickers, as well as calendars and timeline-based scheduling tools to determine playback order; whilst WISE-PaaS/RMM monitors the health status of all your signage devices in real-time. DS-780 also comes with McAfee for anti-virus and malware protection, and simple backup and recovery through Acronis. DS-780 helps you deploy scalable signage applications that can network easily with other devices, reduce your total cost of ownership and speed up your time-to-market.
For more information please contact your local Advantech sales representative, or visit us at our website.
http://www.advantech.com/products/digital-signage-players/sub_1-2jkfh2
DS-7804KMulti-display Signage Solution
Fanless design with 6th Gen. Intel® CoreTM U Series
Advanced graphics engine with Intel Iris 540 & HD 520
Supports 4K/Ultra HD resolution, HEVC video decoding, and up to three independent displays.
Flexible expansion with M.2/Mini-PCIe and storage
Web-based content management software built-in for content editing, scheduling and remote monitoring functions