Advantech Launches GUI-Based VisionNavi/Inspect Software to Accelerate Machine Vision Operations
10/23/2020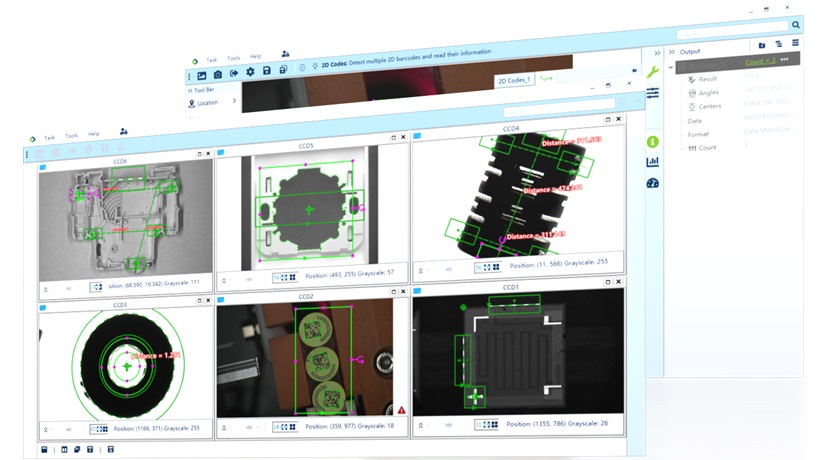 October 2020 Taipei, Taiwan - Advantech, a leading industrial computing platform provider, is pleased to announce the release of VisionNavi/Inspect, a configurable GUI-based machine vision application software. VisionNavi/Inspect features a user-friendly flowchart-based interface design to develop and deploy multiple tasks for complex machine vision applications. The software provides an easy approach to machine vision development without the need for advanced programming skills.
Multi-camera support and flexible licensing
Traditional machine vision system software supports a maximum of two to four cameras. However, for larger multi-camera applications, the cost will increase as more demands are put on the computing platforms. Advantech's VisionNavi/Inspect can support a maximum of six cameras on a single platform, reducing costs and simplifying maintenance. VisionNavi/Inspect also offers flexible licensing options — including full, ID, and alignment licenses — making it a cost-effective choice for users seeking a machine vision software solution.
Intuitive flowchart-based GUI enables easy integration
Customization Integration is an essential element of machine vision software and with the external API functions and user-friendly flowchart-based software, VisionNavi/Inspect can fulfill customized application requirements and simplify integration requirements. Using VisionNavi/Inspect, developers can quickly complete their application tasks following four simple steps: vision capture, processing, conditional statements, and results. This solution offers users a simple method for building systems that reduce potential maintenance costs
Benefits of VisionNavi/Inspect
Guidance and alignment for assembly applications
Supports high-resolution cameras for high-precision alignment




Distortion correction lowers optics deviation


Built-in coordinate corrections

XYT compensation calculations


Standard protocol communication for PLC, robots and motion controllers

Metal-processing for quality assurance applications:
Supports high-resolution cameras for high-accuracy measurements
Line, circle, angle, arc gauging tools in sub-pixel accuracy
Define NG/OK criteria for object classification
Communication with position sensors, PLC, and motion controllers via standard protocols
Founded in 1983, Advantech is a leading provider of trusted, innovative products, services, and solutions. Advantech offers comprehensive system integration, hardware, software, customer-centric design services, embedded systems, automation products, and global logistics support. We cooperate closely with our partners to provide complete solutions for a wide range of applications in diverse industries. Our mission is to enable an intelligent planet by developing automated and embedded computing products and solutions that facilitate smarter working and living. With Advantech products, the application and innovation potential becomes unlimited. (Corporate website: www.advantech.com).