Advantech Launches New DLT-SA6100, USB-Based Digital Smart Motion Sensor for Screen Blanking Solution
3/10/2019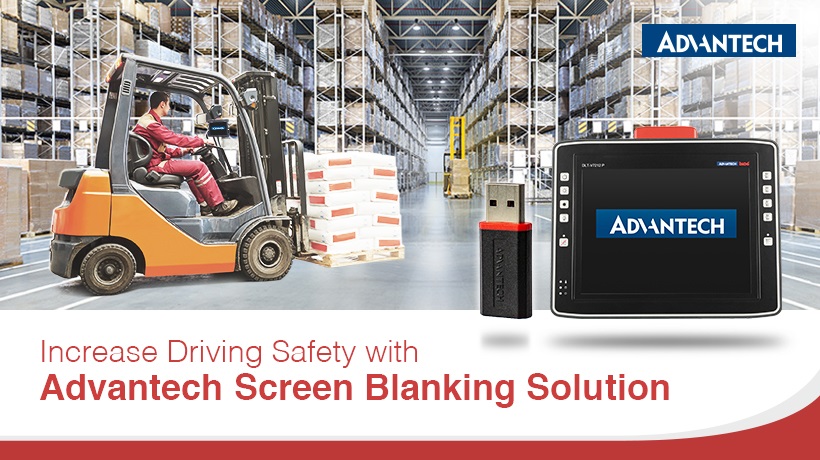 Taipei, Taiwan, March 2018 – Advantech, a leading industrial computing platform provider, is pleased to launch its new DLT-SA6100, a USB-based digital smart motion sensor for screen blanking solution, designed to reduce driver distraction and improve driving safety.
One of the main accident hazards associated with vehicle-mounted terminals (VMTs) is driver distraction due to the device. To address this issue, Advantech developed a screen blanking solution for its VMTs. This solution combines a multi-sensor, rugged USB, and intelligent modular software technology. Once activated, the motion sensor technology monitors the vehicle speed and limits the display functionality if it detects that the vehicle is in motion. This reduces visual, physical, and cognitive distractions and ensures drivers can fully concentrate on the road while driving. Once the vehicle stops, the screen blanking feature automatically switches off and the VMT can be used as normal again without unnecessary system downtime.
Easy Plug-and-Play Installation
Advantech's DLT-SA6100 for screen blanking solution features plug-and-play functionality to ensure simple and easy installation. The necessary configuration software is included with the solution and available online for download. After installation, the sensor sensitivity can be conveniently configured according to specific application requirements. Moreover, DLT-SA6100 can be removed and plugged in again without needing to reinstall the software.
Cableless Design Ensures Secure Operation
The design decision of DLT-SA6100 to integrate all the important components onto a USB stick not only reduces weight, but also eliminates the need for an additional cable. This lack of cabling minimizes the risk of damage or mechanical failure and reduces installation costs and effort.
Compatible with Advantech VMTs and Third-Party Terminals
Advantech's DLT-SA6100 for screen blanking solution is compatible with all Advantech VMTs. Additionally, because nearly all modern VMTs have a USB interface, DLT-SA6100 can also be used with third-party terminals. Accordingly, Advantech's screen blanking USB stick provides a very versatile solution that supports diverse technologies.
Advantech's DLT-SA6100 for screen blanking solution is a compact and lightweight solution for reducing driver distraction and improving driving safety. The cableless design features plug-and-play functionality to ensure quick and easy installation. For customers, this solution offers significant cost savings by eliminating wiring costs and drastically reducing the likelihood of driving accidents.
Key Features of DLT-SA6100
Rugged USB equipped with multiple motion sensors (Accelerometer, magnetometer and gyro sensors)


Plug-and-Play functionality for easy installation


Cableless design minimizes the risk of mechanical failure


Intelligent configuration software provided


Wide operating temperature rang (-40°C to +80°C)


Resistant against shocks and vibrations according to IEC60721-3-5


Supports Advantech VMTs and third-party terminals
Advantech's DLT-SA6100 for screen blanking solution is available for order now. For more information regarding the screen blanking solution or other Advantech products and services, please contact your local sales support or visit our product page.