Advantech Launches the Latest Intel Core Processor-Based Embedded Platforms with 24/7 Operations Management for AIoT
6/13/2019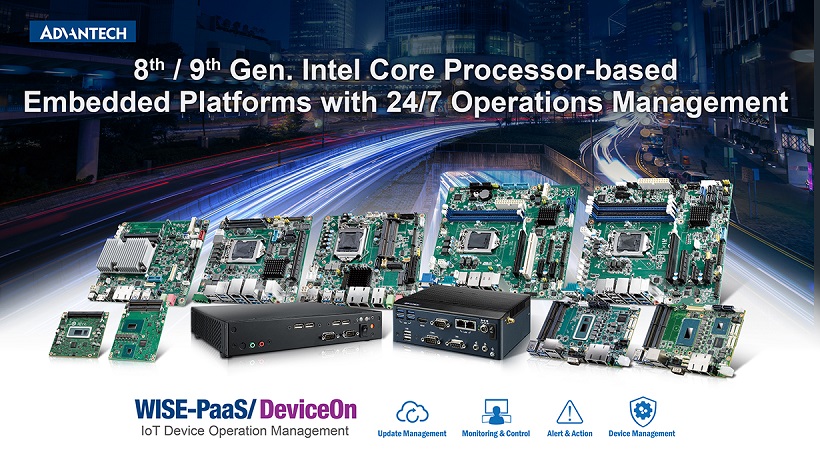 Jun. 2019, Taipei
–Advantech (2395.TW), a leading provider of embedded IoT solutions, is happy to unveil its comprehensive range of embedded computing platforms featuring the newest 8th Gen. Intel® Core™ U-Series and Y-Series processors and 9th Gen. Intel® Core™ S and H processors. These platforms include computer on modules
SOM-5899R
and
SOM-6882
; single-board computers
MIO-5373
and
MIO-5393
; industrial motherboards AIMB-233,
AIMB-276
,
AIMB-286
, AIMB-506, and
AIMB-586
; as well as Embedded PCs
EPC-C301
and
EPC-T2286
. Built with Intel's latest processors and Advantech
WISE-PaaS/DeviceOn
, an IoT device operations and management solution, these embedded platforms combine fantastic performance per watt, fast connectivity, and easy operations management—making them the ideal choice for visual computing, IoT, industrial, retail, healthcare, transportation applications, and more.
Exceptional Performance and Connectivity for AIoT
The latest 8th Gen. Intel® Core™ U-Series and Y-Series processors and 9th Gen. Intel® Core™ S and H processors deliver high performance per watt and enable faster wireless speeds meeting the increasing requirements for graphics, computing, and data consolidation capabilities in the AIoT era. Enhancements include up to 30% increase in computing and graphics performance with the 8th Gen. Intel® Core™ U-Series and Y-Series processors, and up to a 22% increase with the 9th Gen. Intel® Core™ S/H processors, compared to previous generations. Advantech developed its latest series of embedded boards and systems based on Intel's technologies in a wide range of form factors, including the COM Express Basic Module SOM-5899R, COM Express Compact Module SOM-6882, the 3.5" SBC MIO-5373, and the MIO-5393. Additional form factors include the Mini-ITX Motherboard AIMB-233, AIMB-276, AIMB-286, the MicroATX Motherboard AIMB-506, AIMB-586, and the Embedded PCs EPC-C301 and EPC-T2286.
Power Up IoT Devices with 24/7 Operations Management
As industrial IoT applications have rapidly increased the number of connected devices currently deployed and managed across different locations, it is essential to effectively manage, monitor, and control thousands of connected devices while ensuring uninterrupted service. Advantech's latest embedded platforms are preloaded with WISE-PaaS/DeviceOn, an IoT device operations and management software. Beginning with onboarding devices, WISE-PaaS/DeviceOn's zero-touch IoT tech seamlessly registers Advantech embedded platforms with identity security and field site settings. The fast and simple setup helps provide instant intelligent edge onboarding, data acquisition, and status visualization at the device operations center. Power on/off, troubleshooting, and mission-critical actions are available at the tap of a button for quick and easy access. OTA software updates itself securely by sending software patches, firmware, software, and configuration updates through batch provisioning. The complete product lineup will be available in 2019 from Q3 to Q4. For more information, please visit: www.advantech.com.
Advantech's Embedded Platforms Featuring the Latest Intel® Core Processors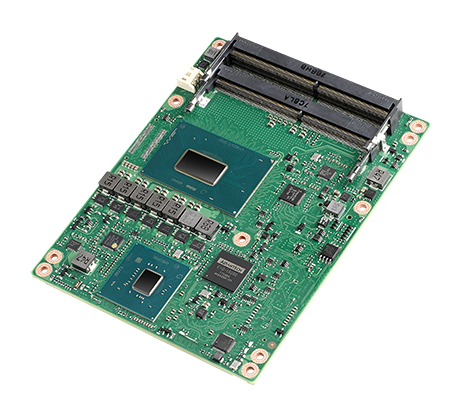 * 9th generation Intel® Core™ H Series processors
* Supports up to 96GB DDR4 memory, with ECC option
* Super speed I/Os: USB3.1 (10Gb), PCIe3 x16 (8Gb), SATA3 (6Gb)
COM Express Compact
* 8th generation Intel® Core™ U processors
*
Super speed I/Os: USB3.1 (10Gb), PCIe3 x16 (8Gb), SATA3 (6Gb)

* eMMC onboard design and TPM2.0 hardware protection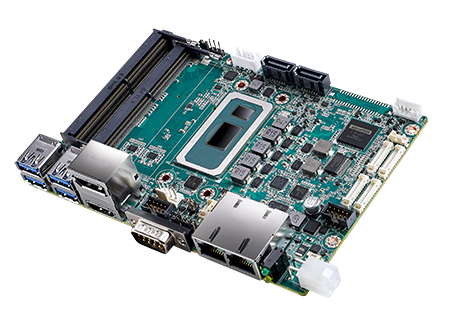 *
9th generation Intel® Core™ U processors
* M.2 M-Key 2280 supports NVMe
* DC-in 12-24V, onboard eMMC up to 64GB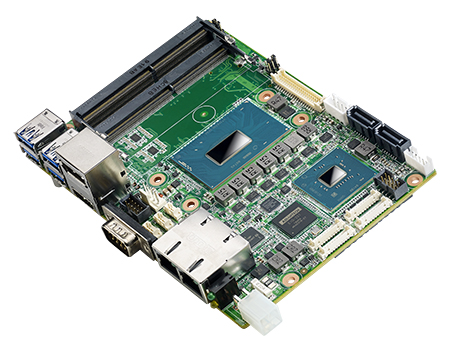 3.5" SBC
*
9th generation Intel® Core™ H Series processors, up to 6 cores
*
Dual channel DDR4 2400, up to 64GB
*
Supports high speed NVMe /PCIex4 SSD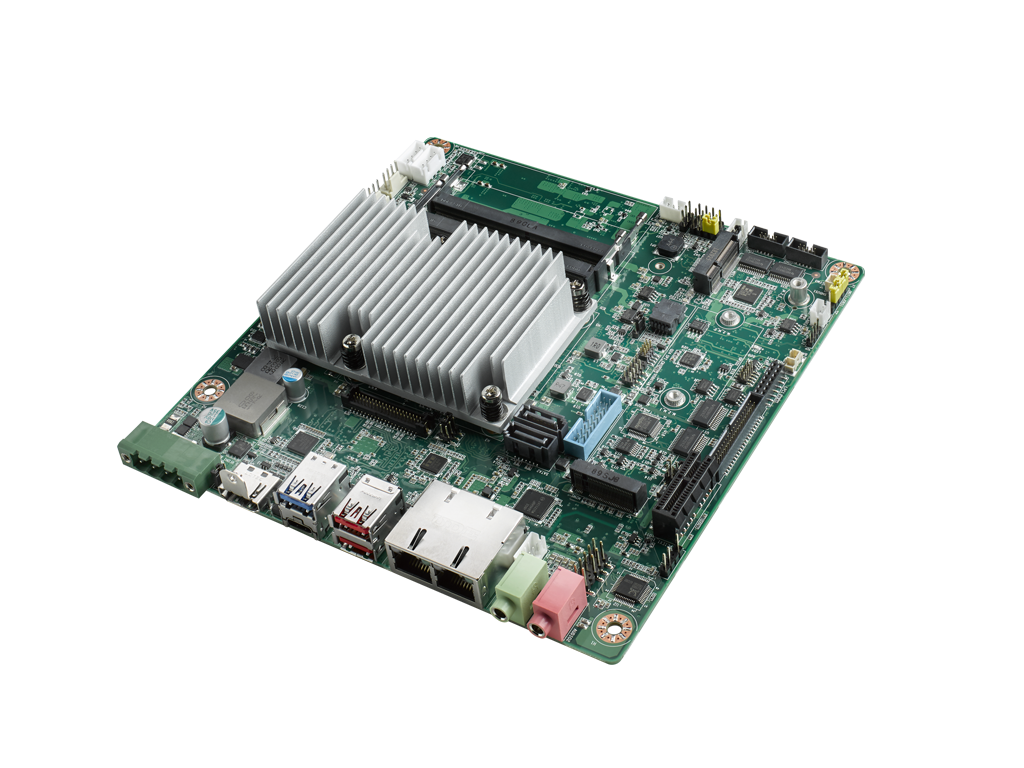 *
8th Generation Intel® Core™ U Series mobile processors
*
Supports 6 USB 3.1 + 2 USB 2.0, 2 x SATAIII, M.2 M key + M.2 E key, 2 x SATAIII, 1 x PCIex1, DC 12~24V input
* Triple display of combination of HDMI2.0a, USB type C to DP, LVDS (or eDP)
Mini-ITX Motherboard
*
9th generation Intel® Core™ S Series processors
*
Supports triple display of Dual DP++/HDMI 2.0a/LVDS(or eDP), DC12~24V input
*
Supports PCIe x16 (Gen 3), 1 x M.2 B key + 1 x M.2 E key, 6 USB 3.1 & 4 USB 3.0, and 3 SATA III
*
9th generation Intel® Core™ S Series processors
*
Thin Mini-ITX to support 3 x GbE LAN & 6 x COM, 3 x SATAIII, 4 USB 3.0 + 4 USB 2.0, 1 x M.2 B key + 1 x M.2 E key, PCIex4 (Gen3)
* Dual display: DP+HDMI, DP+LVDS (or eDP), HDMI+LVDS (or eDP)
MicroATX Motherboard
*
9th generation Intel® Core™ S/H Series processors
*
Supports dual displays via VGA/ DVI-D/ DP++/eDP(or LVDS) and ATX input
*
Supports 1 x PCIe x16 (Gen 3), 1 x PCIe x1, 2 x GbE LAN, 2 x PCI, 1 x M.2 B key, 8 x USB 3.0 & 12 x USB 2.0, and 3 x SATA III, 14 x COM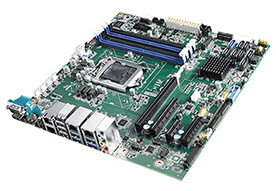 *
9th generation Intel® Core™ S/H Series processors
*
Supports triple displays via Dual DP++/HDMI 2.0a/eDP (or LVDS) and ATX input (or DC 12V input)
* Supports 1 x PCIe x16 (Gen 3), 1 x PCIe x4, 1 x PCIe x1, 2 x GbE LAN, 1 x M.2 M key, 1 x M.2 E key, 4 x USB 3.1 & 2 x USB3.0 & 8 x USB 2.0, and 8 x SATA III, 6 x COM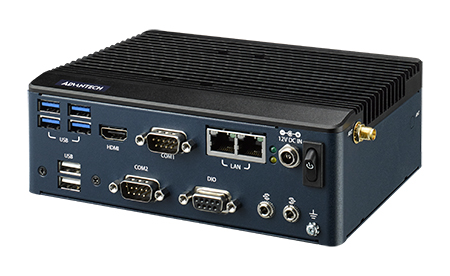 Embedded PC
*
8th generation Intel® Core i5/i7 CPU, up to 15W TDP
*
Rich I/O: 4 GbE/8 USB/ 4 COM ,1 DIO 2 CANBUS / 1 Mini PCIe / 1 SIM holder /1 M.2 (B key)1. M.2 (M key)/1. M.2 (E key)
*
High performance graphic card for AI computing with VEGA-330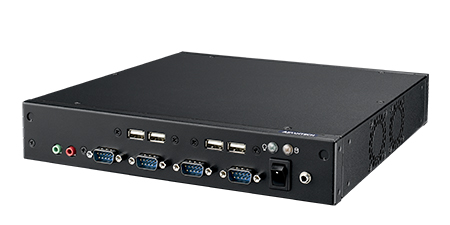 *
9th Generation Intel® Core™ S Series processors
*
1U THIN design for limited height installation (12V DCIN)
* Rich I/O: 3 GbE LAN for EtherCAT capability, 6 COM ports, 8 USB ports